Rainy Day Activities in Maine (ME)
306 US Route 1 Kittery, ME, 03904 Phone: 888-548-8379
Kittery Outlets Covers Your Clothing- and Gift-Shopping Needs
A day indoors on vacation can be a nice break from sun and sand and surf of southern Maine. Kittery Outlets, located adjacent to Routes 1 and I-95, is a famous shopping center that attracts savvy spenders. Outlets and factory stores for national brands offer tons of men's, women's, and children's clothing. Gift shopping for upcoming weddings, house warming, or yourself is easy at Crate and Barrel and other home goods stores. Leather clothes, sports clothes, maternity wear – everything you need to might need is here, and good prices. Speaking of prices, the Outlets offers VIP coupons to groups of 15 or more people, and we know shopping appeals to people traveling in groups. Feeling hungry? Several options range from Cupcake Charlie's to the famous Weathervane Seafood Restaurant.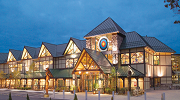 Route 1 Kittery, ME, 03904 Phone: Toll-Free: 888-587-6246
Take a Day Indoors at the Trading Post to Gear Up
It's a good thing that Kittery Outlets is located at the southern Gateway of Maine from people coming from the south. Maine is a land of outdoor fun and outdoor adventure, and Kittery Outlets has everything you need to get ready. Take a shopping-day break from the outdoors or from a rainy day to scout for your outdoor needs, whether you want a paddleboard for bobbing around on the surf or a snowmobile jumpsuit for extreme northern adventure – and everything in between. Hunting, fishing, camping, water sports; footwear, equipment, cookware and tents: Kittery Outlets has you covered. If you are more of a stay-at-home type, shop for Maine foods, Birding supplies, back yard furniture, Books, CDs & Calendars, and holiday décor.