Maine hotels, resorts offer spas for luxury massage, body treatments, more
What could enhance the bold, spectacular beauty of the Maine coast? Try this: a visit to a spa -- for a day, a weekend getaway, or any amount of time you choose -- to enjoy massage, Jacuzzi, facial, body wraps, rubs, and more, in spa treatment rooms overlooking the sea. Sound good?

Maine hotels and resorts offer day treatments along with packages and deals for overnight stays. Their glamorous spas overlook or are situated on the water, from Kennebunkport to Rockland to Bar Harbor. The natural beauty surrounded the resort spas is matched by the fabulous man-made structures (the Bar Harbor Club, for instance, is in a Tudor-style building visualized long ago by the Rockefeller family).

Read the listings below and choose a location where expert therapists will lavish on you the best treatments, from aromatherapy facials to manicures and pedicures, with the sound of the surf on the shore in the background. Spa treatments are fun for romantic couples, individuals, mother-daughter excursions, and girlfriend getaways. Only a short distance from luxury lodgings and spas are more of Maine's wonderful attractions like whale watching trips, swimming, sailing, or golfing. Make a call today.
591 Shore Road Cape Neddick, ME, 03902 Phone: 207-361-1000 Toll-Free: 855-210-6901
Seaside spa treatments feature interplay of earth, sky, water elements
Water, stone, sky and sand are the elements forming the basis for the luxurious treatments at The Spa at Cliff House, part of the spectacularly renovated Cliff House resort on Maine's coastline. Soothing colors of the sea, both inside and out, accentuate the spa's mission of providing an oasis of relaxation set against the dramatic Atlantic Ocean. Your session, which starts and ends in the luminous cliffside sun lounge, with its panoramic water views, can include saunas and steam rooms; and energy, therapeutic and salt stone therapy. Unique skincare and body treatments – try the aromatic seacoast rose or salt of the sea massage – emphasize healing, relaxing organic and natural elements. The resort also includes indoor and outdoor pools and a fitness center.
6 Pleasant Street Kennebunkport, ME, 04046 Phone: 207-967-3141 Toll-Free: 800-522-3141
Enjoy the many pleasures of a seaside spa.
Indulge the senses and allow this intimate 19th century seaside Inn to be your personal retreat with treatments individually customized for guests of the Mansion. Savor a Couple's Spa Experience as you and your loved one soothe, heal and beautify your bodies and spirits with treatments by licensed and award winning therapists from "YourBodyWorks" that will leave you feeling refreshed and invigorated. Choose from several popular options including the Signature Massage & Express-Facial, Traditional Swedish Massage. Deep Tissue Massage, "LaStone" Deep Heat Massage, and "Balancing Act" Facial and Massage. The spa uses only the finest in skin-care products and aromatherapy products created from botanical extracts. You'll find a variety of spa and room specials and packages throughout the year.
Newport Drive Bar Harbor, ME, 04609 Phone: 207-288-3351 Toll-Free: 800-248-3351
Here the sea rejuvenates you - inside and out.
Health is sometimes a matter of place. Here, this magnificent New England Resort breathes ocean breezes and salt air and spectacular views as far as the eyes can see. Sit on the harbor and feel the ebb and flow of the tide slow down your heartbeat. Take that feeling into the world class spa offering therapeutic services in its state of the art facilities. You'll find treatments for body, mind, soul and spirit accompanied by natural seaside ingredients. There are varieties of massage, hot stone and body treatments, facials, nail, beauty and bridal services. Enjoy great food in the ocean-view Reading Room Restaurant and Terrace Grille. Then relax in luxurious rooms and suites with balconies overlooking the ocean. Now exhale.

220 Warrenton Street Rockport, ME, 04856 Phone: 207-594-2511 Toll-Free: 800-341-1650
A sanctuary of serenity at the Samoset Resort
The Spa at the Samoset Resort provides a tranquil seaside escape built on the natural serenity of the surrounding ocean landscape. The space is relaxing, comfortable and inviting. The materials and furnishings reflect a Maine seaside aesthetic. Finishes are fresh, clean and light in feel, with slight color shifts as found in the ocean and sky surrounding the resort.

Guests are encouraged to lose themselves in a state of relaxation, comforted by the tranquil interior as well as the soothing sound of the sea. The spa lounge and outdoor patio invite patrons to relax by a fire while taking in the sweeping vista of the Penobscot Bay and the aroma of the ocean as an integral part of their spa experience.
Mid-Coast Maine on Casco Bay Sebasco Estates, ME, 04565 Phone: 207-389-1161 Toll-Free: 877-389-1161
Sebasco Harbor Resort is the place for getting gorgeous
How about getting gorgeous on your Maine vacation? You can do it at Sebasco Harbor Resort, 550 acres nestled beside the rocky coast. Stop by our Fairwinds Spa for a nail treatment. We start with a rejuvenating sea water soak, and then shape your nails to your liking. We'll also exfoliate and thoroughly massage your hands or feet. We finish with a high-quality polish of your choice, or buff your nails to a shine. We offer a full menu of spa treatments. With a Fairwinds facial, we gently cleanse and exfoliate your skin, using hot towels to enhance hydration. Our signature Swedish massage uses light to medium pressure strokes to relieve muscle stress. With any spa service, you may also use our ocean-view hot tub or relaxation deck.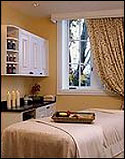 55 West Street Bar Harbor, ME, 04605 Phone: 207-288-5033 Toll-Free: 800-328-5033
Summer in Maine as It's Meant to be Enjoyed
The Bar Harbor Club Spa, located adjacent to the Harborside Hotel, Spa & Marina offers a world of self-indulgence born of privilege. First envisioned by Nelson Rockefeller nearly four generations ago, the stately Tudor-style building continues to serve as the focal point on this famous summer island. The Spa's staff are accomplished, seasoned technicians. Their sole objective is to facilitate (through an extensive menu of therapies and wellness treatments), the total relaxation, absolute comfort and thorough restoration of self for each spa guest. Take advantage of the Harborside's "Bar Harbor Spa Package", which includes one night accommodations, market place breakfast for two, a $50 spa credit, and 15% off spa retail items. Tax and gratuity are not included.

127 Crystal Road Island Falls, ME, 04747 Phone: Toll-Free: 888-235-2395
Step into the Yoga lifestyle in a beautiful Maine setting
Since 1997, Sewall House has been offering personalized retreats from May through October. The retreat was originally built in 1865, and is listed in the National Historic Registry as the place a young Theodore Roosevelt spent three falls with guide William Sewall exploring the natural beauty of Maine, successfully treating the future president's asthma, and forging a lifelong friendship. It's a tradition of healing and camaraderie that continues today, led by Sewall's great-grandaughter Donna Davidge who has 30 years of experience teaching yoga and meditation.
Arrive when you like and customize your stay to fit your schedule. A variety of yoga forms are available including Hatha, Vinyasa, Ashtanga and Kundalini. Add meditation, massage, sauna, hiking and lake tours, and enjoy swimming, canoeing, biking, kayaking and enough time to shop for local crafts and goods. The setting is healing and supportive with fresh air, lakes, wildlife and a comfy porch. Savor healthy eating, nurturing interactions and share friendship and healing with like-minded seekers. You'll choose from six private bedrooms, four full bathrooms, three shared. Breakfast, lunch and dinner are included as is free wireless internet access and each day, two Yoga/Meditation classes.
88 Grandview Avenue Boothbay Harbor, ME, 04538 Phone: 207-633-4152 Toll-Free: 800-553-0289
Conde Nast Readers' Choice "One of the 20 Best Spas in the US - 2015"
At Maine's Spruce Point Inn, we offer rejuvenating spa treatments in a tranquil, natural setting ideal for relaxation. Our inn and spa are the perfect place to unwind. We're located on 57 acres of pristine woodland on the rockbound sea. Here you'll find a unique selection of accommodations, including cottages, modern lodge rooms, townhouses, often with waterfront views. Enjoy delicious meals made with locally-sourced ingredients. Our spa features a fitness room, five spa treatment rooms, changing facilities, a hot tub, and a private lounge area. De-stress with a rejuvenating massage while enjoying the sights and sound of ocean waves. Experience rejuvenation with a Blueberry Bliss Facial, which uses a blend of blueberries and herbs to revive the skin. Stay with us an enjoy an unparalleled spa experience.
111 West Street Bar Harbor, ME, 04609 Phone: Toll-Free: 877-237-3610
Superior spa services on the beautiful coast of Maine
The Bar Harbor Club Spa offers a world of self-indulgence born of privilege. First envisioned by Nelson Rockefeller nearly four generations ago, the stately Tudor-style spa building continues to serve as the focal point on this famous summer vacation island. Enjoy an extensive menu of unique therapies and wellness treatments from Swedish massages, sugar rubs, mud wraps, aromatherapy facials and manicures. Specialty services are available for men, youth and expecting mothers. After your spa treatment enjoy a round on the tennis courts, a swim in the salt water pool, a work out in the fitness center or dinner at the Club Room. All the while you can enjoy some of the most magnificent coastal scenery on Earth.