Luxury lodgings, four star and five star hotels make a Maine vacation a joy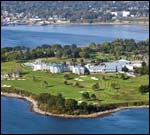 Maine's rocky, picturesque coast is never more beautiful than when you gaze at it from the balcony of a
resort
, hotel, or other luxury lodging. People who operate luxury lodgings along the coast of Maine use the panoramic views to their best advantage, but they also know how to pile on the personal pleasures, for, say, a romantic getaway: marble bathrooms, rooftop or oceanfront pools, flat screen TVs,
spa services
, fine dining, and championship golf close at hand.
Luxury service brings back a bygone era of fine service in secluded comfort at the top of the world. Practical services include kids programs for families on vacation and suites or cottages for large group gatherings for a wedding, reunion or other happy occasion. All the lodgings shown here are four star hotels or five star hotels, judged by AAA or Forbes Travel Guide. These are awarded to a select number of lodgings and they guarantee that the services and amenities will be absolutely top quality.
6 Pleasant Street Kennebunkport, ME, 04046 Phone: 207-967-3141 Toll-Free: 800-522-3141
Luxury in an historic Kennebunkport mansion
History, romance and luxury await in this AAA 4 Diamond Kennebunkport Bed and Breakfast. Set in an historic shipbuilder's mansion amidst 17th and 18th century Colonial and Federal period homes, you're but a short walk to Dock Square's food, shopping and culture. Your spacious guest room offers charming furnishings, king and queen-size beds, gas fireplaces, heated marble bath floors, flat screen TV's, and a mini-spa for two. Enjoy eager to please concierge services, a well-stocked wine cellar, and each morning a different family-style, multi-course breakfast served in the Country Kitchen and the beautiful Dining Room. Your seaside retreat also features individually customized Spa Treatments with award winning therapists to soothe the senses with the finest in skin-care and aromatherapy products.
468 Fore Street Portland, ME, 04101 Phone: 207-775-9090
This Portland hotel expands the notion of luxurious.
Great service and luxurious amenities are yours at this majestic hotel in Portland's historic district. Rooms and suites feature unique layouts, custom-made furnishings, His and Her armoires, high-speed wireless internet, bathrooms with granite-top vanity and granite and glass enclosed shower, and a large soaking tub to make it all feel better. There are suites in two distinct styles with oversized bathrooms, some with a Jacuzzi tub and separate sitting area with double-sided fireplace, breathtaking floor to ceiling windows, and a built-in sound system. Enjoy valet parking, personal Town car service and the fitness facility. There's Eve's on the Garden for delicious cuisine and happy hour relaxation and the entirety or Portland filled with shopping, entertainment, the arts and maritime wonders.