Visit Maine: Acadia and Bar Harbor resorts, waterfront activities, family vacations

Down East Maine, including the town of Bar Harbor, forms the heel of the State of Maine profile. Major towns include Blue Hill, Eastport, Machias, and Calais. For natural beauty, the star of the region is Acadia National Park on Mount Desert Island, where Bar Harbor also is located. The glorious images of coastal Maine are distilled in the park's rocky coastlines, lofty lighthouses, mountain vistas, and carriage roads traversing graceful stone bridges. Much of this region was settled long ago by immigrants from French Canada; French food and culture is found everywhere. Celebrate the outdoors! Bird watching is popular; the sky is star-spangled; one of many regional festivals is the Acadia Night Sky Festival in September.
Acadia/Bar Harbor Maine highlights: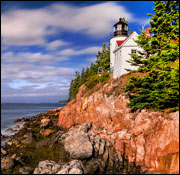 Things to See
The region has many of Maine's famous lighthouses. You can walk to but not enter the iconic Bass Harbor Head Light in Acadia National Park. West Quoddy Head Light in Lubec, on the Bay of Fundy, is open to the public in summer. At Acadia National Park, three historic sites are near the juncture of Park Loop Road and Route 3: Sieur de Monts Spring and Nature Center, Wild Gardens of Acadia, and the Abbe Museum, which preserves the culture of local Native American tribes.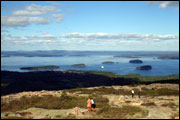 What to Do
Several companies in Bar Harbor and Eastport operate cruises for whale watching, wildlife viewing or deep sea fishing. Windjammer cruises introduce visitors to this classic, three-masted sailing vessel. In Acadia National Park: drive or bike the Park Loop Road system; take a ranger-guided tour by bus, trolley, or boat; go sea kayaking (guides are available); explore the rocky tide pools. Climb to the top of Cadillac Mountain to see the dawn or search for constellations. In Bar Harbor, visit the Mount Desert Oceanarium. In summer, Timber Tina's Great Maine Lumberjack Show thrills out-of-staters who rarely see a lumberjack in action. Lots to do!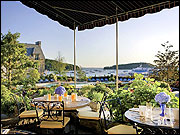 Places to Stay
Bar Harbor's beach and ocean resorts include Harborside Hotel, Spa, and Marina, with views of Frenchman's Bay. Bar Harbor Regency Hotel offers three dining areas and many on-site activities. For a romantic getaway , consider West Street Hotel, a luxury boutique hotel with a rooftop pool and Irish pub. At Atlantic Oceanside Hotel & Conference Center, nature cruises leave from the hotel's own pier. Bar Harbor Inn & Spa has a shoreline walking path and balconies overlooking the ocean. The Looking Glass Restaurant of the Bluenose Inn was voted Maine's Best Breakfast with a View by Yankee Magazine.
Shopping
Bar Harbor was a leading summer resort in the 19th century, and the town had its own Millionaires' Row. That caliber of taste is found still in the town's high-quality boutiques and galleries. A few examples include Sea of Cotton (clothing), Sagegrass Gallery (handcrafted goods), Queen Anne's Flower Shop, Bar Harbor Cellars, Shard (coastal-inspired pottery and linens), the Naturalist's Notebook (named a Best of New England destination by Yankee magazine in 2013).