Maine fairs and festivals celebrate music, the sea, farms, blueberries ... the works!
From the wild north to the scenic coast, from the heat of summer through the beauty of fall and winter, Maine offers fairs and festivals and fun for all. Enjoy rock, country, blues, big band, and folk music everywhere you listen and lots of lobster and blueberries for savoring. You'll find enough bake, book and yard sales, horse and wagon rides, auctions, parades and carnival rides, air and car shows, arts and crafts to keep you smiling. Year round,
lodgings by the sea
and
relaxing spas
are there to help you slow down in between the activity.
For more fun activities, see Maine Events page
September 22-25, 2016
Entertainment, panel discussions, workshops, art exhibits, and science related programs are on the agenda. There are opportunities for stargazing from different sites in the park. Indoor and outdoor events are planned. Highlights include night walks led by park rangers to observe the wildlife active during darkness, a special ecological program, a picnic with the planets and a photography workshop.
Camden Waterfront Camden, ME Phone:
September 2-4, 2016
Magnificent windjammers ply the coast with a full schedule of maritime events near Camden Harbor. The weekend kicks off with a parade of schooners sailing into Camden harbor, followed by a crew talent show and fireworks. All three days feature the Maritime Heritage Fair with exhibits of information about boats, sailing and other maritime endeavors. Saturday's highlight is the Lobster Crate Race. In the Build-A-Boat Contest, teams create a surprising variety of boats that compete on the water on Sunday.
South Ridge Base Area,15 South Ridge Road Newry, ME Phone: 207-824-5104
October 8-9, 2016
Watch couples compete in this Finnish-style race for the grand prize of the wife's weight in beer and five times her weight in cash. Also: kids pumpkin pie eating contest, New England corn hole championship, Blue Mountain arts and craft fair, wine tent, Sunday Bloody Sunday tent (dedicated to all things Bloody Mary), scenic chairlift rides, kids games and pony rides, wagon rides and live music.
Sugarloaf Outdoor Center, located on Touring Center Road in Carrabassett Valley, ME Phone: 207-265-2400
September 23-25, 2016
For three nights and two days, explore the fall foliage by bike on 50 miles of trails. Guests can also participate in guided rides, take part in skills clinics and try out the latest gear at the vendor village featuring bike shops and companies from all over New England. At night, enjoy outdoor concerts. Lodging is half price at Stratton Brook and Poplar huts during the event. Hosted by Maine Huts & Trails in collaboration with Carrabassett Region NEMBA and Sugarloaf Mountain Resort. Admission: Weekend adult pass, $100; weekend youth pass, $55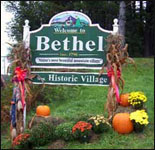 Bethel Common, Main Street Bethel, ME Phone:
September 17, 2016
An old-fashioned fun fall festival with artists & crafters, chain saw carving, chowder cook-off with over a dozen restaurants, Maine baked potatoes, apple pie contest, live music, wagon rides, and kids' activities. Time: 9 a.m.-5 p.m.
Wells Reserve, Laudholm Farm, 342 Laudholm Farm Road Wells, ME Phone: 207-646-4521
September 10-11, 2016
This highly respected exhibition brings 100 artisans to historic Laudholm Farm to show their craftworks. Sculpture, jewelry, pottery, prints, clothing, photography, and basketry are among the crafts selected by jury for this prestigious event. Also, music, food, and environmental immersion at the Wells National Estuarine Research Reserve. Hours: 10 a.m.-4 p.m.
Northern Maine Fairgrounds, Mechanic Street Presque Isle, ME Phone: 207-764-6561
August 25-28, 2016
This hot-air balloon festival features 15 hot-air balloons, balloon rides, entertainment, and a street fair; something for everyone. Tethered rides will be offered Friday and Saturday, 5-8 p.m., weather permitting. Time: Balloon rides start at 5:30 a.m. Cost: varies depending on balloon pilot.
various locations Boothbay Harbor, ME Phone:
September 2-11, 2016
Harbor Fest is a 10-day celebration of our Boothbay Harbor. Major events include the Harbor crawl, music fest and chili-chowder challenge, art show & treasure hunt, golf tournament, restaurant week, fishin' for fashion show, grand finale party, and two-day community wide yard sale. Festival events includes A Taste of Local Flavor, a live music showcase, a 5K and half marathon race, Wellness Week, Ware It's At!, a photo workshop, A Stroke of Art, Restaurant Week, a film festival, Fishin' for Fashion.
Schedule of events.
Pioneer Courthouse Square Portland, ME Phone:
August 25-27, 2016
Non-stop entertainment, food, wine and beer gardens, raffle and more. Opera on Thursday night.
Performance schedule.
Time: 11 a.m.-11 p.m.
Litchfield Fairground, 30 Plains Road Litchfield, ME Phone: 207-873-6539
August 24-28, 2016
This event attracts thousands of music lovers from all over the world to hear some of the greatest bluegrass music found anywhere. Groups performing at this event in 2016 include the Gibson Bros, the Baker Family, Band of Ruhks, and many others. Also: Kids Music Academy, camping, free hot showers, food, extra large tent for cover and indoor bathrooms.
Fairground Road Union, ME Phone: 207-785-3281
August 20-27, 2016
Enjoy games, rides, raffles, parades, live music, livestock shows, a midway, firework, demolition derby, and more. Lots of blueberry baking, tasting, judging, and eating events. On Friday, August 22, the featured entertainment will be a tribute to Maine country music artists. Time: gates open daily at 8 a.m. See website for events schedule. Cost: All inclusive, $12; early bird, $8; family day, the final Saturday, $10.
Various locations in Eastport Eastport, ME Phone:
September 3-4, 2016
Flea market, farmers market, fiber arts show, road race, live music, walking tour. The main event of the Eastport Salmon & Seafood Festival is the Salmon Sunday meal, starring grilled salmon, 11 a.m.-4 p.m.. Time: Consult event website.
Bangor Waterfront, Front Street Bangor, ME Phone: 207-992-2630
August 26-28, 2016
This annual festival from August 26-28 includes a roster of national and international performing groups, sharing the traditional arts, culture and heritage of their region on four stages along the Bangor Waterfront. This year, performers from Brazil, Colombia, Cuba, Portugal, Ethiopia, and Canada, as well as the United States, are featured. There will be a children's area with activities for the whole family; dozens of food vendors offering ethnic food, regional specialties and traditional festival favorites; and a a Marketplace offering unique, handcrafted items and Taste of Maine treats.