Maine fairs and festivals celebrate music, the sea, farms, blueberries ... the works!
From the wild north to the scenic coast, from the heat of summer through the beauty of fall and winter, Maine offers fairs and festivals and fun for all. Enjoy rock, country, blues, big band, and folk music everywhere you listen and lots of lobster and blueberries for savoring. You'll find enough bake, book and yard sales, horse and wagon rides, auctions, parades and carnival rides, air and car shows, arts and crafts to keep you smiling. Year round,
lodgings by the sea
and
relaxing spas
are there to help you slow down in between the activity.
For more fun activities, see Maine Events page
Smugglers Den Campground on Route 102 within Acadia National Park Southwest Harbor, ME Phone:
October 7-8, 2016
This fun fall festival includes great microbrews, wine and cheese tasting with wines from several countries, live music and a crafts tent with artisans from Maine and beyond. The event is held rain or shine under big tents. Wine & Cheese Tasting is Friday, 4-6 p.m. Admission is $18. Brewfest is Saturday, noon to 5 p.m. Full admission is $35, for a souvenir glass and unlimited brew tent samples. Non-drinkers admitted for $10. Guests must be 21 or older to enter Beer Tent. Children under age 12 admitted for free. Many food & craft vendors cannot accept credit cards or checks; please be prepared to pay cash at those booths.
197 Blanchard Road Cumberland, ME Phone: 207-829-5531
September 25-October 1, 2016
this year, the fair will include the Rawhide Rodeo, two full professional rodeos, bull riding and a children's rodeo. Also: farming exhibits, entertainment, food and merchandise vendors, demonstrations in the exhibition hall, museum and sugar house, livestock shows and competitions, horticulture, Harness racing, and more. A demolitions derby will take place Sunday evening. Rides by Gillette Midways.
Ocean Gateway Pier, Portland Company Complex, Merrill Auditorium Portland, ME Phone: 207-772-4994
October 20-23, 2016
Experience the flavors of Maine at Harvest on the Harbor. The three-day event will feature seminars, tastings, and exquisite dinners crafted by renowned chefs from Maine and afar. Learn from food experts. Sip fine wines, beer and spirits. Maine chefs compete for the title of Maine's Best Farm-to-Table Restaurant, and much more.
Festival events.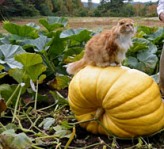 Townwide - consult website Damariscotta, ME Phone: 207-592-6184
October 8-10, 2016
A fun-packed weekend of events include the a pumpkin paddle boat relay and pumpkin motor boat regatta, a giant pumpkin weigh-off, pumpkin catapulting, pumpkin hurling, a giant pumpkin parade, a pumpkin derby, two dozen giant 600-pound decorated pumpkins lining Damariscotta's main street, children's activities, a pumpkin cooking contest, pie eating competition, a giant pumpkin drop, and Pumpkin Patch Express train rides from Brunswick to Rockland.
Schedule of events.
200 Block of Water Street Gardiner, ME Phone:
October 8, 2016
Restaurants and local food vendors from Gardiner and across the state will serve up a variety of interesting culinary dishes featuring local pork. Adding to the festivities, a line-up of favorite and emerging Maine bands will entertain throughout the day. Expect entertainment for all ages. Time: 11:30 a.m. - 6:30 p.m. Admission: $20 to $50; designated drivers, $10; advance admission online is $15.
Short Sands Beach York, ME Phone: 207-363-4422
October 15, 2016
This festival includes a variety of activities, live bands, bean hole beans and 150 local food vendors and juried & marketplace crafters from all over the country. Live music from the Don Campbell Band & Friends and Dan Blakeslee / Dr. Gasp. Harvestfest also includes Kidsfest, horse and wagon rides, pumpkin stroll, storytelling, pony rides, roaming railroad and much more. Time: 9 a.m.-4 p.m.
Fryeburg Fairgrounds, off Route 5 near Route 302 Fryeburg, ME Phone:
October 2-9, 2016
This fair has it all: extensive exhibition halls, museum craft demonstrations, fiber demonstrations, harness pulls, live entertainment, a midway, animal exhibits and contests, a parade, contests, games, baked goods, and million more things. Time: gates open daily at 8:30 a.m. Cost: Adults, $10; children under 12, free; senior citizens (age 65 and older) admitted free on Tuesday. Parking is $5 to $10. Hours: Gates open at 7 a.m.; buildings open 9 a.m.-9 p.m. Harness racing at 1:30 Tuesday through Sunday. Night Shows Monday through Saturday at 8 p.m.
Main Street and other locations Ogunquit, ME Phone: 207-646-2939
October 21-23, 2016
Weekend festival including scarecrow contest, costume parade, high-heels and bed races, pumpkin and cookie decorating, scavenger hunt, ghost stories, marketplace and much more. Admission is free.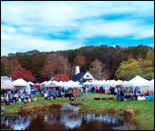 586 Wiscasset Road Boothbay, ME Phone: 207-633-4727
October 8-9, 2016
Every Columbus Day Weekend for nearly half a century the Boothbay Railway Village's Village Green has welcomed dozens of vendors of handmade items and fabulous food along with a wide variety of live entertainment. The sound of the train's steam whistle resonating throughout the crisp fall air reminds guests that this is not your typical craft show. Time: Saturday, 9 a.m.-5 p.m.; Sunday, 10 a.m.-4 p.m. Admission: $4; children under at admitted free. Steam train tickets are an additional $5.
South Ridge Base Area,15 South Ridge Road Newry, ME Phone: 207-824-5104
October 8-9, 2016
Watch couples compete in this Finnish-style race for the grand prize of the wife's weight in beer and five times her weight in cash. Also: kids pumpkin pie eating contest, New England corn hole championship, Blue Mountain arts and craft fair, wine tent, Sunday Bloody Sunday tent (dedicated to all things Bloody Mary), scenic chairlift rides, kids games and pony rides, wagon rides and live music.