Various locations in town Bridgton, ME Phone: 207-647-3472
February 14-15, 2015
Events during the two days of indoor and outdoor winter fun include table tennis tournament, kids snow creation competition, horse-drawn carriage wagon rides, soups and chili for sale, junior ice fishing contest, sled dog rides at Highland Lake Beach, town rink open skating, snowmobile rides, nature hike at Pondicherry Park Magic Lantern Lot, Freezin' For A Reason polar dip at Highland Lake Beach, baked bean supper at St. Josephs Parish Hall, House Concert Series at Noble House Inn.
720 South Bridgton Road Various locations in and near Bridgton, ME Phone: 207-647-3472
February 14-15, 2015
Sled dog rides, snowmobile rides, Freezin for a Reason polar dip, table tennis, kids fishing derby, Carnival Dance, magic show, pancake breakfast, chili lunch, bean supper, and more.
Downtown Kennebunk Kennebunk, ME Phone:
February 6-7, 2015
Friday:
Skating Party at Waterhouse Center Ice Rink, 4-9 p.m.; Jason Tardy, Fire Juggler, 5 p.m.; DJ Charlie Stevens, 6-9 p.m.
Saturday: Cabin Fever Book Sale at Kennebunk Free Library, 8:30 a.m.-1 p.m.; Skating at Waterhouse Center Ice Rink all day; Horse & Wagon Rides, noon-3 p.m.; Soup Contest at Holy Cross Church, noon-2 p.m.; Figure Skating Performance and Demonstrations, 2-2:30 p.m.; Variety Show at Town Hall Auditorium, 7 p.m.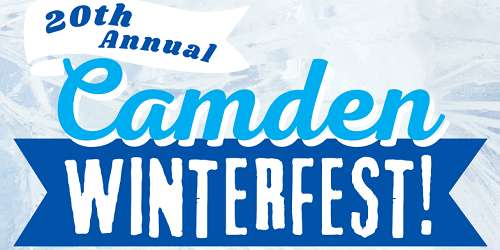 Camden Public Library, 55 Main Street Camden, ME, 04843 Phone: 207-236-9656
January 31 - February 8, 2015
Camden Winterfest opens January 31 and February 1 with ice-carving in the Amphitheatre and brilliant snow sculptures scattered throughout town, and the CamJam in Harbor Park. In addition to ice sculpting, the January 31 celebration includes music outdoors and indoors at the Amphitheatre and Library, volunteers serving hot food outdoors, kids crafts indoors, and family fun in the Amphitheatre. The following week will be full of community events including concerts, movies, and dances at the Opera House, Camden Public Library, Strom Auditorium, and fire station.
Winterfest closes culminates February 7 and 8 with a Snow Plow Parade, the Banff Film Festival, and fireworks over the harbor, along with the
National Toboggan Championships
. See the event website for a schedule of activities.