Maine fairs and festivals celebrate music, the sea, farms, blueberries ... the works!
From the wild north to the scenic coast, from the heat of summer through the beauty of fall and winter, Maine offers fairs and festivals and fun for all. Enjoy rock, country, blues, big band, and folk music everywhere you listen and lots of lobster and blueberries for savoring. You'll find enough bake, book and yard sales, horse and wagon rides, auctions, parades and carnival rides, air and car shows, arts and crafts to keep you smiling. Year round,
lodgings by the sea
and
relaxing spas
are there to help you slow down in between the activity.
For more fun activities, see Maine Events page
Waterfront Boothbay Harbor, ME Phone: 207-633-2353
June 25 - July 1, 2017
Fully rigged windjammers sail into Boothbay Harbor for the festival that has been a tradition here for decades. Windjammers are scheduled to arrive in Linekin Bay on June 28 and then into Boothbay Harbor during the parade of sail on June 28. Events of the festival include pancake breakfast, craft fair, boat parade, shipyard and ship tours, street parade, live musical entertainment and of course a visiting fleet of historic windjammers. See Windjammer Days website for full schedule of events.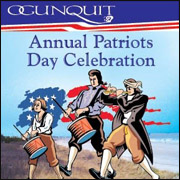 various locations Ogunquit, ME Phone:
April 21-23, 2017
All Weekend: Perkins Cove Lantern Treasure Hunt and Historical Building Hunt .
Friday:Library Book Sale, Re-enactment of Washington Crossing the Delaware; Fife & Drum Parade; Fife & Drum Concert; Mainestreet Celebrates 17 Years
Saturday and Sunday: Colonial Flag Treasure Hunt, Beach Bazaar, Book Sale Colonial Children's Games And Craftsmake A Patriots Day Scrapbook, Hay Rides, American Pie Contest, Taste Of The Town, Re-Enactment Of The Boston Tea, Re-Enactent Of The Flag Raising At Iwo Pooch Pageant And Fashion Show, Meatloaf.
Various locations Greenville and Moosehead Lakes region, ME Phone: 207-695-2702
May 20-June 25, 2017
This two-week event celebrates the natural beauty and human talents of the Moosehead Lake region. Events include Moose Mainea 5K on May 20; Moosterpiece Craft Fair and Town-Wide Yard Sale and Moose River Canoe and Kayak Race on June 10; Moosehead Area Artisans Art Show at the Depot on June 24; and the Dean Bike & Boat ride and cruise on June 25. This is a 19-mile bike ride and cruise back to Greenville on the Katahdin Steamship.
Denmark Arts Center, 50 West Main Street, Route 160 Denmark, ME Phone:
April 15, 2017
This gathering of sheep, goat and alpaca owners, spinners, weavers and fiber artists grows every year. Come enjoy live music, spinning, knitting and weaving demonstrations, and crafts for sale. Watch scores of sheep and goats receive their summer haircut. Time: 9:30 a.m.-4 p.m.