707 Shaker Road New Gloucester, ME Phone: 207-926-4597
October 10, 2015
Enjoy the bounty of the season. Taste the year's new apples and watch cider-pressing; enjoy homemade Shaker apple fritters and other apple treats; buy seasonal mums and other plants at the greenhouse; see demos of Shaker crafts like broom making, wool carding, spinning, knitting, and weaving, rug hooking, and blacksmithing. Take a wagon ride or paint a gourd. Fun for kids and parents. Time: 10 a.m.-3:30 p.m. Admission: Free.
Cross Insurance Center, 515 Main Street Bangor, ME Phone: 207-561-8300
November 14-15, 2015
This is a celebration of harvest and foods in a state that is becoming every more famous for its creative cooking and craft brewing. Local foods and produce that range fresh goat cheese to whoopie pies. Time: 10 a.m.-4 p.m.
200 Block of Water Street Gardiner, ME Phone: 207-582-3100
October 10, 2015
A beer tasting will showcase the incredible diversity and quality of Maine craft beers. In celebration of local Maine agriculture, fine restaurants and local food vendors from Gardiner and across the state will serve up a variety of interesting culinary dishes featuring local pork. Adding to the festivities, a line-up of favorite and emerging Maine bands will entertain throughout the day. Expect entertainment for all ages, including the chicken fling, frozen T-shirt race, and the 4th annual Maine rock, paper, scissors championship. Time: 11:30 a.m. - 6:30 p.m.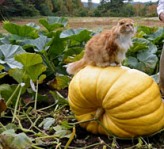 Townwide - consult website Damariscotta, ME, 04543 Phone: 207-592-6184
October 3-12, 2015
A fun-packed week of events include the a pumpkin paddle boat relay and pumpkin motor boat regatta (October 12), a giant pumpkin weigh-off, pumpkin catapulting, pumpkin hurling, a giant pumpkin parade (October 10), first annual pumpkin derby (October 11), two dozen giant 600-pound decorated pumpkins lining Damariscotta's main street, children's activities, a pumpkin cooking contest, pie eating competition, a giant pumpkin drop, and Pumpkin Patch Express train rides from Brunswick to Rockland (October 10 and 11). Live music by the Peterson Project, October 9, Schooner Landing, 9 p.m.; Nikki Hunt Band, October 10, 2:15 p.m. Street performers will perform during Saturday and Sunday during Columbus Day weekend.
Common Ground Education Center, 294 Crosby Brook Road Unity, ME Phone: 207-568-4142
October 18, 2015
Celebrate history, flavor and tradition of apples during this autumn day filled with educational workshops and talks about tree pruning, apple recipes, Maine's apple history, and wine and cider making. Learn how to identify different varieties. Taste cider and other treats. Time: 10 a.m.-4 p.m. Admission: $4.
Ocean Gateway Pier, Portland Company Complex, Merrill Auditorium Portland, ME Phone: 207-772-4994
October 21-25, 2015
Experience the flavors of Maine at Harvest on the Harbor. The three-day event will feature seminars, tastings, and exquisite dinners crafted by renowned chefs from Maine and afar. Learn from food experts. Sip fine wines, beer and spirits. Maine chefs compete for the title of Maine's Best Farm-to-Table Restaurant, and much more. See event website for details of events.
South Ridge Base Area,15 South Ridge Road Newry, ME, 04261 Phone: 207-824-5104
October 9-11, 2015
Watch couples compete in this Finnish-style race for the grand prize of the wife's weight in beer and five times her weight in cash. Also: kids pumpkin pie eating contest, New England corn hole championship, Blue Mountain arts and craft fair, wine tent, Sunday Bloody Sunday tent (dedicated to all things Bloody Mary), scenic chairlift rides, kids games and pony rides, wagon rides and live music.
Main Street and other locations Ogunquit, ME Phone: 207-646-2939
October 23-25, 2015
Weekend festival including scarecrow contest, costume parade, high-heels and bed races, pumpkin and cookie decorating, scavenger hunt, ghost stories, marketplace and much more. Admission is free.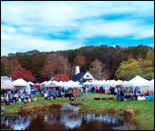 586 Wiscasset Road Boothbay, ME Phone: 207-633-4727
October 10-11, 2015
The sound of the train's steam whistle resonating throughout the crisp fall air reminds guests that this is not your typical craft show. Every Columbus Day weekend the Railway Museum's Village Green has welcomed dozens of vendors of handmade items and food and plenty of live entertainment. Pumpkin carving contests, too! Email: margaret@railwayvillage.org Time: Saturday, 9 a.m.-6 p.m.; Sunday, 10 a.m.-4 p.m. Admission: $4.
Smugglers Den Campground on Route 102 within Acadia National Park Southwest Harbor, ME Phone: 207-244-9264
October 9-11, 2015
This fun fall festival includes great microbrews, wine and cheese tasting with wines from several countries, live music and a crafts tent with artisans from Maine and beyond. The event is held rain or shine under big tents. Time: Wine Tasting on Friday, 4-6 p.m.; Brewfest on Saturday and Sunday, noon-5 p.m.
Beers by Allagash Brewing Company, Oak Pond Brewing Company, Ricker's Hard Cider, Baxter Brewing Company, Orono Brewing Company, D.L. Geary Brewing, Vermont Hard Cider Company, Rock Harbor Brewing, Downeast Cider House, Kennebunkport Brewing Co. / Federal Jack's, Gritty McDuff's Brewing, Liberty Craft Brewing, Seadog Brewing Company, Sheepscot Valley Brewing Company, Geaghan Brothers Brewing, Strong Brewing Company.
Food by Nostrano Private Dinner Club and Barbeque, Mainely Meat Barbeque, Sweet & Salty Kettle Korn. Crafts and Demonstrations by Karrottop Jewelry, Central Street Farmhouse, Fernandez Gifts, The Bar Harbor Bag Lady, Southwest Harbor Beer & Wine Lines, Far Point Farm, Donna Pickard, Harbor Handcrafts, Ye Olde Schoolhouse Crafts, Mainely Craft Coasters, M Designs, Framed Gardens.
Congress Square Park Portland, ME Phone: 800-914-3610
October 24, 2015
Saltwater features the greatest, world-class Celtic music from all of the Celtic nations, the U.S., and Canada in a new and exciting, one-ticket, multiple-venue format that will take advantage of everything Portland has to offer. Moved to downtown Portland.
Fryeburg Fairgrounds, off Route 5 near Route 302 Fryeburg, ME Phone: 207-935-3268
October 4-11, 2015
This fair has it all: extensive exhibition halls, museum craft demonstrations, fiber demonstrations, harness pulls, live entertainment, a midway, animal exhibits and contests, a parade, contests, games, baked goods, and million more things. Time: gates open daily at 8:30 a.m. Cost: Adults, $10; children under 12, free; senior citizens (age 65 and older) admitted free on Tuesday. Parking is $5 to $10. Hours: Gates open at 7 a.m.; buildings open 9 a.m.-9 p.m. Harness racing at 1:30 Tuesday through Sunday. Night Shows Monday through Saturday at 8 p.m.
Short Sands Beach York, ME Phone: 207-363-4422
October 17, 2015
This festival includes a variety of activities, live bands, bean hole beans and 150 local food vendors and juried & marketplace crafters from all over the country. Harvestfest also includes Kidsfest, horse & wagon rides, pumpkin stroll, storytelling, pony rides, roaming railroad and much more. Time: 9 a.m.-4 p.m.