Vacation at a historic hotel, inn, or resort when visitng Maine
Maine historic hotels,
inns
and resorts are located in beach towns, ocean resorts and cities. Historic lodgings and
bed and breakfasts
include first class hotels and historic hotels with long pedigrees and the atmosphere to go with them: antique or period reproduction furniture, beautiful surroundings, fireplaces and balconies, first-class service. Even through these hotels have their roots in earlier times, they are equipped with modern conveniences, including air conditioning, cable television, and Wi-Fi.
611 York Street York Harbor, ME, 03911 Phone: 207-351-1075
Picturesque inn harkens back to a relaxed era
Originally the home of a Chicago lumber baron in the late 19th and early 20th centuries (when seaside mansions were called "cottages"), and later the property of a cousin of the Big Band Dorsey brothers, who stayed there when playing at Old Orchard and Hampton beaches, the Inn at Tanglewood Hall celebrates its past while offering the amenities expected by today's guests. That means antiques, high-end linens, luxurious bath amenities, and memory foam beds coexist nicely in the York Harbor seacost inn's six exquisitely restored rooms. And the inn's stunning gardens feature flowers from the past as well as modern fairy lights at night. Guests might well feel they are going back to a more relaxed time as they lounge in a hammock on the veranda.
95 Ocean Avenue Kennebunkport, ME, 04046 Phone: 207-967-4050 Toll-Free: 800-552-5651
History and the sea meet in this magnificent setting.
Maine holds a special place in New England's history and lore. And this enchanting resort by the sea near Kennebunkport reflects special elements of each. Established in 1883, Nonantum has maintained its Victorian charm and touches like elegantly appointed rooms, private baths, fine dining and a level of service reminiscent of days gone by. More contemporary amenities bring your stay up to date with free WiFi, a heated pool, recreational activities and always the sea. Lobster tours and fishing excursions that set out daily are for the more adventurous, while sailing and beachcombing top the more leisurely pursuits. There's even a trolley that will take you from shop to gallery and back to the beach as and when you wish.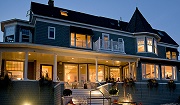 208 Ocean Avenue Kennebunkport, ME, 04046 Phone: 207-967-2125 Toll-Free: 855-346-5700
History and luxury meet on the alluring Maine Coast
Like many of the New England's finest inns this magnificent resort is found within landmark buildings. Be transported back to the 19th century when the railroad brought "summer people" to this enviable spot on the Maine coast where the first schooner was built and where architecturally alluring mansions earned it a place on the National Register of Historic Places. Today enjoy the same privacy and comfort of coming "home" to Kennebunkport—with a world of amenities. You'll enjoy the sea, of course, but also the daily wine events, bicycles for touring, high-speed wireless Internet access, a menu of pillow choices, coffee and tea throughout the day, car service into town, yoga on the lawn, movie screenings, and live music outdoors.
16 Bay View Street Camden, ME, 04843 Phone: 207-236-4325
The Bricks of Maine's Industrious History Encase This Hotel
Nice thing about New England: visitors feel the presence of local history simply by looking around. Nowhere is this more true than in the Mid-Coast town of Camden, where small boats in the harbor and cool shops and dining in town display the inventive Maine character. The luxurious 16 Bay View Hotel lives this history, situated in a restored 1905 industrial building in the center of town. The structure's beauty is repeated in exposed brick walls, ironwork balconies, and in-room fireplaces. But today's luxuries are well-represented: heated bathroom floors; custom marble showers with body jets; thick, terrycloth bathrobes; Champagne service; Wi-Fi; business computer & printer access. But you will feel old Maine ingenuity all around you.
Visit our sister properties - Lord Camden Inn - Grand Harbor Inn
22 High Street Camden, ME, 04843 Phone: 207-236-9636
Vacationing in an historic building, reminded of a more gracious time
At the Maine Stay Inn in Camden you can close your eyes and imagine yourself back in 1802, when the place was constructed and the region was still part of Massachusetts. Back then there was a dirt road out front when Alden Bass, a direct descendant of John Alden and related to both presidents named Adams, built the place at 22 High Street. Now there is Wi-Fi and some of the quaintly decorated rooms have a TV, but the ambiance harkens back to a more gracious time. The building is the second oldest of 66 listed in the district on the National Register of Historical Places. The impressive main house, gleaming white with dark green shutters, has an attached carriage house, as was the custom at the time, and a four-story barn.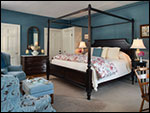 5 Pearl Street Kennebunkport, ME, 04046 Phone: 207-967-2311
Exemplifying and surrounded by history
As you've assumed by the name, the Captain Jefferds Inn, built in 1804, was originally the home of a sea captain, designed for comfort and safe harbor and not just as a roof over his head. As with most large homes of the time, it has a carriage house, now converted into a residence. Innkeepers Erik and Sarah Lindblom also have lovingly restored the main building into to beautifully remind guests of an earlier, gracious period and lifestyle, as sturdy, snug and fit as a sailing ship. The inn is located near the town center of historic Kennebunkport, conveniently situated for informative strolls, where you can learn about the ship-building mecca that became a colorful resort destination a century ago.
22 McKinley Court Portland, ME, 04109 Phone: 207-805-9836
History beckons while the lodging comforts.
Stay in the heart of Maine's coastal history from the moment you embark from Portland's Old Port district on a short voyage across beautiful Casco Bay. The Inn is set on Diamond Cove on Great Diamond Island and astride Diamond's Edge, formerly an artistic retreat community rich in charm and history. Here is Fort McKinley, constructed in Portland Harbor in the late 19th and early 20th centuries to protect Maine's principal city. Select from 44 deluxe guest rooms and suites while the outdoor pool, fitness room and activity center and a short walk to Diamonds Edge Restaurant and the full service marina will keep you moving. For fun and sundries you'll find the General Store, scenic trails, and Pebble Beach.