Maine inns overlook the spectacular beaches, coasts, and lighthouses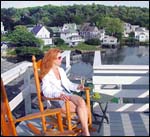 Pamper yourself with a fun-filled vacation or a
romantic weekend getaway
at a Maine inn, surrounded by beautiful views of the rocky coast. Guests of inns or the similar format of
bed and breakfasts
in Maine enjoy the state's wonderful views of sandy beaches, rocky jetties, lighthouses, harbors and ocean sunrises. Inns or
historic lodgings
in world-famous places like Bar Harbor, Boothbay Harbor, Camden, Rockport, and Kennebunkport place you close to ocean activities like boating, kayaking, whale-watch and windjammer cruises, dockside lobster shacks, and fun shopping and browsing in town.
Coastal Route 1A -- 480 York Street York Harbor, ME, 03911 Phone: 207-363-5119 Toll-Free: 800-343-3869
Featured on the Travel Channel's 'Great Country Inns of America'
Our luxurious Historic Oceanfront Inn has been featured on the Travel Channels, "Great Country Inns." Award winning gourmet ocean view dining plus casual fireplaced Ship's Cellar Pub. Many rooms with fireplaces, Jacuzzi spa tubs, decks and ocean vistas. Outdoor hot tub open year round. Walk to beach, convenient to golf, Kittery Outlet Shopping, whale watching, lobster boat tours, kayaking and area lighthouses. The perfect Maine Coast getaway is just over one hour north of Boston. Open year round with special Innkeeper Packages – perfect for Romance. See last minute "Internet Specials" on web site.
34 Ocean Avenue Scarborough, ME, 04074 Phone: 207-883-6684
Tranquil coastal inn gives guests quintessential Maine vacation
Freshly renovated to add modern amenities to old-fashioned New England charm, the Higgins Beach Inn is the place you go to to experience the quintessential Maine getaway. The three-story Colonial Revival-style building, a stone's throw to the white sands of unspoiled Higgins Beach, is only 15 minutes from bustling Portland but feels like another world, where kids frolic in the ocean, where adults watch the sunset from the bay window of their room, where families plan an excursion to Old Orchard Beach and friends plot a route touring all the local breweries. Attentive service, a helpful concierge and a restaurant where you can enjoy your lobster roll on the porch round out the inn's warm, welcoming atmosphere.
22 High Street Camden, ME, 04843 Phone: 207-236-9636
Finding genuine hospitality in a setting with plenty to do
The Maine Stay Inn in lovely Camden is a friendly place. As Frommer's travel guide has put it, here you'll find "genuine hospitality." Guests are well taken care of, whether relaxing for a stay or enjoying the inn as a home base. Numerous itineraries have been prepared for you for day trips, such as to Monhegan Island and Acadia National Park. Arrangements can be made to explore Penobscot Bay in a chartered boat, or take cooking classes at nearby Saltwater Farm. Or you can have fun closer even closer by -- from leisurely pleasures such as antiquing or sunning yourself on a beach, to more energetic activities, such as golfing or hiking. Whatever your pleasure, you'll find it here.
6 Pleasant Street Kennebunkport, ME, 04046 Phone: 207-967-3141 Toll-Free: 800-522-3141
Savor the charms of this 19th century Kennebunkport mansion.
Great inns offer history and romance and this 1814 shipbuilder's mansion in this majestic seaside town is no exception. Intimate and authentic with meticulous attention to every detail in furnishings and design your spacious guest room offers king and queen-size beds, gas fireplaces, heated marble bath floors, and a mini-spa for two. There's eager to please concierge services, a cozy Day-Spa and a well-stocked wine cellar. Each morning enjoy a different family-style, multi-course breakfast served in the Country Kitchen and the beautiful Dining Room. Walk to Dock Square for shopping, great food and culture or head out to the sea nearby for beaches, sailing, and gazing as far as the eye can see. You're in for a memorable Maine coast vacation.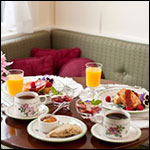 5 Pearl Street Kennebunkport, ME, 04046 Phone: 207-967-2311
A special place for a special time
Near the scenic Maine coast, inns are almost as common as shells on the beaches, so be careful to select from the best. This Kennebunkport treasure has consistently ranked number one and two on Trip Advisor, earning a 98% approval rating. Sometimes it's the little things that impress guests, such as the bottomless cookie jar among our afternoon snacks, and sometimes it's the bigger things, such as personal concierge service and the EV charging station for your Tesla. Get acquainted with our friendly staff, such as font-of-local-knowledge Steve, and amateur historian and Mayflower descendant Rachel. Whether you choose a room with a whirlpool tub, one with a fireplace, or one that is pet friendly, you're assured of a lovely stay.
24 Main Street Camden, ME, 04843 Phone: 207-236-4325 Toll-Free: 800-336-4325
Mid Coast style and hospitality
In a town considered among the most culturally rich and diverse in Maine there is a lodging to match its charm and style. This AAA 3-Diamond boutique hotel offers 36 guestrooms and suites of abundant light and space with old world architectural remnants and modern comforts and service. You'll find luxurious bedding, gas fireplaces, private balconies, high speed wireless internet and Keurig coffee and tea brewing systems. Enjoy an in room spa service, fitness room, complimentary buffet breakfast, and even a pampered pooch program. Abundant fine dining is yours in the towns of Camden and nearby Rockport and Rockland and the year-round recreational options, great shopping and cultural activities will satisfy the most discerning of tastes.
Visit our sister properties - 16 Bay View - Grand Harbor Inn
22 Commercial Street Boothbay Harbor, ME, 04538 Phone: Toll-Free: 800-628-6872
Enjoy Maine's rustic seacoast and more at Fisherman's Wharf Inn
Fisherman's Wharf Inn in Boothbay Harbor is a great place to enjoy Maine's rustic seacoast. Our 54 guest rooms -- including six two-room suites -- offer private balconies with spectacular views of the waterfront, the harbor's famous footbridge, and the mouth of the harbor. Among the amenities: free WiFi, cable TV, use of our fitness room, and complimentary breakfast. You'll also enjoy fabulous views from our dining room or pub. Or bask in the summer sun while you dine on our outside deck. There's plenty to do here, too. Boothbay Harbor offers great restaurants, quaint shops, and galleries, all just a short walk from the Inn. Nearby attractions include the Maine State Aquarium; the historic Boothbay Opera House; and the Coastal Maine Botanical Gardens.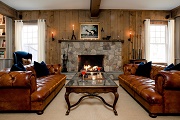 208 Ocean Avenue Kennebunkport, ME, 04046 Phone: 207-967-2125 Toll-Free: 855-346-5700
The casual and luxurious meet in idyllic splendor
This historic Inn along Maine's south coast is set in an idyllic promontory overlooking the Atlantic. Enjoy a quintessentially relaxed atmosphere with impeccable service and luxurious amenities bringing the best of all worlds to your visit. Two lodging locales, one oceanfront, the other in a wooded paradise offer timeless elegance, privacy and activity in equal measure. Rooms feature fine linens, plush robes, lighted make-up mirrors and most with a gas fireplace and sitting area. The Club House Lounge features a stone fireplace, classic billiard table, and turn-of-the-century bar. There's a heated pool with daytime dining and cocktail service on the patio; yoga on the lawn; complimentary bicycles and a shuttle to whisk you to Dock Square and Kennebunkport's many delights.
80 Commercial Street Boothbay Harbor, ME, 04538 Phone: 207-633-4434
Plan your next getaway at our waterfront inn
Our comfortable guestrooms feature air conditioning, cable TV with 42 inch flat screen television, telephone with voice mail and free local phone calls, hair dryer, refrigerator, Keurig coffee maker and personal amenities. Complimentary continental breakfast is included. Wi-fi is available throughout the property, and a lobby computer with high speed DSL is also available for guest use. We are open from late April to early November, and staff is available year round for reservations and information. Ask about our all-inclusive vacation packages featuring accommodations, meals and other activities.
23 Wharf Lane Ogunquit, ME, 03907 Phone: 207-646-3232
New England cozy with a touch of elegance
Spectacular ocean views and an endless expanse of beach welcome you to this deluxe motel with the elegance of a colonial New England inn. Spacious and affordable rooms offer modern amenities, private baths, cable TV, free Wi-Fi and refrigerators. Two suites and eight units with efficiency kitchens make it ideal for families, groups or an extended stay. Set amongst beautifully landscaped grounds and within the breezes, sounds and smells of the sea, you are across the Ogunquit River from Ogunquit River Beach. Relax on the lawn, swim in the heated pool and start your day with continental breakfast served on the wraparound porch overlooking the Atlantic. Walk the beach, find great shopping and dining and savor the sea from the vantage of this cozy Inn.