Visit Maine campgrounds for family tent and RV camping
Maine campgrounds are plentiful; many are operated by the state parks and by the White Mountains National Forest. For RVs and tents camgrounds are located across Maine form the beaches to the mountains.The cost of camping is reasonable and the range of amenities is broad. Depending on their specific locations, Maine campgrounds offer access to Maine's famous beaches and outdoor recreations, from sea kayaking, fishing, swimming, and boating near the ocean and rivers, to hiking and snowmobiling in the mountains and inland regions.
261 Point Sebago Road Casco, ME, 04015 Phone: 207-558-8000 Toll-Free: 800-655-1232
Vast array of activities, wooded campsites at Maine resort
Point Sebago began as a campground in 1970, and those roots are still strong on the 775-acre property, which offers 100 RV, Travel Trailer and tent sites to choose from. All the sites have water and electricity; many have septic hookups and/or 50 AMP service. Small pets are OK in designated areas. But beyond beautiful sites among the pines, Point Sebago also features programs that have been recognized by Women's Day Magazine and Woodall's Campground Directory: nightly entertainment; easy access to boating and swimming at pristine Sebago Lake and a mile of sandy beach; s'mores by the campfire; group sing-alongs; trained camp counselors who organize activities from arts and crafts and movies to kayak races and family line dances.
64 Balsam Drive Millinocket, ME, 04462 Phone: 207-723-5140
A large state wilderness that offers recreational activities in the water and on land; a popular camping and hiking spot
This is a rustic area: Running water, garbage cans and electricity are not available here. Do not bring firewood into the park. Amenities: public portable restrooms.
See
full description
of Baxter State Park.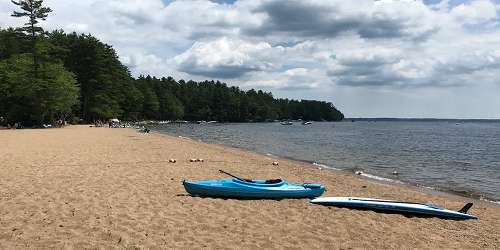 11 Park Access Road Casco, ME Phone: 207-793-6231
This large park on Sebago Lake has hundreds of camping site, and services for recreational vehicles (RVs). See
full description
of Sebago Lake State Park.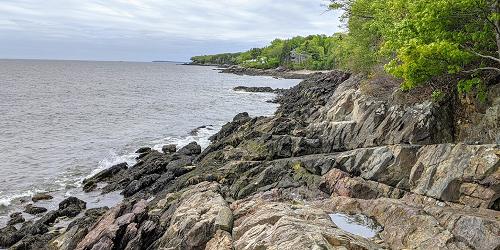 280 Belfast Road Camden, ME, 04843 Phone: 207-236-3109
Park on the top of Mount Battie has beautiful views of the Bay; camping; hiking; bird watching
Family friendly campground at this beautiful park high above Penobscot Bay has RV dumps and hookups, showers, and more. See
full description
of Camden Hills State Park.
278 Belfast Augusta Road Liberty, ME, 04949 Phone: 207-589-4255
Lake St. George State Park is located 16 miles west of Belfast and 25 miles east of Augusta on the northwest shore of beautiful Lake St. George. State Route 3 ran parallel and close to the lake, which was originally part of a farmstead. The centerpiece of the park is Lake St. George itself. Some of the park's campsites are located right on the shoreline. The day-use area is a short walk from the camping area where picnic tables and grills are available close to the beach. A lifeguard is on duty. The day-use area has swings, volleyball, basketball, and a sandpit. Three to five miles of hiking trails are within walking distance from the campground. Open May 15 - October 1, Fee Charged.
Holeb Public Recreational Land has a recreational use dominated by the Moose River Bow Trip, popular among canoeists and fishermen. Most of the shores on Attean and Holeb Ponds and a significant length of the Moose River including Holeb Falls lie within the unit's boundaries. Numerous primitive campsites are available. Information: Western Region Office of the Bureau of Parks and Lands, 207-778-8231.
Route 3 Bar Harbor, ME, 04609 Phone: 207-288-3338
Vast national park with outdoor activities year-round on Maine coast; carriage roads, hiking and rock climbing; gardens; tidepools; camping
This oceanside park has three campgrounds, including one that allows walk-in, primitive camping in winter. See
full description
of Acadia National Park.