Cross country skiing is popular at Maine mountains and Nordic ski centers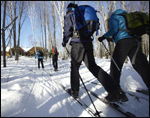 Mainers love their cross-country (also called "Nordic") skiing. In addition to downhill ski mountains that also offer cross-country trails, numerous Nordic (cross country) touring centers specialize in the sport, offering equipment, lessons, racing, and special events. Maine's Nordic centers offer 550 kilometers of trails. Nordic skiing also may be done at state parks and public land conservation areas. Cross country skiing is done on groomed trails or more-rugged backcountry trails. Two popular forms of the sport are classic Nordic skiing in tracks and skate-skiing, where the skis are employed in large, gliding motions.

A great resource for cross country skiing along with other outdoor adventure sports is Maine Huts & Trails, which offers hut-to-hut skiing opportunities. Ski Maine Association, which works mostly with downhill ski areas, has a page for Nordic Centers that lists cross country ski areas and their snow conditions. The Nordic Heritage Sport Club in Presque Isle stands ready to help novices or experience cross country skiers get onto the snow. Many Nordic ski areas welcome snowshoeing and also rent equipment for that activity.
Millinocket Municipal Trails
1029 Central Street Millinocket, ME, 04462 Phone: 207-723-4329
Town-operated ski area with groomed and back country trails
Groomed trails for novice and intermediate skiers and also back country trails. Warming lodge. Nice views of Mount Katahdin. Free use
Rangeley Lakes Trails Center
524 Saddleback Mountain Road Rangeley, ME, 04970 Phone: 207-864-4309
Skiing on year-round trail system in backcountry conditions near Saddleback Lake
Skiing and snowshoeing allowed on 55 kilometers of mapped trails, Travel through woodland ecosystems and over brooks. The ski center is a yurt 2.5 miles from Dallas Hill Road on Saddleback Road. Several loops of trails offer a choice of distances for your expedition, from a short sprint to a full day outing. Dogs welcome.
Critterwoods Outdoor Recreation Center
118 O'Roak Road Corinth, ME, 04427 Phone: 207-285-0099
32 kms of cross-country (Nordic) skiing; dogs are welcome; equipment for rent
thirty-four kilometers of groomed trails. Dogs are allowed on four miles of Nordic and skijoring trails. Call ahead to confirm trail availability. Dogs must be leashed at the resort and on the trails. Equipment rentals.
Lost Valley Touring Centers
200 Lost Valley Road Auburn, ME, 04212 Phone: 207-784-1561
Cross country (Nordic) skiing leaves from downhill ski area base lodge; equipment rentals
17 kilometers of cross country ski terrain leaves from the base lodge of this downhill (Alpine) ski mountain and wanders through the surrounding woods. Rentals available.
Harris Farm XC Ski Center
280 Buzzell Road Dayton, ME, 04005 Phone: 207-499-2678
Skiing & snowshoeing at dairy farm; 30 km of trails; warming lodge; rentals
Dairy farm opens 500 acres for cross-country skiing across fields and through forests. Thirty kilometers for trails are groomed as tracks and as wide ski-skating lanes. Trails include easy loops for novices and hilly terrain for more-advanced skiers. Heated log house has retail and rental shop and kitchen. Snowshoes and pulk sleds to carry children also for rent.
Sugarloaf
5092 Access Road Carrabassett Valley, ME Phone: 207-237-2000
125 trails; 29 glades; 3 terrain parks, snow tubing; night skiing; cross-country; 1,230 acres of skiable terrain; 2,820-foot vertical drop; 618 acres of snowmaking coverage
Skiing & Snowboarding -- Located in Maine's western mountains, Sugarloaf is a big and a tall ski area. Sugarloaf opens its self-introduction to its website readers with: "Take the Timberline Quad to Sugarloaf's lofty 4,237-foot summit and stand at the top of the world." Not a small boast. Sugarloaf has difficult terrain but also plenty of easy terrain for children and learners. It claims to be the only ski area in the East that offers lift service above the tree line. The area's snow fields are extensive and the terrain park has a variety of features, including a half pipe that is among the biggest in the United States. Glades are 11 percent of all the terrain.
Everything Else -- Ski and stay packages offered for Sugarloaf's hotels, inn, and condos. Child care; ski shop, teen center, shopping, spa, Laundromat within the ski area. In nearby towns visitors will find restaurants, ski and snowboard shops, and even an art gallery.
10th Mountain Outdoor Club
33 Paradis Circle Road Fort Kent, ME, 04743 Phone: 207-834-6203
Private club offers several loops of trails; dogs are welcome
This non-profit outdoor sports club welcomes visitors to professionally groomed trails arranged in loops from 0.7 to 6.5 kilometers. Loops are connected and skiers can cover the whole circuit continuously. Loops for all ability levels.
Visitors can reach the trails at three points: from the ski center is on the Paradis Circle Road located One and a half miles south of the traffic light on Route 11 in the center of Fort Kent; at the Red Barn, 0.7 miles west on the St. John Road from the center of Fort Kent (begin here if you are skiing with a dog); Violette Settlement access is 1.8 miles west from the center of town on the St. John Road (Route 161). Turn onto the Violette Settlement Road.
Camden Snow Bowl
20 Barnestown Road Camden, ME, 04843 Phone: 207-236-3438
Nordic trails are an Alpine ski area
Cross country skiing and snowshoeing trails are open on this mountain, which offers extensive downhill skiing and ice skating.
Ski Touring Center at Bethel Inn
21 Broad Street Bethel, ME Phone: 207-824-6276
Cross country skiing and snowshoeing next to the inn; ice skating; equipment and pulk sled rentals
This is a great option to have cross-country skiing and snowshoeing right outside the back door of your lodging for a vigorous winter weekend of sport mixed with relaxation and luxury. Forty kilometers of Nordic trails leave from the inn. Rentals and lessons for cross country skiing and snowshoeing are available. Inn also has a health club with outdoor heated pool to ease weary muscles at the end of a day of skiing. Families with young children may rent a traditions pulk sled to pull a load of children behind adult skiers.
Gilsland Farm Center of the Maine Audubon Society
20 Gilsland Farm Road Falmouth, ME, 04105 Phone: 207-781-2330
Nordic skiing and snowshoeing allowed on year-round walking trails; snowshoes, only, for rent.
This headquarters for Maine Audubon is just a few milesfrom Portland, located along the Presumpscot River estuary. It has an environmental center and a 65-acre sanctuary with two miles of trails winding through woods, meadows, and salt marsh. Trails are open for cross-country skiing and snowshoeing. Snowshoes available for rent. Trails open daily, dawn to dusk. Nature center open daily, 9 a.m.-5 p.m.; Sunday, noon-4 p.m.
Carter's Farm XC Ski Center in Bethel
Intervale Road Bethel, ME, 04217 Phone: 207-824-3880
55 km of beginner to advanced Nordic trails
55 km of trails with views of the Mahoosuc and Presidential mountain ranges. All trail passes are good at both Carter locations, in Oxford and Bethel. Trail fees are $10-$14. Dog trail passes are $14 (please call before bringing dogs). Equipment rentals are $10-$14. Season passes are available. Open daily, 9 a.m. to 4 pm
Nordic Heritage Sport Center
Route 167 five miles east of Presque Isle Presque Isle, ME, 04769 Phone: 207-762-6972
Cross country and snowshoeing trails; rentals; night skiing until 8:30 p.m.
Twenty km of trails for cross country skiing and snowshoeing John Morton of Thetford, Vermont. This community outdoor sport club operates year-round, with an emphasis on mountain biking and skiing. In winter, 20 miles of trails are open for Nordic skiing and snowshoeing. daily. Ski equipment, snowshoes, and Nordic walking poles are available for rent. The welcome center is open Fridays, 3 to 6 p.m. and weekends, 9 a.m. to 4 p.m. Ski trails are lit from 4:30 to 8:30 p.m.
Black Mountain of Maine
39 Glover Road Rumford, ME Phone: 207-364-8977
Downhill ski area offers cross-country skiing & snowshoeing on groomed trails
The cross-country skiing center is friendly and helpful. Nordic trails are groomed for skating and classic cross-country techniques. Snowshoeing is permitted on trails.
Sunday River Inn XC Ski Center
23 Skiway Road Newry, ME, 04261 Phone: 207-824-2410
Cross country skiing over 40 km of trails as well as 12 km of snowshoeing trails.
Birches Ski Touring Center
1 Birches Road Rockwood, ME, 04478 Phone: 207-537-7305 Toll-Free: 800-825-9453
40 miles of groomed trails; rentals; dogs welcome; overnight camping on trails; also ice fishing and snowmobiling
40 kilometers of groomed trails On 11,000 acres of fields and woodlands with 100 inches of snowfall a year. Dogs are allowed on trails, but must be leashed. Visitors may rent both skis and snowshoes at the Birches Resort Lodge. (Pets are not allowed in the main lodge.)
Nordic skiing tail passes and rentals for full day and half day (begins at noon). Full-day rate (includes sauna and hot tub) is adults, $11; $14; children under the age of 12, $8. The center also offers ice fishing and snowmobiling, with equipment rentals and instruction. Guided winter excursions and packages are offered.
Five Fields Farm
Route 107 Bridgton, ME, 04009 Phone: 207-647-2425
Skiing and snowshoeing in apple orchard and on logging trails; equipment rentals
Cross country ski and snowshoe through 27 kilometers of orchards and logging roads at this apple orchard. The farm's heated retail stand includes a rental operation with Nordic skiing equipment in all sizes, along with snowshoeing equipment, The trail system moves through the orchards and also connects with logging roads and travels on lands owned by Loon Echo Land Trust and on Bald Pate Mountain.
Groomed trails do not reach the summit, but the back country trek to the summit is often done by snowshoers and tougher skiers. Views include wonderful vistas and occasionally Mount Washington.
Pineland Farms
32 Farm View Drive New Gloucester, ME, 04260 Phone: 207-688-4539
Working and demonstration farm offers trails for cross-country and snowshoeing; lessons; rentals
Pineland Farms is a working farm, business campus and educational and recreational venue. IT has 5,000 acres of woodlands and fields open to the public for various outdoor activities. Thirty kilometers are open for biking, walking, trail running, mountain biking, tennis, Nordic skiing, snowshoeing, ice skating.
Day and half-day skiing and snowshoeing passes range from $4 to $13. Season passes are available. Equipment rentals and lessons. If weather and snow conditions permit, ski trails are open daily from 8 a.m. to 5 p.m.
Carter's Farm XC Ski Center in Oxford
420 Main Street Oxford, ME, 04270 Phone: 207-539-4848
30 km of groomed trails; snowshoeing; rentals
30 kilometers of groomed Nordic ski trails, including beginning and intermediate levels. Large range of cross-country equipment and snowshoes for rent. Two ski for the price of one on Tuesdays. All trail passes are good at both our locations, in Oxford and Bethel. Trail fees are $10-$14. Dog trail passes are $14 (please call before bringing dogs). Equipment rentals are $10-$14. Season passes are available. Open daily, 10 a.m.-5 p.m.