Maine's beachfronts & mountains offer cozy cottages for your stay
A family or romantic vacation at a cottage in Maine is a dreamy getaway that will call you back year after year. Cottages for vacation rentals are found on the ocean, along Maine's inland lakes, and in the deep forests and mountains. Cottages offer privacy for romance and plenty of space to spread out for families, groups, reunions and celebrations. Many cottages are upscale and
luxurious
, and they offer easy access to outdoor fun like rafting, fishing, hiking and snowmobiling. Cottage owners may offer guides and sports equipment to enhance your outdoor Maine cottage vacation.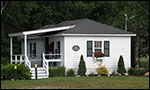 191 Shore Road, P.O. Box 409 East Boothbay, ME, 04544 Phone: 207-633-4200 Toll-Free: 800-552-5554
Cozy cottage lodgings in a historic summer colony
Slip away to this ocean side resort and into your own cottage with coffee bar, compact-fridge, and microwave. Choose from one room cottages in a quiet setting and distant ocean views to a duplex cottage with a common porch, living area and separate bedroom. The two room cottage offers a private porch, living room and separate bedroom. You'll also find cottages and suites with full kitchens available for weekly rentals one, a two-bedroom single level cottage with direct ocean views, private porch, living room with gas fireplace, double pull-out sofa, kitchen and dining area. Enjoy the area's largest ocean side pool, whale watches, lighthouse tours, rail adventures and more. You're near quaint shops, antiques and restaurants in picturesque Boothbay Harbor.
393 Mile Road Wells Beach, ME, 04090 Phone: 207-646-2831
Cozy and convenient cottages on Maine's South Coast
This year-round seaside resort sits directly on Wells Beach, one of the largest sandy beaches in Maine, in the heart of the southern Maine coast. Spacious and comfortable cottages include all the conveniences of home plus full access to the hotel amenities, and are all only steps from the beach. There's a lending library, exercise room, and two guest laundries while the indoor heated pool includes a large deck and a hot tub with a soothing waterfall. Nearby are countless family attractions and recreation activities including golf, deep sea fishing, whale watching and much more. You will also find great restaurants, museums, and more than fifty antique shops in the town of Wells to browse. Head to this stunning setting to kick back and make unforgettable memories.
On Birch Island in Attean Lake Jackman, ME, 04945 Phone: 207-668-3792
Cozy cottages and wildlife for neighbors
A haven for canoeists and kayakers, Attean is also a favorite gathering place for families both human and wild including birds, moose, deer, loons, and eagles. Owned and operated by the same family heirs since the 1800's, the resort features charming and private 1-3 bedroom cottages that sleep up to eight and offer full bath, private porches with views of the lake and mountains, and wood burning fireplaces. Fresh towels, ice and firewood are resupplied each day. Enjoy hearty meals, picnics, cookouts, and fine dining. Explore uninhabited islands, shore lines, and sand beaches for a swim or a lounge in the sun. Hiking, birding and fishing are always on tap while whitewater rafting, golf, day trips and more offer enhanced excitement in and near this unspoiled scenic wonderland.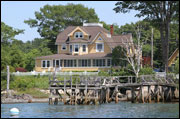 80 Beach Avenue Kennebunk Beach, ME, 04046 Phone: 207-967-4461 Toll-Free: 800-967-4461
Rent a quiet, private getaway steps away from Kennebunk Beach
If you love the idea of a seaside getaway but want your privacy, let the Seaside Inn introduce you to their four waterfront cottages and houses adjacent to their prime property steps from gorgeous Kennebunk Beach. Each cottage or house, with from two to five bedrooms, has an ocean view, a harbor view, a river view – or all of the above. (The luxury five-bedroom home on the river features water on three sides.) Porches, terraces and spacious lawns allow for plenty of relaxing. Amenities range from ensuite bedrooms and marble kitchen countertops to gas fireplaces and wood floors. Enjoy the water or head into charming Kennebunkport for dining and shopping. Nearby attractions include lighthouses, golf courses, wildlife preserves and museums.
Mid-Coast Maine on Casco Bay Sebasco Estates, ME, 04565 Phone: 207-389-1161 Toll-Free: 877-389-1161
You'll love a Maine cottage with a crackling fire
Is there a better way to experience Maine than with a vacation in a seaside cottage? At Sebasco Harbor Resort, we've got more than 20 cottages, most of them one-of-a-kind, scattered about our 550 acres. All are near our stretch of rock-bound coast. Each has its own charms. Bayview is located at the edge of the pool lawn and offers spectacular views of Sebasco Harbor. From the private patio you can watch boats in the harbor and spectacular sunsets over the water. The cottage features two bedrooms, two baths, a living room, and a kitchenette. Quaint Birch Bark is perfect for family vacations. It includes two bedrooms, one bathroom, a kitchenette, and a cozy living room with a fireplace. Dogs are allowed.
87 West Grand Avenue Old Orchard Beach, ME, 04064 Phone: 207-934-4949
Two of the cottages are on the beach
Each beach cottage has a screened –in porch facing the ocean. Another of the cottages, an ocean front cottage, was once the family summer home of a former Maine governor.
All five cottages are perfect for a big family or family reunion. The rustic ambiance of the cottages will take you back to the 1930′s and 40′s.
All cottages have a full kitchen, with microwave oven, stove, sink and refrigerator, cable television, and are partially air-conditioned. Some have fireplaces. Cottages do not have heat.

The cottages are rented by the week.
88 Grandview Avenue Boothbay Harbor, ME, 04538 Phone: 207-633-4152 Toll-Free: 800-553-0289
The quintessential Maine resort experience, the Spruce Point Inn offers modern day travelers a chance to experience the simple, carefree elegance of times gone by. Minutes from bustling Boothbay Harbor, the resort occupies a secluded peninsula on the rocky coast of Maine. Lobster boats and windjammers ply their trade in cool ocean waters, while guests relax by the resort's saltwater or heated freshwater pool, play croquet and tennis, get lost in a book or enjoy fine cuisine prepared by the inn's award-winning chef. Lodging possibilities include the historic waterfront inn, charming summer cottages, contemporary lodges and woodland condos. Experience the beauty of our surroundings and our ongoing commitment to preserving our environment; certified by the state of Maine as an environmental leader.
261 Point Sebago Road Casco, ME, 04015 Phone: 207-558-8000 Toll-Free: 800-655-1232
Cottages, park homes at the heart of lakeside resort
At Sebago Point, there are accommodations to meet every taste and budget, from campgrounds to luxury lodges. In between are the resort cottages and park homes, ideal for couples, families or friends who want to get away and spend time enjoying beautiful Sebago Lake and fun lakeside and woodland activities (from paddleboarding and pontoon cruises to karaoke and family double-dare competitions). Park homes, a short walk to the beach, are about 50 percent larger than a hotel room and include kitchens, decks and campfire rings. Resort cottages are a bit bigger, near the 18-hole golf course, and include sunrooms and/or decks. Kids will enjoy camp activities run by trained counselors; adults will love happy hour in the Beach Pavilion.
67 Atlantic Highway Northport, ME, 04849 Phone: 207-789-2000
Better than Glamping!
Maine's Midcoast Mountain Retreat. Set on picturesque Penobscot Bay near Lincolnville, Camden, Belfast and Rockland, each lodging has charming rustic décor, screened in porches with Adirondack chairs, cozy amenities, and spacious layouts perfect for getaways and extended stays. All cabins have electric heating and air conditioning, complimentary WIFI, kitchenette/kitchen, cable TV and some with gas fireplaces. Dog friendly cabins are available for a fee of $50 and cribs, cots, gas grills and fire pits are also available at an extra cost. Enjoy the 3.8 mile hiking trial, the fitness and recreation center, the private beach, and casual dining indoors & out at our Copper Pine Cafe.
518 Main Street Ogunquit, ME, 03907 Phone: 207-646-2612
Classic cottage lodging on the south coast
Opened in 1936, guests have been coming here from near and far ever since. This popular retreat invites couples, families and friends to unwind by the sea in scenic Ogunquit. Amidst a peaceful setting and natural beauty, the Dunes has been called one of the area's best kept secrets with easy access to the beach and downtown Ogunquit. Classic New England-style one and two bedroom cottages and cottage suites with white clapboards and green shutters feature hardwood floors, wood-burning fireplaces and screened-in porches. All come equipped with full baths, full kitchens and lovely vistas of the tidal river and sand dunes. You're within walking distance or a short trolley ride to Ogunquit Beach, village shops, galleries, restaurants, and area attractions.