Fresh Water Beaches in Maine
13 Myrle's Way Greenville, ME Phone: 207-695-2700
Activities on this year-round park on Moosehead Lake include birdwatching, motor boating, camping , canoeing, fishing, hiking and swimming in summer, and cross-country skiing, snowmobiling and snowshoeing in winter. The offseason phone number is 207-941-4014. Fishermen must have licenses.
A 2-mile walking trail with views of Moosehead Lake follows the shoreline between the beach and Rowell Cove. The park grooms Nordic ski trails and plows the parking lot during winter.
Facilities include a playground, RV dumping station, showers, and a trailered boat launch.
camping and camping reservations.
Hours:
Open year-round for walk-in use. Staffed May 15 to Columbus Day.
Fees:
Day-use fees are $1.50 to $4.50, depending of age and state residence.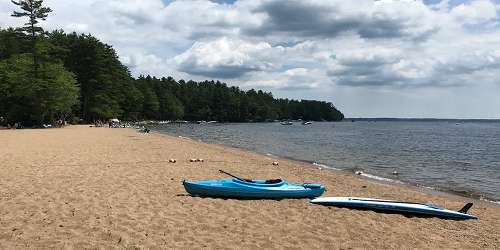 11 Park Access Road Casco, ME Phone: 207-793-6231
This forested park is aside the state's second largest lake. The park has sandy beaches, extensive woodlands, ponds, bogs, and a river. Water sports includes swimming and sport fishing. The park has a 250-site campground and lots of wooded trails.
299 Center Hill Rd Weld, ME Phone: 207-585-2347
This very large state park is in two sections, and one of them encompasses Webb Lake. The lake has a sandy beach where visitors may swim and do boating from a boat launch. There is a nearby picnic area and a nearby campground in the Webb Beach section. During the summer, park staff routinely offer canoe trips, walks, and nature programs.
Park map.
Hours:
Open year-round; daily, 9 a.m.-sunset unless otherwise posted at the gate. Earlier openings vary with the season; call ahead.
Fees:
Day-use fees are $2 to $6 depending on visitor age and residents.
Off Route 102 just north of Southwest harbor Mount Desert Island, ME Phone:
This small, freshwater, inland lake on the "quiet side" of Mount Desert Island offers swimming from a beach in water that can reach 70 degrees ( in contrast to cooler ocean water). Families and kids like the sloping sand beach, which stays shallow far from the shore. Lifeguards are on duty from Memorial to Labor Day weekends. The beach is accessible by wheelchair. The Beech Mountain Hiking Trails are nearby; one leads to an overlook on the cliffs above. The lake has a parking area, and the free
Island Explorer Shuttle Bus
has a pickup and drop-off point here during normal season months.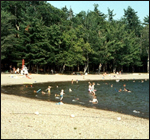 100 West Park Lane Swanville, ME, 04915 Phone: 207-525-4404
Swan Lake State Park on scenic Swan Lake offers fresh-water swimming area with lifeguard supervision, picnic sites with grills and walking trails. Toilets and changing facilities are also available for use. For a fee, a private group shelter equipped with volleyball, horseshoes and a handicapped accessible toilet are available. Other activities are fishing, canoeing, and hunting.
Fees: Day-use fees are $2 to $6, depending of age and state residence.
Hours; Open Memorial Day to Labor Day, daily, 9 a.m. to sunset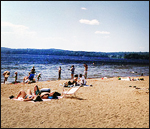 8 State Park Road Jefferson, ME Phone: 207-549-7600
Located on Damariscotta Lake, this popular park offer swimming from a large sandy beach; as well as fishing, canoeing, and wildlife watching, Picnic tables and grills are available for this popular summertime activity. A group shelter, available by reservation, has electricity, running water and a grill. Parking at this park is limited.
Hours: Memorial Day to Labor Day, daily, 9 a.m.-sunset. Open to pedestrians in off season, but must park outside gates.
Fees: Day-use fees are $2 to $6, depending of age and state residence.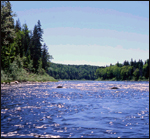 consult description Access through Millinocket or Greenville, ME Phone: 207-941-4014
The Penobscot River Corridor is within Maine's undeveloped forests and part of the
Northern Forest Canoe Trail
. 67 miles of river and 70 miles of lake frontage provides ample places for canoe trips, fishing expeditions, and whitewater rafting. Major access points in the area are at Millinocket or Greenville. Trips to this remote region require careful planning; cell phone service in the region is spotty or non-existent.
Penobscot River Corridor Map (PDF)
RR 1 Richmond, ME Phone: 207-582-2813
Peacock Beach is located on Pleasant Pond, on U.S. Route 201 between the Maine Turnpike and I-295, about 12 miles south of Augusta. The park has picnic tables, playing fields, rest rooms, parking, and a small beach and swimming area.
Hours: Memorial Day to Labor Day.
The Belgrade lakes, just north of Augusta, is a chain of seven fresh water lakes. Swimming is done at:
Rome Town Beach on Great Pond -- Small sandy beach area located on the top of Great Pond. Take Route 225 to Frederick Lane. Go all the way to the end.
Belgrade Town Beach on Long Pond -- Located on Lakeshore Drive, Belgrade. Take Route 27 to West Road (at intersection where Sunset Grille is located). Make immediate right onto Lakeshore Drive. Go .02 of a mile. Beach is located just as road begins to make a sharp left.
Oakland Town Beach on Messalonskee Lake -- Located next to the boat landing at the north end of Messalonskee Lake. Follow signs to the public boat launch on Old Belgrade Road.
Pleasant Point Beach on McGrath Pond Located on McGrath Pond Road, west side of McGrath Pond.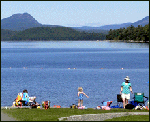 401 State Park Road Dover-Foxcroft, ME Phone: 207-564-2003
Peaks-Kenny State Park is on Sebec Lake. Visitors and overnight campers can enjoy a peaceful setting, boating, fishing, swimming, hiking and picnicking. There are 56 camp sites set under tall trees. There is a mile of shoreline along Sebec Lake, and a sandy beach with lifeguards. A grassy picnic next to the beach has a playground, picnic tables and barbecue grills. The camping area is a shore walk from the beach.
Hours: May 15 to October 1; daily; the main entrance gate is open 7 a.m. to 10 p.m. The day-use area is open from 9 a.m. to sunset.
Fees: Day-use fees are $2 to $6, depending of age and state residence. For camping fees, call the park directly for rates and closing date,
Plains Road and Maine Street Poland Spring, ME, 04274 Phone: 207-998-4104
A short drive from Lewiston and Auburn, the park is perfect of water sports. The waterfront which is easily accessible because of the smooth, surfaced promenade that parallels the pond for 1000 feet next to the beach. A public boat launch site is located at the end of the beach and is limited to 10 horsepower motors. Visitors enjoy boating, canoeing, kayaking, and wind surfing.
Hours: Open all year; daily, 9 a.m. to sunset
Fees: Day-use fees are $2 to $6.50 depending on visitor age and residents.