Maine offers the very best of waterfront and oceanfront restaurants
As the state with the most coastline (after California) and a strong fishing tradition, Maine is ready to serve seafood -- and other cuisines, of course -- at waterfront and oceanfront restaurants overlooking dramatic bays, harbors, and jetties.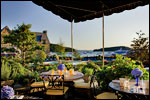 55 West Street Bar Harbor, ME, 04605 Phone: 207-288-5033 Toll-Free: 800-328-5033
Setting the standard for waterfront dining in Bar Harbor
Savor authentic Italian fare at La Bella Vita, and sample from our impressive wine collection at the warm, inviting Enoteca Wine Bar. A perfect gathering place where family and friends can meet over a robust glass of wine, breathe in the heavenly aromas of flatbread pizza, antipasti, and small tapas style dishes. With earthy tones, copper pots, handcrafted Italian mosaics, photos of the Italian countryside and al fresco patio dining, La Bella Vita builds on the proud traditions of an Italian trattoria. Our Splash Pool Bar offers more relaxed, casual fare and drinks. Colorful seasonal blooms, lighter fare and your favorite libations make it easy to linger longer on the deck for hours soaking up the sun and savoring the sea air. For the quintessential Maine lobster experience, we recommend Stewman's Lobster Pound where you can enjoy delicious authentic Downeast live Maine lobsters in a relaxed atmosphere.
88 Grandview Avenue Boothbay Harbor, ME, 04538 Phone: 207-633-4152 Toll-Free: 800-553-0289
Fresh local ingredients make memorable meals
At Spruce Point Inn in Boothbay Harbor, Maine, we work with local farmers and fishermen to provide our restaurants with the freshest ingredients possible and make every meal a memorable experience. At 88, our "smart casual" dining room, enjoy Damariscotta oysters and Maine-caught lobster while watching dramatic sunsets through the spacious windows. At Bogie's, our family-friendly bistro, we serve breakfast, lunch, and dinner. Savor a burger, Boothbay clams, or a craft beer while enjoying the ocean view from our porch. Deck is our seasonal al fresco dining area. serving classic sandwiches, chowder, and light fare. Sit awhile and relish the views of Maine's rock-bound coast and the smell of the fresh salt air. We offer an extensive wine list as well as local micro-brews and spirits.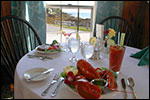 191 Shore Road, P.O. Box 409 East Boothbay, ME, 04544 Phone: 207-633-4200 Toll-Free: 800-552-5554
Fine and casual dining with spectacular ocean views
Enjoy exceptional American and continental cuisine in one of the Boothbay area's finest restaurants with tasty lobster, fresh, local seafood preparations and top-quality meats. There's a children's menu and an extensive wine and beer list. The Tavern Lounge offers a fireplace for before and after dinner relaxation. Savory appetizers include grilled flatbreads, mussels, shrimp cocktail and calamari to stews, soups, chowders and garden salads. Entrées delight with prepared to order Maine Lobster, chicken, duck rack of lamb, Pork Osso Bucco and veal to steaks, baby back ribs and a host of shell and seafood entree including scallops, swordfish, haddock and fillet of salmon. Ask for the lighter fare and voila: lobster rolls, fish and chips, burgers, sandwiches, pizza and vegetarian specials.
Mid-Coast Maine on Casco Bay Sebasco Estates, ME, 04565 Phone: 207-389-1161 Toll-Free: 877-389-1161
Sebasco Harbor means great restaurants with real Maine flavors
There are two restaurants at Sebasco Harbor Resort -- the Pilot House and the Ledges Pub. Both offer diners spectacular ocean views. And both also focus on serving organic and locally-produced foods purchased from New England farmers, lobstermen, fishermen, cheesemakers, dairy farmers, and cattle ranchers. The Pilot House offers an elegant setting with breathtaking sunset vistas. Appetizers include seared scallops, Atlantic mussels, and fresh local oysters. Among the entrees: grilled chipolte salmon with wild rice, lobster carbonara with angel hair pasta, and filet mignon with sweet potato hash. At the more casual Ledges enjoy clam chowder, steamed lobster, scallops, and fried clams. In summer months we also offer lobster bakes, blueberry pancake breakfasts, and our "family suppahs" with a whole roasted pig.
159 Searsport Avenue Belfast, ME, 04915 Phone: 207-338-2090
On Penobscot Bay
Our menu, created by our award winning culinary team, will delight you with classic dishes, innovative nightly specialties and seasonal offerings. At Ocean's Edge you will enjoy the view of the sea and a menu filled with seafood choices. You can also build your own pasta dish, and enjoy marinated steak tips, a Black Angus burger, Mango Pecan Chicken or pizza.
123 Eden Street Bar Harbor, ME, 04609 Phone: 207-288-9723 Toll-Free: 800-234-6835
Waterfront dining at the Bar Harbor Regency
The Bar Harbor Regency offers guests three enticing restaurants for wonderful waterfront dining. Coming summer 2012 new La Bella Vita Ristorante! Serving breakfast, and dinner daily! Enjoy a cocktail in the lounge and then a fantastic dinner with the moonlit ocean as a romantic backdrop. Stewman's Lobster Pound serves fresh local seafood in a casual atmosphere. Situated near the hotel's private marina, Stewman's features live Maine lobster, steamer clams, mussels, homemade lobster bisque and, of course, New England clam chowder. The poolside Splash Pool Bar offers sandwiches and beverages throughout the day. Enjoy a pina colada, strawberry daiquiri, or another of your favorite beverages as you relax poolside, enjoying views overlooking the Maine coast and local islands.
80 Commercial Street Boothbay Harbor, ME, 04538 Phone: 207-633-4434
The Tugboat Inn & Restaurant - waterfront dining at its' best!
Our waterfront restaurant is built out of the side of an old tugboat and offers spectacular water views. We feature fresh Maine seafood including Maine lobster, as well as a wide variety of regional favorites. An excellent array of appetizers, entrees, sandwiches and chef's daily specials round out the menu. We offer a full bar, a complete beer and wine list, a tasty assortment of desserts and a junior menu. Lunch and dinner are served daily. Our Marina Lounge & Deck is open from May to October and serves food and beverages inside or on the patio deck overlooking our own marina. In season we offer live music at the piano bar 6 nights a week, and on weekends in the off season.
90 Eden Street Bar Harbor, ME, 04609 Phone: 207-288-2665
Exceptional dining awaits at Bar Harbor's Bluenose Inn
Indulge in a unique and exceptional waterfront dining experience when vacationing at Maine's Bar Harbor. The Looking Glass Restaurant at Bluenose Inn features dining on an outdoor deck, where you'll enjoy our firepit and amazing ocean views. Our restaurant is a consecutive winner of Wine Spectator's Award of Exellence. Exectuive chef Matt McPherson prepares delicious fare with a focus on local ingrediets. Our dinner menu includes native Maine crab cakes, wild mushroom tart, New England clam chowder, truffled lobster mac and cheese, miso-marinated pork tenderloin with maple mustard glaze, filet mignon with wild mushrooms, and, of course, Maine lobster. Join us for breakfast and enjoy Maine blueberry pancakes, banana croissant French toast, eggs benedict, or an omlette prepared with ingredients from nearby farms.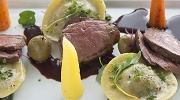 208 Ocean Avenue Kennebunkport, ME, 04046 Phone: 207-967-2125 Toll-Free: 855-346-5700
Savor a memorable feast by the Atlantic
Enjoy inspired fine dining at Ocean at the Cape Arundel Inn on Maine's south coast. The water around you will pique your appetite and invite you to slow down. Your culinary pleasures are in the hands of imaginative chef Pierre Gignac whose creative menus change seasonally showcasing signature Maine-caught seafood dishes like Lobster Thermidor, and the best of what is grown, raised and produced locally. His creations take inspiration from southern France and the Mediterranean with intriguing new twists, plus an international selection of wines. Memorable evenings at Ocean begin with cocktails on the relaxing front porch or at the bar. Continue your culinary journey in the dining room, where every table has a view of the frothy blue sea.
95 Ocean Avenue Kennebunkport, ME, 04046 Phone: 207-967-4050 Toll-Free: 800-552-5651
Seaside dining with Maine flavors from land and sea
This seaside resort has welcomed guests with casual elegance and modern comforts for more than a century. Its restaurant and pub provide delicious variety while capturing the true flavors of Maine. 95 Ocean restaurant offers casual fine dining and is highly regarded for its local ingredients and fresh seafood. It provides an excellent dining experience good enough to be awarded the "Platinum Plate" by the popular television program TV Diner. Live entertainment is on hand most nights in season (Memorial Day to late October). Heckman's is an intimate pub featuring an excellent selection of local beers and a comprehensive wine list. Latitudes, the poolside bar and grill, is a treat and one of the resort's best kept secrets.
31 Atlantic Avenue Boothbay Harbor, ME, 04538 Phone: 207-633-6302 Toll-Free: 1-800-533-6302
At Boothbay Harbor Inn, enjoy a dining experience that's pure Maine
At The Boothbay Harbor Inn you'll be able to enjoy the enjoy the quintessential Maine dining experience. We're located directly on the waterfront and our restaurant boasts panoramic windows overlooking the harbor. You'll watch boats sail past and breathtaking sunsets while feasting on freshly-caught lobster and other seafood delights. In the background you'll hear the soothing sounds of piano music played on our baby grand. We feature a full bar with a complete beer and wine list. Our menu offers a wide variety of New England favorites, including steamed clams, Parker House haddock, pan-seared scallops, Yankee pot roast and lobster prepared in several different ways. New for 2015 we are adding some Mexican fusion to our menu, featuring fresh Maine seafood and lobster. After dinner, enjoy a stroll around the harbor. We're close to shops, galleries, ice cream parlors and Boothbay's famous footbridge.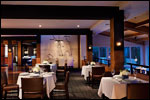 220 Warrenton Street Rockport, ME, 04856 Phone: 207-594-2511 Toll-Free: 800-341-1650
Superb New England oceanside dining
Whether you choose the classic Italian elegance of La Bella Vita, the casual comfort of the Enoteca Lounge or Clubhouse Grille, or our new Splash Pool Bar dining at the Samoset, you'll be dining at some of the finest restaurants in Rockport Maine.

As in Italy, La Bella Vita uses only the freshest ingredients, with an emphasis on garden-grown vegetables and healthy olive oil. An authentic wood-fired brick oven casts a warm glow over the Enoteca (Italian Wine Bar). A perfect gathering place where family and friends can meet over a robust glass of wine, breath in the heavenly aromas of flatbread pizza, antipasti, and small tapas style dishes. With earthy tones, copper pots, handcrafted Italian mosaics, photos of the Italian countryside and al fresco patio dining, La Bella Vita builds on the proud traditions of an Italian trattoria. The great ambience and spectacular ocean views are reminiscent of the tiny harbor towns and villages along the Italian coast making this Rockport's premier dining spot. Visit our Splash Pool Bar to enjoy lighter fare and your favorite libations on the deck for hours soaking up the sun and savoring the sea air. To round out your dining pleasure, indulge in a championship golf course view at the Clubhouse Grille.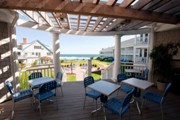 62 Beachmere Place Ogunquit, ME, 03907 Phone: 207-646-2021 Toll-Free: 800-336-3983
Ogunquit ocean views at Blue Bistro
Blue Bistro at the Beachmere is a casual dining restaurant offering a relaxed setting for an evening cocktail or a full dinner. Both Lunch and Dinner are served and include daily specials from our in house chefs. During the summer season enjoy an outdoor lunch on the rotunda. You are welcome to sit inside in the dining room any any time of year. Views of the Atlantic Ocean available year around!
Click here to view our:
Lunch Menu
Dinner Menu
22 Commercial Street Boothbay Harbor, ME, 04538 Phone: Toll-Free: 800-628-6872
Enjoy lobster while watching the boats sail in
At Fisherman's Wharf Inn in Boothbay Harbor you're invited to enjoy breakfast, lunch, or dinner while taking in spectacular views of the scenic waterfront. Our dining room and pub both feature large windows overlooking beautiful vistas of the bustling harbor and its famous footbridge. Or dine on our outside deck and take in the summer weather. Our menus offer the finest in traditional New England fare as well as our chef's own delicious creations. Try our fresh lobster and other seafood favorites, caught in the waters off Boothbay Harbor. Or satisfy your hunger with steak cooked to order, perfectly-prepared chicken, and vegetarian specials. Whatever you are craving, our friendly, welcoming staff will ensure you have a relaxing and pleasant dining experience.