Taking a scenic or foliage drive is a must-do on a Maine vacation
With all its majesty and natural beauty, Maine offers some of the most scenic drives in America, maybe especially during fall foliage season. Take a scenic drive, following the specific directions below, if you wish, on your Maine vacation. Don not miss Maine's scenic dfrives, foliage drives, scenic highways, National Scenic Byways.
See more beautiful images of New England by Massachusetts photographer
Jeff Folger.

Route 3 and carriage roads of Acadia National Park Bar Harbor, ME Phone:
Acadia Byway travels through Acadia National Park and the historic villages of Bar Harbor and Northeast Harbor on Mount Desert Island. Along this route, the rugged Maine coast and old-growth forests remain much as they were when the island was first viewed by Samuel de Champlain in 1604.
Connected to the mainland by a bridge, Mount Desert Island and Acadia National Park are the most frequently visited locations in Maine. Travelers can bike to their hearts content on miles of interconnected carriage roads.
Following Route 3, this byway follows Route 3 into Bar Harbor, then follows the park loop road thereafter. Visitors looking to avoid seasonal traffic can enjoy the Acadia Byway aboard the free Island Explorer bus network that also connects the park with inns, campgrounds and the island's village centers.
View a Map of the Acadia Byway.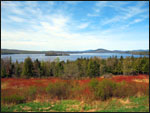 Along routes 4 and 17 Around Rangeley Lake, ME Phone: 800-685-2537
This beautiful area of the wild Maine lakes and mountains attracts visitors who love year-round outdoor fun, including fishing, camping, hiking, bicycling, boating, hunting, wildlife viewing and photography, snowmobiling, and skiing. A glorious view is seen off the Height of Land on Route 17. It is fairly easy to spot moose along this drive and it is also perfect for a foliage drive. (photo by binkley27)
Map of Rangeley Lakes Scenic Byway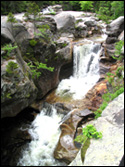 Along Route 26 Newry to Umbagog State Park, ME Phone:
38 miles
The Grafton Notch scenic byway begins in Newry, near Sunday River ski area, and travels along Route 26 to Grafton Notch State Park and Lake Umbagog. The bEar River is visible from the road along much of this Route. Travelers along this route should be sure to stop at Grafton Notch State Park to enjoy a short walk to Screw Auger Falls and Mother Walker Falls.
Map of Grafton Notch Scenic Byway.

Route 1 to Route 186 Winter Harbor, Birch Harbor, Prospect Harbor, ME Phone: 207-624-3300
Schoodic National Scenic Byway explores a less-developed part of the rugged Downeast Maine coast. This route passes through the only mainland section of Acadia National Park and out to beautiful Schoodic Point. The cold North Atlantic waters of Downeast Maine are filled with lobster boats and the coast is lined with wooden piers, lighthouses and wildlife. Take in majestic views of Cadillac Mountain and Mount Desert Island along this drive. This area also is famous for rolling hills lush with wild blueberries.
Map of Schoodic National Scenic Byway.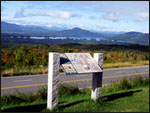 Along Route 201 Solon through Jackman to border of Canada, ME Phone:
The Old Canada Road Scenic Byway extends from Solon, Maine, through the towns of Jackman and Bingham to the border of Canada, for a total of 80 miles. This is a fantastic journey through the glorious outdoor vistas of northern New England. Lots of accessible guides and outfitter help visitors meet the outdoors close up. Highlights of the drive are the Attean Overlook near Jackman, Wyman Lake, the Forks area -- meeting place of the Dead and Kennebec rivers -- and Lake Parlin.

Along Route 1 Danforth to Orient, ME Phone: 207-624-3300
12 miles
This route begins at Danforth, which once embraced the lumber industry, and continues through Weston before reaching Orient and a border crossing into New Brunswick, Canada. This stretch of US Route 1 offers travelers million dollar views of the Chiputneticook chain of lakes, including the East Grand, Brackett and Deering. Visitors and travelers see beautiful views of Mount Katahdin, Peekaboo Mountain and New Brunswick, Canada, across East Grand Lake. Wildlife, including bears, deer, eagles, loon and moose, make this area home.
Map of Million Dollar View byway.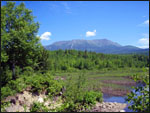 Route 11 Portage to Fort Kent, ME Phone:
38 miles
The most northerly of Maine's scenic byways, State Route 11 follows the rolling hills between Portage and Fort Kent. This drive offers outstanding views of meadows, Eagle Lake, and Mount Katahdin. Travelers might catch a view of eagles and moose along the way. Route 11 is the main north-south road between Aroostook County, Maine, and Canada. It was sttled by the French-Acadians in the 1800s, and its people cherish the Acadian influence on its culture. [photo by Rebecca Sudduth]
Map of State Route 11 Byway.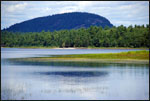 Along Route 113 from Baldwin to Gilhead, ME Phone:
This beautiful 60-mile drive travels through wild outdoor scenery, along the Saco River, past working farms, and through historic villages. The northern end of the route is White Mountain National Forest, hone to excellent hiking and climbing. Other highlights on the Route at the Hemlock Bridge in Fryeburg, Mount Cutler in Hiram, and the Fryeburg Museum. [photo by Joe Shlabotnik]
Map of Pequawket Trail Scenic Byway.