Maine offers fishing in fresh and saltwater for trout and striped bass
Maine residents under 16 years old and non-residents under 12 years old may fish in Maine without a license. Older people must obtain a license before fishing in inland waters or transporting fish from inland waters. A saltwater recreational fishing registration of $1 is required.
Residents and nonresidents may obtain licenses from license agents throughout the state at sporting goods stores, many convenience stores, at town clerk offices, or online from the
state Department of Inland Fisheries and Wildlife
. Nonresidents may also purchase a license by mail from the Department of Inland Fisheries and Wildlife. 207-287-8000.
Maine Tide Charts
Kennebunk and Mousam Rivers
Popular area for striped bass fishing.
Tumbledown Mountain
off Weld-to-Byron Road Weld, ME Phone:
Trails of varying difficulty greet hikers on this three-peaked mountain. The shortest and easiest is the Brook Trail, which is only a 1.5-mile round trip. The Loop Trail affords views of the Great Ledges, and the Chimney Trail is an extremely difficult hike to the summit. Fishing can be had at Tumbledown Pond, reached along the Brook Trail.
Here are some of the bodies of fresh water in the Western Lakes and Mountains region that provide fine fishing experiences:
In the Rangeley area, try Rangeley lake, Cupsuptic Lake, Quimby Pond, Dodge Pond, Big Kennabago Stream, Little Kennebago Stream, Loon Lake, Richardson Lake, Mooselookmeguntic Lake, and Aziscohos.
Further south, fisherman will enjoy the offerings at Sebago Lake, Long Lake, Crystal Lake, Panther Pond and more.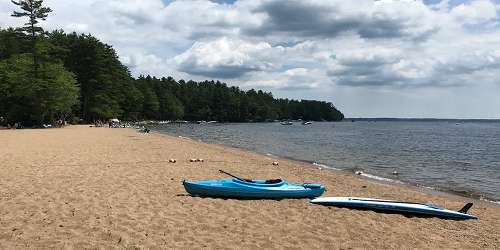 11 Park Access Road Casco, ME Phone: 207-793-6231
Fishing is done on this large lake. A boat launch is available. See
full description
of Sebago Lake State Park.
Fort Point State Park Cape Jellison Road Searsport, ME Phone: 207-941-4014
Park on a peninsula offers picnicking with waterfront views; bicycle path, boating & fishing; lighthousse
Salt water fishing and boating are welcomed at this park on a beautiful peninsula on the Penobscot River. See
full description
of Fort Point State Park.
66 Two Lights Road Cape Elizabeth, ME, 04107 Phone: 207-799-5871
Good for walking and hiking, fishing, swimming, and boating.
Offshore fishing in the calm, warm ocean off Cape Elizabeth in Maine.
See
full description
of Crescent Beach State Park.
Spencer Pond
This pond is a good area for fishing and game hunting.
The Kokadjo Area
The streams and ponds around in and around Kokadjo are known for some of the best fly fishing in Maine.
Eastern Branch of the Penobscot River
Along Route 11 Medway, ME Phone:
Fishermen will enjoy this river with its supply of Atlantic Salmon and large mouth bass. The scenery along the river makes it a great canoeing spot.
64 Balsam Drive Millinocket, ME, 04462 Phone: 207-723-5140
A large state wilderness that offers recreational activities in the water and on land; a popular camping and hiking spot
People of all ages and skill levels can enjoy many types of fishing at this park, from ponds to streams to whole lakes. Check each fishing area for special regulations. Fishing map: http://bit.ly/1eHMT03
See
full description
of Baxter State Park.
Shin Pond
Dotted with resorts and beaches, this body of water will provide visitors with just about every type of activity, from fishing and boating, to sea plane rides.
Grand Lakes Area
Princeton is the gateway to a fisherman's paradise, featuring dozens of lakes, streams and rivers and plenty of varied fish to challenge all season long.
The Belgrade lakes, just north of Augusta, is a chain of seven fresh water lakes. All the lakes have excellent fishing and state-operated boat launches. Open water fishing and ice fishing is permitted. Expect to find brown trout, brook trout, salmon, smelt, largemouth bass, smallmouth bass, white perch, pickerel, northern pike. See
Maine Department of Inland Fisheries and Wildlife
for more information and fishing licenses.
Ponds include Great Pond in Belgrade and Rome, off routes 27, 8, and 225; Messalonskee Lake in Belgrade, Oakland, Sidney, off routes 8, 11, and 23; North Pond in Mercer and Smithfield, off routes 8 or 137 or Caswell Road; East Pond in Oakland and Smithfield, off East Pond Road.
Route 3 Bar Harbor, ME, 04609 Phone: 207-288-3338
Vast national park with outdoor activities year-round on Maine coast; carriage roads, hiking and rock climbing; gardens; tidepools; camping
Salt-water fishing may be done along the rocky shore and tide pools of this oceanside park. See
full description
of Acadia National Park.