Maine lake resorts, cabins, and lodges at Sebago and Rangeley Lakes
A vacation trip to a Maine lake resorts -- in the western mountains or at Sebago Lake, closer to the ocean -- is a fine place for an outdoor Maine vacation, complete with luxuries indoors and water sports outside. These
waterfront lodgings
provide great hotel amenities for children and families; couples on a romantic getaway, and others. Get on the water for great swimming, boating, canoeing, and fishing. Many of the resorts have
spas
, hiking and golf. Fun in all seasons: winter snow sports; fall foliage, summer vacations near the water.
On Birch Island in Attean Lake Jackman, ME, 04945 Phone: 207-668-3792
Great hospitality and service in a most natural setting
This nature blessed western lakes resort sits on the largest island on the lake. Established in the late 1800's, the founders' heirs still run the place with impeccable service, fine food and comfortable accommodations. The atmosphere is scenic and relaxed with 42 untamed islands and miles of shore line to explore. Charming and private 1-3 bedroom cottages sleep up to eight and feature full bath, tub-shower combinations, private porches, and wood burning fireplaces. Fresh towels, ice and firewood are resupplied daily. Eat, meet and gather at the Main Lodge and Dining Room for hearty breakfasts, picnic lunches, cookouts and distinctive dining each evening. Hike the resort's 20 miles of trails, go birding and wildlife picture shooting, or fish for native brook trout, landlocked salmon and lake trout. It's all good.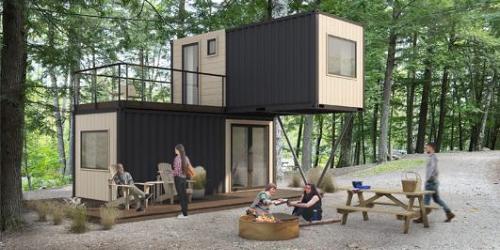 261 Point Sebago Road Casco, ME, 04015 Phone: 207-558-8000 Toll-Free: 800-655-1232
Pristine Sebago Lake centerpiece of bustling resort
Nestled among the pines, crystal-clear Sebago Lake, the deepest in Maine, provides drinking water for Portland – and endless fun for guests at the Point Sebago resort. From their camp site, cottage, vacation home or island lodge, guests can head out to the lake to go kayaking or canoeing, to fish for salmon, or just to relax or play a little volleyball on the mile of lifeguard-protected sandy beach. In the evening, there is dinner in the Lakeview Restaurant (while the kids are kept busy by trained camp counselors), as well as sunset cruises and games by the beach tiki bar. Folks with their own boats can make use of the free launch ramp or rent a dock slip in the marina.