Maine's historic homes, museums, forts add intrigue to this coastal state
Maine's many historic homes, forts, museums, and Native American locales describe the varied history of this French Quebec-influenced state and its tough economic history. The Ashland Logging Museum, Lumberman's Museum in Patten, and Maine Forest and Logging Museum in Bradley among others describe this dangerous native industry from the early days to the present. Maine's French-Acadian heritage is preserved at the Acadian Historic Village in Van Buren. Homes of ships' captains illustrate the state's seafaring history. And these examples only scratch the surface. See more below, in every region.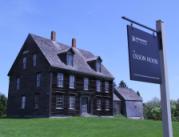 16 Museum Street Rockland, ME, 04841 Phone: 207-596-6457
Olson House conveys the stark majesty of Wyeth's art
One of the most-recognized of American paintings surely must be "Christina's World" by Andrew Wyeth. A secondary player in the painting, after the figure of Christina, is her home, the Olson House in Rockland, a place where Andrew found four decades of friendship and continuing inspiration. Wyeth met Christina and Alvaro Olson in 1939, through the young woman who would later be his wife. He spent a great deal of time visiting and painting in the rugged structure, and he once said, "In the portraits of that house, the windows are eyes or pieces of the soul almost." The Farnsworth Art Museum owns the Olson House and conducted structural repairs through 2015. The House re-opens to the public on Memorial Day weekend 2017.
Nylander Museum
657 Main Street Caribou, ME, 04736 Phone: 207-493-4209
The Nylander Museum is dedicated to the work of Olof Nylander and the natural history of Maine. Exhibits include: minerals, fossils, seashells, mollusk shells, mounted mammals, and birds from the region. The museum offers free guided nature walks during the summer and provides educational outreach programs to local schools throughout the year.
Admission is free.
Information: www.cariboumaine.org/nylander.html
Blacksmith Shop Museum
98 Dawes Road Dover-Foxcroft, ME, 04426 Phone: 207-564-8618
The museum building was built in 1863 by Nicholas A. Chandler, who bred and trained horses. The little shop proved popular with local farmers and was kept busy during the Civil War. Eventually, Chandler's sister inherited the shop, which was then operated by her husband, Henry Parsons, until 1905. The museum retains much of its original equipment including forge, ox-lifter, anvil and other tools. In addition, the museum has a collection of agricultural and rural tools.
Hours: May-October, usually daily
Admission: Donation.
Information: http://bit.ly/SfUCby
Willowbrook Museum
70 Elm Street Newfield, ME, 04056 Phone: 207-793-2784
Two historic houses and their barns, a reproduction schoolhouse and bandstand, and a millpond grace this restored country village. Exhibits include horse-drawn sleighs and carriages, an 1849 Concord stagecoach, a 1894 carousel, gas engines, and various trades shops — blacksmith, broom maker, canoe builder, cooper, cobbler, harness maker, printer, wheelwright, woodworker. Plan to spend about three hours. Picnicking welcome.
Hours: Thursday through Monday, Memorial Day weekend through October, 10 a.m. to 5 p.m.
Admission: Adults, $9; seniors age 65 and older, $7.50; students age 6-18, $4.
Information: www.willowbrookmuseum.org.
740 Fort Knox Road Prospect, ME Phone: 207-469-6553
Historic fort adjacent to bridge and 420-foot-tall observatory overlooking Penobscot River Valley
This historic fort on the Penobscot Narrows is well-preserved with underground tunnels, batteries and more. Provides access to the Penobscot Bridge Observatory. http://www.visit-maine.com/state-and-local-parks#mid-coast
Nickels-Sortwell House
121 Main Street Wiscasset, ME Phone: 207-882-7169
This house recalls Wiscasset's golden age, when wealth from shipbuilding and maritime trade built elegant mansions. After serving as a hotel during most of the 19th century, the house was restored by the Sortwell family, who purchased it in 1899. From the 1930s, Frances Sortwell carried on the family tradition of philanthropy and was one of Wiscasset's most dynamic preservationists.
Hours: June 1-October 15, Friday-Sunday; 11 a.m.-4 p.m.; tours every half hour.
Admission: $5; seniors, $4; students and children, $2.50.
Information: http://bit.ly/ZEEgu4
Abnaki Statue
corner of Madison and High streets Skowhegan, ME Phone:
This monument, by Bernard Langlais, is a 62 foot sculpture honoring the Abnaki Indian tribe.
Sayward-Wheeler House
9 Barrell Lane Extension York Harbor, ME Phone: 207-384-2454
Open seasonally. Visit HistoricNewEngland.org for hours and admission. This house, overlooking a once-bustling waterfront, was the home of prosperous merchant, judge, and leading citizen Jonathan The house was updated as a summer residence in the early 20th century, but in the parlor, the original furnishings and family portraits remain in place, creating a time capsule of the Colonial era.
Hours: June 1-October 15, second and fourth Saturdays, 11 a.m.-5 p.m. Tours on the hour.
Admission: $5; seniors, $4; students and children, $2.50
Information: http://bit.ly/14MAUKf
Bethel Village
This picture-postcard village has charmed visitors for over 100 years. Originally founded in the late 17th century, the town features many 18th and 19th century homes and shops. The ambiance is that of a traditional New England town, so much so that Bethel has even been featured on Hallmark card.
St. Andrew's Episcopal Church
11 Glidden Street Newcastle, ME Phone: 207-563-3533
This Episcopal Church was the first designed by reknowned architect Henry Vaughn, who later designed the National Cathedral in Washington, DC.
Information: www.standrewsnewcastle.org/
Pemaquid Colonial State Park
2 Colonial Pemaquid Drive New Harbor, ME, 04554 Phone: 207-677-2423
Home to Native Americans for generation, Colonial Pemaquid became the home of very early English settlers. This historic site includes
Fort William Henry
; the
Fort House,
a restored Federal-style home from 1790 and contains a research library; the
the Village,
a collection of stone building foundations; a
Burying ground
for the early 1700s; a
museum
with exhibits on the history of Pemaquid from ancient Native American life here through the colonial period; and a gift shop. Open April through October.
Washburn-Norlands Living History Center
290 Norlands Rd. Livermore, ME, 04253 Phone: 207-897-4366
The Norlands Living History Center helps rural 19th century New England come to life. The center has six buildings depicting a crossroads community. There is a one-room schoolhouse, stone library, church and grand mansion built in 1867. Toys, clothing and personal items appear to tell the story of every day life in the Washburn Mansion. Norlands was the family home of the Washburns, one of the great American political dynasties. The 445-acre site, with five historic buildings, offers hands-on living history experiences in 19th century rural life for all ages.
Hours: Open by appointment for guided tours. Call ahead.
Information: www.norlands.org/museum.html.
Fort Halifax
Augusta Road (Route 201) Winslow, ME Phone: 207-941-4014
Set on the Sebasticook River, this fort was built in 1754 as part of a series of defenses constructed during the French and Indian War. English settlers built the fort in 1754 to protect colonial settlements along the Kennebec and it served as a garrison for troops from 1754-1766. The building opens once a year, on July 4.
Information: http://bit.ly/Y0h1vX
Paul Bunyon Monument
Main Street at Bass Park Bangor, ME Phone:
Pays homage to lumbering's legendary hero.
Eastport Historic District
Visitors to Eastport will enjoy walking past the dozens of 18th and 19th century structures, including many restored sea captains' homes.
A National Historic Landmark, this was the home of Alvaro and Christina Olson, the subject of one of artist Andrew Wyeth's most famous paintings, Christina's World." Wyeth created many paintings and drawings at the house, a classic Maine saltwater farm, from 1939 to 1968. Visitors may stroll through the rooms Wyeth painted and spent time with his friends. Wyeth is buried here.
Season: The house is open late May to mid-October.
Admission: Adults, $10; seniors and students, $8/
Information: http://www.farnsworthmuseum.org/olson-house
Mount Hope Cemetery
1048 State Street Bangor, ME Phone: 207-945-6589
Mount Hope Cemetery in Bangor, Maine, is the second oldest garden cemetery in the United States. It was designed by architect Charles G. Bryant in 1834 and modeled after Mount Auburn Cemetery in Boston, MA. The cemetery, which is open to the public for walking and nature study, is the burial place of several lumber magnates of the region's historic lumbering industry, along with Maine governors, and several holders of national offices.
Walking tour map.
Fort McClary
Built in 1690, this Colonial fort takes visitors back to the beginnings of coastal Maine's strong maritime background. Hiking trails are also a part of this state historic site, in addition to a picnic area.
Hours: Memorial Day-September 30.
Admission: A fee is charged.
Information: http://www.fortmcclary.org/
Old Fort Western
16 Cony St. Augusta, ME, 04330 Phone: 207-626-2385
Built in 1754, this National Historic Landmark is America's oldest surviving wooden fort. Visitors can tour the fort and its store, which contains hundreds of farming and forestry tools essential to the economic life of the settlement.
Hours: Open Memorial Day to Labor Day, 1 to 4 p.m.; Labor Day through January, weekends or Sundays only.
Information: www.oldfortwestern.org. For visits or programs, see www.oldfortwestern.org/faq.asp
Maine Forest and Logging Museum
54 Government Road Bradley, ME, 04411 Phone: 207-974-6278
The museum is dedicated to keeping alive the forest history of long ago for the present day citizens of Maine. The centerpiece of the museum is Leonard's Mills, a reconstructed logging and mill community of the 1790s. Programs feature volunteers in period dress demonstrating traditional skills and crafts. Events include living history days and summer programs. Group tours can be scheduled.
Hours: The Museum is open daily from April through October for self-guided tours; the nature trails are open year round.
Cost: Fee charged only for special events.
Information: www.leonardsmills.com.
Sabbathday Lake Shaker Library and Museum
Route 26 New Gloucester, ME, 04260 Phone: 207-926-4597
The Shaker Museum is located in the Sabbathday Lake Shaker Village, the last active Shaker community. The museum offers exhibits, tours, workshops, crafts demonstrations, and special events.
Hours: Memorial Day-Columbus Day, Monday-Saturday, 10 a.m.-4:30 p.m.; closed Sundays.
Admission: Free. Tour fees are adults, $7; children age 6-12, $2.
Information: www.shaker.lib.me.us/
Downtown Ellsworth
Begin at Ellsworth Chamber of Commerce, High St. Ellsworth, ME Phone: 207-667-5584
Several of Ellsworth's downtown buildings are listed on the National Register of Historic Places. At the Chamber of Commerce, visitors can get a guide and map to the structures.
Burnham Tavern Museum
Route 192 Machias, ME, 04654 Phone: 207-2255-6930
Built in 1770, this tavern was a rendezvous point for local patriots during the American Revolution. Exhibits focus on the history of the area through the 18th and 19th centuries. The Tavern is a fine example of the design and technology of the time and is furnished much as it was it was when America was in its infancy. This National Historic Site is one of 21 homes in the United States designated as most significant to the American Revolution.
Hours: Mid-June through September, Monday-Friday, 9:30 a.m.-3:30 p.m
www.burnhamtavern.com/
Redington Museum and Apothecary
62 Silver Street Waterville, ME, 04901 Phone: 207-872-9439
The building housing this museum was built in 1814. Museum offers a local historical collection of furniture, Civil War and Indian relics, children's room, period rooms, and a 19th-century apothecary.
Hours: Memorial Day week to Labor Day. To visti, contact caretakers by email at frostledgeimage@roadrunner.com
Admission: Adults, $3; children under age 12, $2.
Information: www.redingtonmuseum.org/apothecary.html
Fort O'Brien
Route 92 Machiasport, ME Phone: 207-941-4014
Completed in 1775, the remains of this fort overlooks the site of the Revolutionary War's first naval battle.
Hours: Memorial Day to Labor Day.
Information: www.state.me.us/doc/parks/programs/history/fortobrien/fort.htm
Acadian Historic Village
Route 1 Van Buren, ME Phone:
Maine's French-Acadian heritage is preserved in this group of over one dozen restored structures, gathered from throughout the region. Exhibits supply visitors with information on the Acadian culture, history and way of life in Colonial and post-Colonial Maine.
Hours: June 15 to September 15, daily, noon-5 p.m.
Admission: Adults, $6; children, $3.
Information: www.connectmaine.com/acadianvillage.
Patten Lumberman's Museum
Waters Road Patten, ME, 04765 Phone: 207-528-2650
The museum documents Maine logging history by preserving the logging heritage and accomplishments of early inhabitants of the state of Maine. Exhibits include some of Maine's most notable contributions to the early mechanization of logging, including the Lombard Steam Hauler, Lombard Gas Hauler, and the Peavey Cant Dog.
Hours: June, Friday, Saturday, and Sunday, 10 a.m.-4 p.m.; July to October 7, Tuesday-Sunday, 10 a.m.-4 p.m.
Admission: Adults (over age 12), $78; seniors, $7; children at 6-11, $3.
Information: www.lumbermensmuseum.org.
York's Historic District
Route 1A York Village, ME Phone: 207-363-4974
York was the first officially chartered city in America, made a Royal Colony in 1641. Now an outdoor historic site, visitors will see several colonial structures, including the Elizabeth Perkins House (built in 1730), the Emerson Wilcox House (built in 1742), the Jefferds Tavern (built in 1750), the John Hancock Wharf (built in 1800), the Old Gaol (built in 1720), and the One Room Schoolhouse (built in 1745). Maintained by the Old York Historical Society, most of the structures are open for visitors and contain exhibits and authentic colonial artifacts.
Castle Tucker
2 Lee Street Wiscasset, ME Phone: 207-882-7169
In 1858, Captain Richard H. Tucker Jr., son of a wealthy shipping family, bought this mansion with its commanding view of the Sheepscot River for his bride. He purchased a houseful of furniture from Boston, updated the interiors, and added a three-story piazza overlooking the river. Today, Castle Tucker stands as a record of late Victorian life in one of Maine's most beautiful villages.
Hours: June 1-October 15, Wednesday-Sunday; 11 a.m.-4 p.m.; tours every half hour.
Admission: Adults, $5; seniors, $4; students and children, $2.50.
Information: http://bit.ly/ZIBMrt
Marrett House
40 Ossipee Trail East, Route 25 Standish, ME Phone: 207-882-7169
In 1796, Daniel Marrett moved to Standish, Maine, with his wife to assume the post of town minister. He purchased the most imposing house in town to reflect his status as the community's leading citizen. Each room showcases treasured possessions, including pewter, ceramics, and textiles from the 18th and 19th centuries. The Marrett House is a classic example of the "big house, little house, back house, barn" configuration. A 20th-century perennial garden is located beside the house.
Hours: June 1 – October 15, first and third Saturdays, 11 a.m.-5 p.m. Tours on the hour.
Admission: $5; seniors, $4; students and children, $2.50
Information: http://bit.ly/XU4ece
First Congregational Church
Corner Church and State streets Ellsworth, ME Phone: 207-667-8321
One of Maine's most photogenic churches, visitors will enjoy this stunning example of early 19th century, Greek Revival architecture.
Fifth Maine Regiment Museum
45 Seashore Avenue Peak's Island, ME, 04108 Phone: 207-766-3330
Exhibits commemorate the Civil War, and in particular the contribution of Maine citizens to the war effort.
Hours: Memorial Day-July 1, weekends, 11 a.m.-5 p.m.; July 1-Labor Day, week-days, 1 to 5 p.m. and weekends, 11 a.m.-5 p.m.; Labor Day-Columbus Day, weekends, 11 a.m.-5 p.m.
Cost: Suggested donation of $5 per person.
Information: www.fifthmainemuseum.org/
Woodlawn Museum, Gardens & Park
19 Black House Drive Ellsworth, ME, 04605 Phone: 207-667-8671
Woodlawn is a 180-acre historic estate, including a grand house, gardens, and park, that was the home to three generations of the Black family. It is just a quarter mile from downtown Ellsworth. Visitors enjoy exploring the superb historic house, strolling the beautiful gardens, and hiking trails in the park. Activities for visitors include house tours, including a collection of antique carriages and sleighs, croquet games, afternoon tea, picnicking on the grounds, and special events at Christmas. There is a gift shop
Season and Hours: May and October, Tuesday-Sunday, 1-4 p.m.; June-September, Tuesday-Saturday, 10 a.m.-5 p.m. and Sunday, 1-4 p.m. The park open all year.
Information: http://woodlawnmuseum.com/site/
Maine State House
230 State Street Augusta, ME Phone: 207-287-2301
Visitors may tour the seat of Maine's state government. Interesting collections include Klir Beck wildlife dioramas, the State House portrait collection, and Maine's historic flag collection.
Hours: Monday through Friday, 8 a.m. to 5 p.m. Tours may be scheduled by contacting the museum at 207-287-2301.
Information: http://bit.ly/11yrETQ
Portland Observatory
138 Congress Street Portland, ME Phone:
Built in 1807 as a communications tower for Portland's harbor, the Portland Observatory is a National Historic Landmark and the only remaining maritime signal station in the United States, The Observatory operated as a museum and historic site, offering educational programs and guided tours.
Hours: Memorial Day Weekend through Columbus Day, daily, 10 a.m.-5 p.m. Guided tours only; no unsupervised tours. Allow 45 minutes for the tour 207-774-5561.
Information: http://portlandlandmarks.org/observatory/
St. Croix Island
This island settlement was founded in 1604. It is also known as the International Historic Site, due to its proximity to New Brunswick in Canada.
Wilton Farm and Home Museum
10 Canal Street Wilton, ME Phone: 207-645-2901
Built in the 1860s, the building was used from 1910 to 1945 as a boarding house for G.H. Bass employees employed at the shoe factory on Wilton Stream since 1904. After the boarding house closed, the Bass Company used this building for sewing, offices, and storage. This structure now houses excellent collections of Maine farm tools; Maine bottles; and memorabilia of Sylvia Hardy, Maine giantess; artist Joe Knowles; and G.H. Bass, originator of the Bass Weejun.
Hours: The Museum is open for tours by appointment. To schedule a tour call 207-645-2091 or 207-645-4578.Summer Hours: July and August, Saturdays, 1-4 p.m.; Blueberry Festival Friday & Saturday, 10 a.m.-3 p.m.
Information: www.thewiltonfarmandhomemuseum.org.
Dr. Moses Mason House
Broad and Mason Bethel, ME, 04217 Phone: 207-824-2908
Built in 1813, this home is now a museum featuring changing and permanent exhibits, as well as a theater. Historic films and lectures are scheduled there year-round. The museum also houses historic archives and is home to the Bethel Historical Society.
Hours: Guided tours, July 1- Labor Day, Tuesday- Sunday, 1-4 p.m.; September- June, by appointment
Admission: Adults, $3; children age 6-12, $1.50
Information: www.bethelhistorical.org/museum.html
Fort Kent Blockhouse
Off Route 1 Fort Kent, ME Phone: 207-941-4014
Built in 1839, this small, fortified structure was designed to protect local timber companies during a dispute with Canada. The argument was settled before any violent skirmishes developed.
Hours: Memorial Day to Labor Day: 9 a.m. to 5 p.m. daily
Admission: Admission is free; donations are accepted.
Information: http://1.usa.gov/XR9PQy
Lily Bay State Park, 12 Lily Bay Rd Greenville, ME, 04441 Phone: 207-695-2716
An authentic steam ship, the Katahdin, is the setting for exhibits and artifacts of the area's logging and steamboat industry. In addition to the Katahdin, the museum has an extensive collection of steamboat memorabilia and early photographs of the Moosehead area. Cruises on the Katahdin offered seasonally.
Season: June 28-October 12. Call for cruise schedule.
Cost: ticket prices varies by passenger age and length of cruise.


Blaine House
192 State Street Augusta, ME Phone: 207-287-2121
Used as the Maine governor's mansion, this home was given to the state in 1919, although it was constructed much earlier. It has a magnificent formal garden. House tours for individuals and groups are available Tuesday through Thursday, 2-4 p.m. The formal garden is open to the public for self-guided tours by appointment only May 1 through October 1, Tuesday-Thursday, 2-4 p.m.
Information: www.blainehouse.org/
Sarah Orne Jewett House
5 Portland Street South Berwick, ME Phone: 207-384-2454
Writer Sarah Orne Jewett (1849-1909) chronicled the lives of the country people of coastal Maine in books like The Country of the Pointed Firs. She spent much of her life in this stately Georgian residence. Jewett and her sister decorated the house as an eclectic blend of family furnishings from various eras, set off by the imposing 18th-century interior.
Hours: June 1-October 15, Friday-Sunday. Tours on the hour, 11 a.m.-4 p.m.
Admission: $5; seniors, $4; students and children, $2.50.
Information: http://bit.ly/11AXfo3
Heritage Park
Main Street and Public Landing Belfast, ME Phone: 207-338-3370
This historic collection of buildings and shops sits on the water, giving visitors a look at the New England coastal town of the 19th century. In addition to picnicking, walking, and relaxing, this waterfront park is the site of special events such as Arts in the Park and Belfast Summer Nights concerts.
Information: http://bit.ly/11fdk28
Historic Town of Castine
In the 17th century, the pilgrims established a trading post at Castine, which they managed from hundreds of miles away in Massachusetts. Though small, the town was considered so strategically important, that it changed possessors from French, Dutch, British, and Colonials in the time leading up to the American Revolution. Visitors to Castine will enjoy a bevvy of historic treats, including 100 historic spots in Castine, ruins of several forts, and homes that date back to the 18th century.
Montpelier
US Route 1 and ME Route 131 Thomaston, ME Phone:
A replica of the home of General Henry Knox, President George Washington's Secretary of War. Visitors will see a complete reconstruction of this home in its 18th century splendor.
Hours: May 25-October 14, Thursdays and Fridays, 10 a.m.-4 p.m.
Admission: Adults, $10; seniors, $8; children age 5-13, $4; family, $20
Information: http://knoxmuseum.org
Old Port Neighborhood
Around Middle and Market streets Portland, ME Phone:
This section of Portland features restored waterfront buildings that now are home to shops and restaurants. Information: www.portlandmaine.com/discover-portland/areas-of-interest/
Downtown Houlton
Listed on the National Register of Historic Places, this business center features many 19th century structures, giving an insight into the lumber industry and trading that went on more than a century ago.
Hamilton House
40 Vaughan's Lane South Berwick, ME Phone: 207-384-2454
A century ago, Emily Tyson and her stepdaughter, Elise, came upon this mansion on a bluff overlooking the Salmon Falls River. Its beauty cast a spell on them and the two women dedicated themselves to its restoration. Inspired by the Colonial Revival movement, they strove to create a vision of a glorious past, with painted murals, antiques, hooked rugs, and country furnishings. The extensive formal garden and pergola have been partially restored.
Hours: June 1-October 15, Wednesday-Sunday. Tours on the hour, 11 am-4 p.m.
Admission: $8; seniors, $7; students and children, $4.
Information: http://bit.ly/WeFOGR
Victoria Mansion
109 Danforth Street Portland, ME Phone: 207-772-4841
Also known as the Morse-Libby House, this mansion was built in 1858 and is a gorgeous example of the Italianate style of architecture. It was a summer home of Ruggles Sylvester Morse, a Mainer who made a fortune running luxury hotels in New Orleans. The house was designed by Henry Austin of Connecticut and built between 1858 and 1860. The building details, interior décor, sculptures and furniture are wonderful samples of this style.
Hours: Open for guided tours May through October 31.
Information: http://198.171.52.206/default.aspx
Joshua Chamberlain House
Originally the home of the famous Civil War general Joshua Chamberlain, exhibits now feature the general, his family history, life and experiences during the war.
Hours: Memorial Day to Columbus Day, Tuesday-Saturday, 10 a.m. to 4 p.m.; Sunday, 1-4 p.m.
Admission Adults, $8.50; children age 6-16, $4.
Information: http://pejepscothistorical.org/chamberlain
Wadsworth-Longfellow House
485-489 Congress Street Portland, ME, 04101 Phone: 207-774-1822
This historic home doubles as a museum and headquarters for the Maine historical society. This was the home of three generations of one remarkable family that made significant contributions to the political, literary, and cultural life of New England and the United States. Henry Wadsworth Longfellow (1807–1882), grew up in the house and went on to become one of the most famous men of his time. The gallery of exhibits focuses on the state's history in the 18th and 19th centuries.
Hours: Hours change seasonally; call ahead for hours.
Cost: Adults, $12; seniors and students, $10; children above age 6, $3.
Information: www.mainehistory.org/house_overview.shtml