Maine pet and dog friendly lodgings, hotels & inns at beaches, lakes and cities
Maine's hotels, motels,
inns
, and
resorts
recognize the important role of a family dog, and several offer pet friendly hospitality, even including convenient maps of local dog walking trails. Call ahead to these ME hotels, because some lodgings request a refundable cleaning deposit and place limits on the size of visiting pets.
31 Atlantic Avenue Boothbay Harbor, ME, 04538 Phone: 207-633-6302 Toll-Free: 800-533-6302
Walkin' the dog at scenic Boothbay Harbor
Bring your favorite pet and enjoy the sights, sounds, and salt air along Maine's rocky mid coast in scenic Boothbay Harbor. Pet friendly rooms are available for just $20 per animal per night. A great location with a low key attitude, incredible views and endless places to walk, you'll find casual comforts in 60 non smoking guest rooms with private balcony or patio, coffeemakers, flat-screen TVs, fridges, microwaves and free WiFi. Enjoy a complementary buffet breakfast and onsite, wines, beers and cocktails along with great seafood at the Sunset Bar and Grille. The waterfront is the perfect place for some exercise and serious shopping, and you're just a short walk to and over the Boothbay Harbor's famous wooden footbridge.
468 Fore Street Portland, ME, 04101 Phone: 207-775-9090
Pets are treated like family at this Maine coast hotel
Enjoy a memorable stay and bring your pet along for the joys to be found in this pet friendly hotel and eminently walkable port city on the Maine coast. Cozy deluxe rooms and suites have every comfort and amenity. And with advanced notice and $25 extra per night, the hotel offers special services to you and your pet including pet sitting and dog walking, and information on dog parks, beaches and trails. Eve's on the Garden serves breakfast, lunch and dinner right in the hotel. And you're minutes from every magical attraction Portland has to offer. Get out on land or water and explore Maine's maritime past, shop till you drop, visit museums, and don't' miss the ICE BAR.
80 Commercial Street Boothbay Harbor, ME, 04538 Phone: 207-633-4434
Your pet deserves a waterfront getaway too!
Located directly on the waterfront in beautiful Boothbay Harbor, Maine, our inn offers deluxe guestrooms with modern amenities and views of the working waterfront. Most have a deck or balcony (some private) and most rooms face (or are over) the water. Looking to travel with your pet? Our hotel has 3 pet friendly guest rooms, with great views of the outer harbor. When you check in with Fluffy or Fido they receive a pet welcome bag, and pet blankets are available upon request. Our marina is also happy to accommodate your pet, in fact a dog or two can be seen living aboard some of our seasonal boats.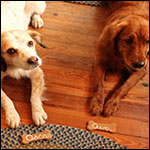 5 Pearl Street Kennebunkport, ME, 04046 Phone: 207-967-2311
We know that pets are family, too
Even though your mate is not the only loved one in your household, many B&Bs and inns ignore that situation for their guests. Not us. Your four-legged friends are quite welcome here in our several pet friendly rooms -- though not in the main house -- all with direct access to the outdoors. In-house dog sitters are available (please make the arrangement before you arrive) as well as personalized dog treats, bowls and even doggie towels and sheets. (Don't worry – we'll supply as many pickup bags as you need, in case you forgot yours.) We do ask that your pets accompany you whenever you leave the property. Enjoy your strolls around beautiful Kennebunkport with Bowser, but be advised that there is a leash law.
16 Bay View Street Camden, ME, 04843 Phone: 207-236-4325
Your Friends Are Our Friends; Bring Your Dog!
At the luxurious and hospitable 16 Bay View Hotel in downtown Camden, any friend of our guests is a friend of ours. And that includes your pet dog, who, let's agree, likes a Maine vacation just as much as you do. 16 Bay View Hotel welcomes your dog with open paws. The hotel's Pampered Pooch Accommodations includes a comfortable dog bed, dog treats, a helpful list of outdoor recreational activities in the area, and resources for doggy day care. The hotel welcomes dogs of any size, but requests a limit of no more than two pooches per room. Several rooms are designated pet friendly; when you make your reservation, please let us know to expect a canine visitor. Behind-the-ears rubs are always complementary.
Visit our sister properties - Lord Camden Inn - Grand Harbor Inn
Coastal Route 1A -- 480 York Street York Harbor, ME, 03911 Phone: 207-363-5119 Toll-Free: 800-343-3869
Pet Friendly Luxury Inn
To make your pet feel at home, away from home, we supply blankets, food and water bowls, trash bags, walking maps, treats, and lists of pet friendly beaches in our area. Our luxurious Historic 1730 Harbor Crest Inn Is part of the York Harbor Inn Family of Inns. Several rooms with fireplaces, Jacuzzi spa tubs. At the Main Inn you will find award winning gourmet ocean view dining plus casual fireplaced Ship's Cellar Pub. Walk to beach, convenient to golf, Kittery Outlet Shopping, whale watching, lobster boat tours, kayaking and area lighthouses. The perfect Maine getaway is just over one hour north of Boston. Open year round. See last minute "Internet Specials" on web site.
67 Atlantic Highway Northport, ME, 04849 Phone: 207-789-2000
All the nature your pet can handle
All pups are welcome to this natural wonderland by Penobscot Bay. For an additional fee, the property has a limited number of pet friendly cabins available. The whole family will enjoy the scenery and terrain on 387 picturesque acres on the side of a mountain. There are places to walk, hike, play fetch, lie down, stay, and just enjoy time away together. You'll have your own authentic Maine pine log cabin with all the amenities of home and access to a doggy bag full of guest services and endless, year-round recreational activities. The fitness and recreation complex and bowling center just might say it all. Great food, local shopping and sightseeing are on the menu whenever you arrive. Call ahead to ensure availability and review pet policies.
14 Bay View Landing Camden, ME, 04843 Phone: 207-230-7177 Toll-Free: 877-553-6997
Pamper your pooch on Maine's mid coast
This popular inn loves dogs and welcomes you and yours with "open paws." Several rooms are designated pet friendly with a limit of two well behaved dogs (no size limit) per room at $35 per pet, per night fee. Guests will be asked to sign and adhere to the pet policies and etiquette upon arrival and check-in. Please inquire upon making your reservation. Special just for your pet amenities include a comfortable and plush fleece dog bed, gourmet dog biscuits, water and food bowl, an extensive list of local outdoor recreational activities for you and your pet to enjoy, doggy daycare options, local veterinarians just in case something unexpected occurs, and a warm, personalized greeting and rub behind the ears.
Visit our sister properties - 16 Bay View - Lord Camden Inn
24 Main Street Camden, ME, 04843 Phone: 207-236-4325 Toll-Free: 800-336-4325
Pampered pooches make for happy humans
Any hotel can say it is pet friendly. But only one boasts its own Director of Pet Relations. The Lord Camden Inn's "Pampered Pooch Program" promises a warm greeting and an affectionate rub behind the ears for your pet friend. Amenities and services include a plush fleece dog bed, gourmet biscuits, food and water bowl, and a welcome packet with a list of local companies that make traveling with a pet a whole lot easier and others that supply tasty treats and stylish amenities. There is a $25/pet/night fee for guests with dogs and a maximum of two dogs allowed per room with several rooms designated as pet friendly. To ensure that you and your pet enjoy your stay, please inquire about our Pampered Pooch Program when making your reservation.
Visit our sister properties - 16 Bay View - Grand Harbor Inn
65 West Grand Avenue Old Orchard Beach, ME, 04064 Phone: 207-934-4180 Toll-Free: 800-541-8439
Vacation with your pet in fall, winter or spring
Traveling with a canine friend? At Sea View Inn in Old Orchard Beach, Maine, pets are welcome in fall, winter, and spring. For just $10 a night (plus a $100 security deposit) Fido can sleep beside your bed. The Maine Seacoast is a great place for explorations with a dog at your side. Walk the length of our historic pier or our seven miles of beautiful sandy beach. In the fall drive the back roads to Portland, Freeport, Kittery, and York, and admire the colorful foliage along the route. Many towns in the area feature historic lighthouses -- great walking destinations. Return to the inn for an outdoor barbecue. We've got gas grills for your use. Or walk to one of the nearby Grand Avenue restaurants for lobster or clams.
733 Post Road Wells, ME, 04090 Phone: 207-646-6044 Toll-Free: 800-448-0925
Clean, well kept & behaved, non-barking, friendly dogs are welcome!
Sea Mist has limited and specific accommodations. Currently there are 4 rooms available for guests traveling with pets. To ensure availability be sure to call ahead to reserve a designated "Pet Room". Our designated "Pet Rooms" offer you and your pet comfort and convenience and help safeguard guests who may be subject to pet allergies.
We strive to deliver quality & affordable accommodations and ask that pet owners refrain from using guest towels for pets or allowing pets on beds or other furnishing. If you forget to bring items from home we have loaner pet towels and bedding. Daily maid service is required for all pet rooms. Leashed dogs are allowed on Wells Beach. Mid-June thru mid-September dogs are allowed only before 8AM and from 6PM-8PM.
Visit our sister property - Misty Harbor Resort
5 Jordan Shore Drive Poland, ME, 04274 Phone: 207-998-4976
Your pet will love this lakeside getaway
Couples, families and friends love this authentic, charming and pet friendly lodging at Tripp Lake. Your hosts provide pet blankets, water bowls, poopy bags and treats> Rooms are available on the second floor with amenities like a flat screen TV, free Wi-Fi, and a common kitchen area. This beautiful setting offers year-round Maine Western Lakes region comforts and activities plus fresh air, lush gardens, and a majestic pine grove along the shorefront. There are endless places to explore and access to the dock and the use of canoes, kayaks and rowboat. The homemade breakfast offers farm to table ingredients that are all natural, organic, preservative and antibiotic-free featuring sweet and savory entrees and an endless array of muffins, fruits, juices and coffee.
159 Searsport Avenue Belfast, ME, 04915 Phone: 207-338-2090
Bring the dog; there is room to roam
Our pet rooms have patio doors which open to our acres of back lawn with a view of Penobscot Bay. Enjoy the lawn and for more fun together check out the nearby picturesque coastal villages and harbors including Belfast, Camden, Castine, Boothbay Harbor and Bar Harbor. Acadia National Park is just 55 miles away. Complimentary hot breakfast is served each day in our spacious lobby overlooking the Bay. Please review our pet guides when making your reservation.