Maine's nature centers, wildlife refuges honor the beauty of the outdoors
The majesty of nature looms large in Maine, from the coastal islands and shoreline to the deep inland forests. Among the places for visitors, families and children to learn more about Maine's natural history are Acadia National Park in Bar Harbor, the Pine Tree State Arboretum in Augusta, the Merryspring Horticultural Nature Park in Camden, on the Midcoast, and the Stanton Bird Sanctuary in Lewiston. Much of Maine's traditional economy, such as lumbering and paper making, exploits the natural gifts of the state, and the history of those industries can be explored at places like the Maine Forest and Logging Museum in Bradley. The Rachel Carson Wildlife Refuge in Wells remembers and honors the revolutionary nature writer. See more below.
Viles Arboretum
153 Hospital St. Augusta, ME, 04332 Phone: 207-621-0031
Come to this natural area to watch birds and other wildlife and enjoy thousands of native Maine plants. See
full listing
for Viles Arboretum.
Snow Falls Gorge
Off Route 26 West Paris, ME Phone:
A great spot for family hiking, the centerpiece of which is Snow Falls. A bridge crosses the gorge, offering good scenic viewing. The area nearby has many mines, now abandoned, which offer mineral collectors the opportunity to collect mica, garnet, quartz, and tourmaline. Some are privately owned and require and entrance fee.
426 Wolfe's Neck Road Freeport, ME Phone: 207-865-4465
A popular spot to view wild osprey and other Maine wildlife and nature!
Sign up for a one-hour-long, guided nature tour or grab a map and explore this park's wildlife and nature at your own pace. Wolf's Neck Woods is famous for its ospreys, so keep an eye out for Googins Island, their nesting grounds, on the horizon. On guided nature walks, you can view wildlife easily with zoom binoculars; or, bring your own!
See
trail map
of Wolf's Neck Woods State Park.
Maine Wildlife Park
Route 26 Gray, ME, 04039 Phone: 207-657-4977
The Maine Wildlife Park in Gray is a great place to view and learn more about wildlife. The 200-acre park has moose, black bear, lynx, mountain lions, wild turkeys, bald eagles, owls, a show fish pool and more on display. Offerings include a visitor center, fish hatchery, nature store, tree trial, game trail, wetlands trail, gardens, animal feeding, and story hour. Open mid-April through Veteran's Day
Wells National Estuarine Reserve at Laudholm Farm
342 Laudholm Farm Road Wells, ME, 04090 Phone: 207-646-1555
Seven miles of hiking and cross-country skiing trails provide access to woodlands, fields, wetlands, beach, and dunes. Spectacular views and diverse habitats make the reserve an especially popular destination for nature photographers and birdwatchers. The Visitor Center, located in a 19th-century farmhouse, has exhibits, videos, brochures, trail maps, and a gift shop. Open year round.
Cape Rosier Road off Route 176 Brooksville, ME, 04617 Phone: 207-326-4012
This is a remote natural area with lots of opportunity to explore and observe a variety of ecosystems, for from stands of hardwood trees to wildflowers to tidal pools. See
full description
for Holbrook Island Sanctuary
Desert of Maine
95 Desert Rd. Freeport, ME, 04032 Phone: 207-865-6962
A glacier moved over this area 11,000 years ago and left sand and mineral deposits, forming the region known today as the Desert of Maine. Visitors will see living trees half covered in sand, wild flowers, and other flora. Narrated coach tours, walking tours, barn museum, gift shop. Open early May to mid-October.
Carson Trail of the Rachel Carson Wildlife Refuge
321 Port Road Wells, ME Phone: 207-646-9226
Rachel Carson National Wildlife Refuge, named for the pioneering environmentalist, was established to protect coastal habitats of birds and other wildlife. It includes 11 parcels of land along the Maine coast between Kittery and Cape Elizabeth, and it is headquartered in Wells. The refuge welcomes visitors for walking and hiking, fishing, hunting, kayaking and canoeing, and wildlife photography and observation. Information: http://1.usa.gov/102Wp2v
The Carson Trail starts at the Carson headquarters in Wells. It is a one-mile walk with views of one of southern Maine's most valuable ecosystems. Leashed dogs are allowed on the Carson Trail. All refuge trails are open 7 days a week during daylight hours only. Leashed dogs are allowed on trails.
Trail map
Maine State Aquarium
194 McKown Point Road West Boothbay Harbor, ME, 04575 Phone: 207-633-9542
The design of this museum resembles the rocky coast of Maine. Interactive displays encourage discovery learning. The aquarium is home to extraordinary lobsters of all sizes and colors. Colorful marine life can be seen in the Downeast tank. At center stage is an 850-gallon tank for sharks and skates, where kids and parents can pet a live shark. At the elevated touch tank, visitors can feel the spiny skin of a sea urchin. Hours: Daily, 10 a.m.-5 p.m.; Memorial Day weekend through Columbus Day weekend. Admission: Adults age 13 to 65, $5; seniors age 65 and older, $3; youth age 3-12 with adult family member, $3; children under age 2, free.
Douglas Hill Tower
A climb to the top of this tower will afford you with exquisite views: Sebago Lake, Casco Bay and the city of Portland.
Shin Pond
Dotted with resorts and beaches, this body of water will provide visitors with just about every type of activity, from fishing and boating, to sea plane rides.
A remarkable natural phenomenon: The strong tidal surges actually make these waterfalls seem like they're falling backwards at certain times of the day.
Caratunk Falls
These beautiful falls are home to an amazing historic find: Indian relics and petroglyphs that date back as far as 9000 years ago.
Cadillac Mountain
Acadia National Park Bar Harbor, ME Phone:
The highest point on the Atlantic coast north of Rio de Janeiro, Cadillac Mountain offers incredible views of the ocean, islands, and inland Maine's mountains. Park Loop Road takes visitors winding to the top, 1530 feet from the service.
St. Croix River
This river is one of dozens in Maine, but it holds the distinction of having the highest tides in the continental United States.
Route 3 Bar Harbor, ME, 04609 Phone: 207-288-3338
Vast national park with outdoor activities year-round on Maine coast; carriage roads, hiking and rock climbing; gardens; tidepools; camping
Nature lovers can explore tide pools and rocky shores as well as natural gardens. See
full description
of Acadia National Park.
Moxie Falls
Route 201 The Forks, ME Phone:
One of the highest waterfalls in Maine, this natural wonder features an assortment of trails around the falls, and a swimming hole at the falls' bottom. Along the trails are observation areas. The trail to the swimming hole is quite steep, and good physical condition is required.
Moose Point State Park
310 West Main Street (U.S. Route 1) Searsport, ME, 04940 Phone: 207-548-2882
A fabulous state park where there is snowmobiling and a rocky beach that can be walked. There is swimming and seals, picnic benches, and the entire park is beautiful--plenty of hiking places. Open Memorial Day-Sept. 30.
Moseman Park
In the center of the town and at the water's edge.
National Geographic Society Monument
Placed by local residents, this monument marks the exact midpoint between the North Pole and the equator.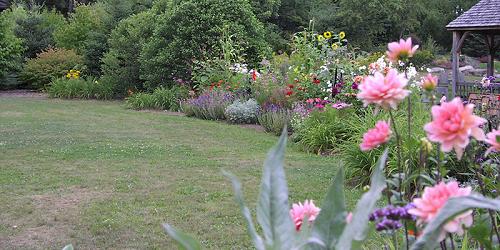 Conway Road Camden, ME, 04849 Phone: 207-236-2239
This nature preserve offers visitors ample opportunities to observe gardens of wildflowers and wildlife, as well as hiking and cross-country ski trails.
Hours: Daily from dawn to dusk. No charge.
Poland Spring
Yes, there is a real spring that feeds that famous bottled water company.
Blue Hill Falls
Route 172 Blue Hill, ME Phone:
These falls are an example of an unusual natural occurrence. Their connection to a surging and retreating tidal basin makes the falls reverse during certain times of the day.
Machias Seal Island
This island's inhabitants are special indeed: The Atlantic Puffin is native only to the northern Atlantic coast. The birds are large, playful and colorful, often referred to as the "penguins of New England."
Highland Spring Road Lewiston, ME, 04240 Phone:
Environmental biologists and students of nature use this property -- a green oasis in Lewiston -- to study plants of the region. Passive recreation like hiking and nature viewing is welcome. See
full description
of Thorncrag Nature Sanctuary.
Meadow Road (off Route 24) Brunswick, ME, 04011 Phone: 207-725-6009
This beach is also a nature preserve, and offers ample opportunities to observe Maine wildlife. There is a lifeguard on duty. open mid-May-mid-September.
Scarborough Marsh Nature Center
This wetlands wildlife refuge offers two ways for visitors to observe the surroundings: A traditional network of walking trails (including guided tours), and scheduled canoe trips.
Houston Brook Falls
Scenic water falls are a treat for the eyes and ears.