Maine has ski areas with all the snow & challenge skiers will find anywhere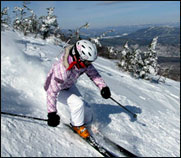 Maine is gorgeous place to ski and snowboard, even if you consider only the beauty of the surrounding mountains. But that is just the start. New Hampshire's White Mountains spill into the western mountains of Maine and Maine has plenty of home-grown peaks.
The biggest mountains include Saddleback, Sunday River, and Sugarloaf, along with many other full service ski areas [see listings below]. Scattered throughout Maine are smaller family-oriented ski mountains, and even a distinctive location where skiers can look out over the Atlantic Ocean from the slopes. History-minded skiers may enjoy visiting the Ski Museum of Maine in Kingfield. More information is at the state's skiing organization, Ski Maine. See below on this page for:
Maine Snow Conditions
Ski Maine, the state's ski marketing organization, along with individual skiing, boarding, and cross-country ski area, offers lots of deals, discounts, and incentives programs to get people onto the slopes.
---
Deals
Ski Maine Mountain Pass
The Ski Maine Mountain Pass contains 26 lift ticket vouchers. Two tickets for each of 10 selected ski areas and two tickets to each of three regional group of ski areas. Tickets are transferable and have no blackout dates. Best ski value in Maine. $435. Call 207-773-7669 for details.
Destination areas are Sunday River, Sugarloaf, Shawnee Peak, Mt Abram, Lost Valley, Camden Snow Bowl, Black Mountain, Bigrock, Hermon Mt, Titcomb Mountain.
Regional areas are Lonesome Pine Trails and/or Quoggy Jo One; Spruce Mountain and/or Powderhouse Hill; Baker Mountain and/or Big Squaw
---
Nordic (Cross Country) Ski Areas
Cross-country (Nordic) skiing is accessible in many parts or Maine and for all types of skiers, including novices, kids, and hard-body experts. Some centers are associated with downhill (Alpine) ski areas; others are stand-alone Nordic ski places; and some a located on farms. Snowshoeing access and equipment often takes place at cross-country areas. Some areas welcome your dog! Learn more at our cross-country skiing page.
Bethel Inn Ski Touring Center, Bethel: Forty kilometers of forest and fairway trails for all levels of ability. Rentals and lessons. Families with kids may rent pulk sleds (designed for cross-country skiers for towing children). The epicenter of this activity is Bethel Inn, with lodging and other comforts.
Birches Ski Touring Center, Rockwood: Cross-country ski and snowshoeing is done of 90 kilometers of groomed and ungroomed trails and a huge parcel of protected land. Access by Moosehead Lake trail to Mount Kineo. This resort offers lodging, dining, rentals and lessons. Dog friendly.
Black Mountain of Maine Touring Center, Rumford: This cross-country center has wide tracked trails for Nordic skiers of all abilities. Snow making is done in some areas. Rentals, lessons, snack bar, lounge and tubing hill.
Carter's X-C Ski Center and Shops, Oxford: Offering 40 kilometers of trails for all abilities for cross-country skiing and snowshoeing. Lessons and rentals of equipment, including snowshoes and pulk sleds (for cross-country skiers to town children).
Coast Ski and Bike, Alfred: One hundred acres of rolling and wooded property is available for use by cross-country and back country skiers. Also, gentle forested trails for beginners and intermediates. Family oriented ski center, rentals, food, season passes.
Harris Farm XC Ski Center, Dayton Cone cross-country ski or snowshoe on a farm! This 1,000-acre center offers trails for beginner, intermediate and expert skiers, along with snowshoeing. Day lodge, snack bar, rentals, lessons and ski shop. Dog friendly.
Katahdin Nordic Center Only one-half mile from downtown Millinocket and 20 miles from Baxter State Park, this center has groomed trails and rentals of cross-country skis and snowshoes for adults and kids.
Maine Winter Sports Center Nordic Heritage Center, Presque Isle: This place is for serious sportsmen and -women. This is a world-class Nordic and biathlon center with 12 kilometers of trails, a big lodge with kitchen, locker rooms, ski care rooms.
Millinocket Municipal X-C Ski Area, Millinocket: Groomed trails for novice and intermediate skiers, and also back country trails. A warming lodge has a beautiful view of Mount Katahdin.
Rangeley Lakes X-C Ski Trails, Rangeley: Thirty-five kilometers of wide trails for beginner, intermediate and expert cross-country skiers and snowshoers. There also is back country skiing. Located at the base of Saddleback Mountain resort.
Titcomb Mountain Ski Touring, Farmington: Trails for beginner, intermediate, and expert Nordic skiers. Upper terrain is serviced by a lift. Warming huts, lodge, food, rentals.
Ski Area Listings
Mount Abram Ski Resort
308 Howe Hill Road Greenwood, ME, 04289 Phone: 207-875-5000
44 trails and glades; 3 terrain parks; night skiing; 650 acres of skiable terrain; 1,150-foot vertical drop; 85% snow making
Skiing & Snowboarding -- Mount Abram, a few miles outside of Bethel, describes itself as a relaxed, no-snobbery ski zone that welcomes families. Trails cover the gamut from beginner trails to expert runs. There also is a jib park, with plenty of jibs and hits. Boundary to boundary ski policy.
Everything Else -- After-ski fun and relaxation at the Westside Lodge and the Loose Boots Lounge. Restaurant. Lodging is in the surrounding area.
Sugarloaf
5092 Access Road Carrabassett Valley, ME Phone: 207-237-2000
125 trails; 29 glades; 3 terrain parks, snow tubing; night skiing; cross-country; 1,230 acres of skiable terrain; 2,820-foot vertical drop; 618 acres of snowmaking coverage
Skiing & Snowboarding -- Located in Maine's western mountains, Sugarloaf is a big and a tall ski area. Sugarloaf opens its self-introduction to its website readers with: "Take the Timberline Quad to Sugarloaf's lofty 4,237-foot summit and stand at the top of the world." Not a small boast. Sugarloaf has difficult terrain but also plenty of easy terrain for children and learners. It claims to be the only ski area in the East that offers lift service above the tree line. The area's snow fields are extensive and the terrain park has a variety of features, including a half pipe that is among the biggest in the United States. Glades are 11 percent of all the terrain.
Everything Else -- Ski and stay packages offered for Sugarloaf's hotels, inn, and condos. Child care; ski shop, teen center, shopping, spa, Laundromat within the ski area. In nearby towns visitors will find restaurants, ski and snowboard shops, and even an art gallery.
Quoggy Jo Ski Center
Fort Fairfield Road Presque Isle, ME, 04769 Phone: 207-764-3016
5 trails; 1 terrain park, 215-foot vertical drop
Skiing & Snowboarding -- Quoggy Jo is a small, friendly place that is mellow enough for beginner skiers and families with young children. Quoggy Jo summit contains a biathlon center with world-class Nordic skiing and a biathlon training facility. Quoggy Jo is under the administration of the Maine Winter Sports Center, which operates Black Mountain and Bigrock ski areas.
Everything Else -- Ski and snowboard rentals, youth racing, Super Bowl party, Valentines, scavenger hunts, spring barbecue
Black Mountain of Maine
39 Glover Road Rumford, ME Phone: 207-364-8977
22 trails and 1 glade; 1 terrain park, snow tubing; night skiing; cross-country; snowshoeing; 1,150-foot vertical drop; 90% snow making
Skiing & Snowboarding -- Black Mountain of Maine is family-oriented and affordable. Night skiing is easy on slopes that are fully lighted. Upper and Lower Androscoggin Trails together compose an intermediate run of nearly a full mile. In all, there are 23 trails, including a glade. The Moose Run area for beginners if very welcoming. The cross-country skiing center is top-notch. Nordic trails are groomed for skating and classic cross-country techniques. The cross-country trails are also open to snowshoeing.
Everything Else -- Racing and a variety of youth programs are offered.
Camden Snow Bowl
20 Barnestown Road Camden, ME, 04843 Phone: 207-236-3438
12 trails and glades; 1 terrain park, snow tubing; cross-country skiing; snowshoeing; ice skating; 850-foot vertical drop; 45% snow making
Skiing & Snowboarding --
With a motto "Where the mountains meet the sea," Camden Snow Bowl is a community owned ski and summer recreation area on Ragged Mountain. Skiers and snowboarders can enjoy views of the Atlantic Ocean and Camden Harbor from the slopes. Camden Snow Bowl offers downhill skiing and snowboarding, a snow tubing slope, ice skating, and a toboggan chute. Also: cross country skiing and snowshoeing trails are open. A youth racing program is available.
Everything Else -- A lodge is home to ski and snowboard school and rental shop, an active youth racing program and a ski patrol. This is a year-round recreation area with summer activities and sports.
Saddleback
976 Saddleback Mountain Road Rangeley, ME, 04970 Phone: 207-864-5671
66 trails and glades; 3 terrain parks, snow tubing; night skiing; cross-country; 220 acres of skiable terrain; 2,000-foot vertical drop; 85% snow making
Skiing & Snowboarding -- Saddleback is a very large but still family-owned ski area in the Rangeley Lakes area of western Maine. The family that owns the ski area is determined to keep skiing family-friendly and affordable and secure and low-key. Extensive ski and snowboard school with low teacher-to-student ratios. Offerings for families with kids include child care, learning programs, advanced lessons, racing, and fun events geared for kids. Affordability is achieved through low-price day tickets, bring-a-friend discounts, season passes with no blackout dates, discounts for students on school honor rolls, group ticket rates, and low-cost ski and stay packages.
Everything Else -- Nice lodge with dining, lounging, and ski shop. Lessons and rentals available. Child care from infant to six-year-olds. Lodging on the mountain with ski-in and ski-out access.
New Hermon Mountain
126 George Rd. Prospect, ME, 04981 Phone: 207-848-5192
20 trails and glades; 1 terrain park; snow tubing; night skiing; 350-foot vertical drop; 100% snow making
Skiing & Snowboarding -- New Hermon Mountain is a small, friendly, and family-owned ski area just a 10-minute drive from Bangor. Terrain is available for novices, intermediate and expert skiers and snowboarders. One tubing park is served by its own lift.
Everything Else -- Ski and snowboarding lessons are available for newcomers to the sport. Gear for rent. Cafeteria
Mount Jefferson
Route 6 Lee, ME, 04458 Phone: 207-738-2377
12 trails; 12 acres of skiable terrain; 432-foot vertical drop; 20% snow making
Skiing & Snowboarding -- Small, family-friendly ski area about 60 miles from Bangor. Two beginner trails; three intermediate; and six difficult trails.
Everything Else -- Ski and snowboard rentals, lessons and a cafeteria.
Bigrock Mountain
37 Graves Road Mars Hill, ME, 04758 Phone: 207-425-6711
29 trails and glades; 1 terrain park; night skiing; cross-country skiing; snow tubing park; 980-foot vertical drop; 80% snow making
Skiing & Snowboarding -- This is a family-friendly ski area with a small-town atmosphere and it is co-owned by Bigrock Ski Area and the Maine Winter Sports Foundation. It claims the highest vertical in northern Maine or the Canadian Maritimes and prides itself in its new (in 2013-2014) GO BIG! terrain park with 20 elements. Bigrock has cross-country skiing, snowshoe trails, and a snow tubing park. Two-hour drive from Bangor and Fredericton, New Brunswick, Canada.
Everything Else -- Cafe with hot food off the grill.
Sunday River
15 South Ridge Road Newry, ME Phone: 207-824-3000
133 trails and glades; 6 terrain parks, snow tubing; night skiing; 820 acres of skiable terrain; 2340-foot vertical drop; 96% snow making
Skiing & Snowboarding -- Sunday River has 133 trails across 820 skiable acres on eight mountain peaks. The Chondola (chair / gondola) is a high-speed lift taking skiers from South Ridge to North Peak in seven minutes. The ski area offers a guarantee: if you are unsatisfied with snow conditions, turn in your ticket within an hour of purchase and use it another day. Five terrain parks with lots of freestyle features. Night skiing and snow tubing. Explore glades with caution.
Everything Else -- Frequent Skier Card and other discounted lift ticket plans available. Dining at White Cap Lodge. Ski shop and child care. Lodging at the Grand Summit Resort Hotel and Jordan Resort Hotel, and other locations in the Bethel area. The ski area offers ski-and-sty packages at lodging near the slopes.
Shawnee Peak
119 Mountain Road 119 Mountain Road, ME, 04009 Phone: 207-647-8444
40 trails; 6 glades; 1 terrain park, night skiing; 249 acres of skiable terrain; 1300-foot vertical drop; 98% snow making
Skiing & Snowboarding -- In operation for 75 years, Shawnee Peak is Maine's oldest ski area. Slopes for all ages and glade skiing is open in Sherwood Forest. Expert skiers also have difficult glades to explore. Learning center at the lodge welcomes children and novice skiers.
Everything Else -- Several places to dine on the mountain, and lodging near slopes. Ski rentals, ski school, and food. Child care available.
Titcomb Mountain
180 Ski Slope Road West Farmington, ME, 04992 Phone: 207-778-9031
15 trails and glades; 1 terrain park, cross-country; night skiing; 340-foot vertical drop; 75% snow making
Modest-sized family ski area with a handful of trails for every skill level; cross-country (Nordic) skiing; and night skiing.