Hotel & Lodging Deals Under $150 in Maine (ME)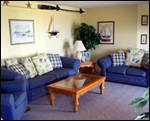 Maine is memorable for more than just its rocky coastline. Find a lodging deal under $150 for your special getaway to Maine that will ease your budget with bargains in season and off at
hotels
, motels, inns, and year-round resorts. Kids often stay for free! Low cost, mid-week packages and Internet specials are yours for family vacations or a special weekend for two. Eat well all day long: from free continental breakfasts, to your own kitchenette with refrigerator and microwave to great restaurants serving the best New England seafood.
There are ocean views, scenic harbors, picturesque villages and history all around you. Factory outlets, antique shops, galleries and museums abound. Walk in a quiet natural habitat in rural and seaside settings. Swim, kayak, surf and hike. Read below to find discounts for an affordable Maine vacation that will be downright memorable.
Many lodgings offer these low-cost deals only seasonally or occasionally. Call ahead to check on room rates before making your plans.

Ocean Avenue Kennebunkport, ME, 04046 Phone: 207-967-5457 Toll-Free: 800-337-4862
Affordable Lodging in Kennebunkport
Affordable vacation lodging in Kennebunkport. Kennebunkport's only resort with indoor & outdoor heated pools, hot tubs, sauna and fitness center. Deluxe accommodations in a quiet wooded setting, short walk to ocean. Located on Ocean Ave, Kennebunkport 1 mile to Walker's Point (President Bush Summer Home). All rooms with two 2 queens or 1 king. Free WiFi, AC/Heat, CCTV, mini fridge, coffee maker, deck or patio. Spring, Fall, and Winter Getaway Packages. All rooms include deluxe Continental Breakfast. On the Trolley Route. Kids 12 & Under Stay Free. AAA 3-Diamond. Groups Welcome. Large Function Room. Open Year Round. Kennebunkport's Affordable Year Round Resort.
639 Main Street Ogunquit, ME, 03907 Phone: 207-646-4600 Toll-Free: 866-469-8222
A Maine vacation with great value and amenities
Relax in the scenic seaside village of Ogunquit on the fabulous south coast of Maine. Your luxury rental suite features a master bedroom with whirlpool spa, living room with fireplace, sleep sofa, cable television and free wireless internet. The kitchenette includes a fridge, coffeemaker, two-burner electric cook-top, and electric skillet. On site you'll enjoy daily and seasonal activities, a children's playground, indoor pool and exercise room, barbecue area and library. Hit the beach and can rent chairs and umbrellas, coolers and beach caddies to make it all the more to your liking. Or head off to the village - both accessible on foot or by free shuttle – and savor delicious food, great shopping and enough sightseeing to feed the soul.
733 Post Road Wells, ME, 04090 Phone: 207-646-6044 Toll-Free: 800-448-0925
Affordable Resort Motel in Wells Maine
Affordable Resort Motel in Wells Maine with great location near Wells Beach, Ogunquit and Kennebunkport. The vacation resort features an indoor pool, hot tub, sun deck and bbq area. Free WiFi, in-room coffee, local calling, use of pool, hot tub and pool towels. All rooms have a kitchenette which includes a small refrigerator, microwave, toaster and coffee pot with free coffee. Full baths, climate control, CCTV with DVD, and hair dryers. The majority of our rooms offer a queen size bed and sleep sofa. We also feature lodging with two one-bedroom suites with a separate bedroom and small kitchen, dining and living area.
Visit our sister property - Misty Harbor Resort
80 Commercial Street Boothbay Harbor, ME, 04538 Phone: 207-633-4434
Affordable rates and all inclusive deals on Boothbay Harbor
Great rates and special deals make the Tugboat Inn a favorite and affordable destination for many visitors to historic and scenic Boothbay Harbor. Bring your boat and enjoy the sheltered marina with slips and moorings for transient and seasonal stays. You're on the waterfront with 64 rooms and suites facing or directly over the water featuring air conditioning, 42 inch flat screen television, refrigerator and Keurig coffee maker plus complimentary continental breakfast and Wi-fi throughout the property. The green and energy efficient inn has a full service restaurant, the Marina Lounge & Café with a pub menu and weekend and seasonal entertainment. and a variety of all-Inclusive packages including accommodations, meals and more and vary by room type and location.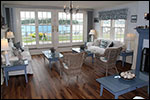 191 Shore Road, P.O. Box 409 East Boothbay, ME, 04544 Phone: 207-633-4200 Toll-Free: 800-552-5554
Discover mid coast Maine value in a resort lodging
Stay at a great rate and enjoy all the comforts, amenities, and ocean views you could want in a seaside getaway. Endless land and sea activities abound and there's great food, shopping and sightseeing in nearby Boothbay Harbor. Set on the top of a rockbound peninsula are classic white clapboard cottages, traditional rooms, and modern guestrooms with picture windows, porches, and balconies to enjoy the magnificent sunsets. Included is a free hot buffet breakfast and resort wide WiFi, private bath, cable TV, mini refrigerator and AC. Cottages and suites also offer a microwave, fridge and coffee maker. The resort's pool is the largest (and heated) pool in the area and the onsite restaurant serves delicious American and continental fare.
1373 Post Road Wells, ME, 04090 Phone: 207-646-1100 Toll-Free: 800-444-8862
The Beach is in reach and so are our prices.
Village by the Sea is an all-suites resort near Wells Beach, between Ogunquit and Kennebunkport. We are on 11 acres bordering the Rachel Carson Wildlife Preserve and tidal salt marsh. Our lodging location is the perfect place for those who enjoy quiet pleasures such as watching the Great Blue Herons while being near miles of sandy beaches and rocky coastline, factory outlets, antique shopping, excellent seafood restaurants, golfing, whale watching, and deep sea fishing. All of our spacious units are one and two bedroom suites that have all the comforts of home including a living room, dining room, fully equipped kitchen, 1 or 2 bedrooms and, in most cases, 2 baths. Lodging at our facility offers a variety of meeting spaces perfect for your Maine coast wedding, anniversary, birthday or meeting.
31 Atlantic Avenue Boothbay Harbor, ME, 04538 Phone: 207-633-6302 Toll-Free: 800-533-6302
An Affordable Boothbay Harbor lodging with spectacular views
Great rates await at this quaint and charming Inn on Boothbay Harbor. Offering scenic splendor and casual comforts on Maine's mid coast, you'll find 60 spacious, modern, non smoking guest rooms with private balcony or patio with views of the harbor, coffeemakers, flat-screen TVs, fridges, microwaves, free WiFi and complementary buffet breakfast. On site, the waterfront Sunset Bar and Grille offers spectacular views of the Harbor, a festive happy hour, and the chef's own style of fusion of flavors brought to Maine's delicious seafood traditions. Stroll the waterfront and into town for great shopping and sightseeing. Just a short walk takes you across Boothbay Harbor's famous wooden footbridge. The green hotel employs solar cells for part of its energy needs.