Visit Maine boutique hotels and inns offer luxury service
In the world of Maine luxury hotels and inns, Maine boutique hotels seek every opportunity to offer guests a very individualized, personal, and rewarding visit. Rooms and suites at ME boutique hotels are beautifully furnished, combining Old World style, architecture, and service with modern-day comfort and amenities.
14 Bay View Landing Camden, ME, 04843 Phone: 207-230-7177 Toll-Free: 877-553-6997
Style and gracious hospitality on the waterfront
Celebrating its 5th season is Camden's only 4-Diamond luxury waterfront boutique inn with the attention to detail that bespeaks gracious hospitality. This seaside gem overlooking the marina and the Islands of Penobscot Bay offers luxurious comforts in suites and rooms with private balconies and magnificent views, gas fireplaces, Jacuzzi tubs and separate marble and glass enclosed rain showers, and premium bed and bath linens. In room continental breakfast is served each morning. There are custom enclosed food & beverage closets with mini-frig, microwave oven, coffee maker, and serving ware. Within a short walk or drive are unique shops, casual and fine dining establishments, endless outdoor recreation and cultural activities.
Visit our sister properties - 16 Bay View - Lord Camden Inn
24 Main Street Camden, ME, 04843 Phone: 207-236-4325 Toll-Free: 800-336-4325
A coastal gem in a culture rich milieu
On picturesque Camden Harbor in view of the coastal mountains is a boutique hotel of abundant radiance and style. Thirty-six non-smoking guestrooms and suites offer old world architectural remnants with modern comforts and exceptional service. Repose in luxurious bedding, warm by a gas fireplace, step out onto your private balcony. Reserve an in room spa treatment, conquer the fitness room, enjoy the complimentary buffet breakfast and have your pooch pampered. Among the most culturally rich and diverse towns in all of Maine, Camden and nearby Rockport and Rockland present the finest in coastal dining. The year-round recreational options, great shopping and cultural activities make this AAA 3-Diamond destination a gem.
Visit our sister properties - 16 Bay View - Grand Harbor Inn
468 Fore Street Portland, ME, 04101 Phone: 207-775-9090
An intimate hotel with grand and luxurious service and amenities
The boutique hotel finds luxurious expression in this wonderful Maine coast lodging. Individual rooms vary in layout and style, but all enhance your visit with amenities and services on the grand hotel scale. There's valet parking, personal Town car service, high-speed wireless internet access and a fitness facility. Pets are welcome too. Spacious deluxe rooms and suites offer the finest in bedding, linens, and luxury bathroom features. Suites offer over-sized rooms, some with Jacuzzi tub, separate sitting area and fireplace, and floor to ceiling windows. This historic port city has much to celebrate in its shops, the arts and entertainment. Just step out on foot or take a tour on the water and dive deeper into this romantic city's magic.
163 Danforth Street Portland, ME, 04104 Phone: 207-879-8755 Toll-Free: 800-991-6557
Sophisticated inn doesn't miss a beat in the heart of Portland's West End
A chic retreat in the heart of Portland's West End, The Danforth's luxurious guestrooms, many with fireplaces and shutters that open to harbor breezes, and all with carefully appointed works of art, are a perfect place for a relaxing escape or a headquarters from which to enjoy the city's many pleasures. Wake to a champagne breakfast, then set out to explore the eclectic Arts District and the Old Port, both with shops and restaurants ranging from funky to ultra-sophisticated. Come back to unwind in the 1823 inn's herb-filled second-floor balcony, the conservatory or wood-paneled billiard room. See a sunset from the Federal-style building's rooftop cupola, then seek out cocktails in the Opium lounge and an unforgettable dinner at Tempo Dulu.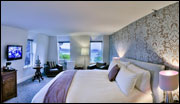 83 Bayview Street Camden, ME, 04843 Phone: 207-236-4200 Toll-Free: 800-236-4266
Luxurious Boutique Inn with stunning harbor views
The Inn is perched on a hilltop with 180-degree views of the village, harbor, mountains, Penobscot Bay, and evergreen islands.
The Camden Harbour Inn is known for its legendary service and exquisite facilities and steeped in New England's tradition of grand seaside hotels. Take time to luxuriate in your bedchamber overlooking the water, dine on exquisite cuisine in Natalie's award-winning restaurant, and experience the mind-body benefits of Zero Balancing or one of our other massage treatments in our spa.
Please visit our sister property - The Danforth Inn