Boutique hotels, inns, cabins or cottages are ideal for your small Maine wedding
You'll cherish a small Maine wedding of family and close friends with time and room to chat, share memories and hugs in a quiet, scenic and intimate setting. Historic inns, tasteful
hotels
, resorts and
boutique lodgings
are each ideal for couples looking for quiet luxury. For outdoors people, what could be better than a wedding on a lake and overnights in cozy
cabins or cottages
? Every amenity from wedding planning, accommodations, exciting cuisine, unlimited guest services and more will pamper you and your guests for the most memorable of times.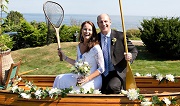 208 Ocean Avenue Kennebunkport, ME, 04046 Phone: 207-967-2125 Toll-Free: 855-346-5700
Small weddings here are Maine Coast beautiful
A wedding on Maine's enchanting south coast has everything you could want for your special day. The picture-perfect setting with its 180 degree ocean panorama offers the perfect backdrop for romantic wedding whether a grand affair or a small, intimate celebration with those you love. Any size fits all at this historic wedding destination. The resort's on-site event manager and versatile chef ensure that your every detail is covered – from personalized welcome amenities to an ocean inspired wedding feast to a sunset champagne toast on the porch. Start your wedding weekend by taking your vows on the lush lawn. Then share the joy with the Inn as your home base. Nearby Kennebunkport has Dock Square, sandy beaches and coastal charm.
Newport Drive Bar Harbor, ME, 04609 Phone: 207-288-3351 Toll-Free: 800-248-3351
Superior service, gorgeous surroundings, elevate even the smallest ceremonies
There is nothing small about the amount of attention wedding coordinators at the Bar Harbor Inn put into your intimate ceremony. From deciding on a venue – exchanging vows on a balcony overlooking the Frenchman Bay waterfront, perhaps, or in the elegantly decorated Porcupine Room with its own panoramic views – to choosing butler-passed hors d'oeuvres in a pre-ceremony gathering or Maine-centric sit-down dinners, to recommending a florist or local bagpipers, the award-winning staff will be with you every step of the way. The Porcupine Room, ideal for weddings of up to 48 guests, also boats a wrap-around balcony with a bird's-eye view of Bar Harbor, perfect for a small ceremony or that first dance under a starry sky.
29 South Main Street Kennebunkport, ME, 04046 Phone: 207-967-3993 Toll-Free: 800-879-5779
Gather on the coast of Maine for an intimate wedding celebration
A small intimate wedding by the sea has its own charm and romance and you'll savor both on an ocean tidal cove in Kennebunkport. Up to 60 of your dearest family and friends can be seated or up to 100 can stand to observe your vows and cherish your special day. The Kennebunk River serves as backdrop with spectacular photo opportunities everywhere you look. You'll be perched on a grassy knoll, enveloped by soft sea breezes. nautically inspired accents and local art at a newly refurbished motor lodge offering a stress-free, relaxed ambiance and four distinctive buildings with 30 guest rooms. And you and your guests will love being but a leisurely 15-minute walk to the center of fabulous Dock Square.
Mid-Coast Maine on Casco Bay Sebasco Estates, ME, 04565 Phone: 207-389-1161 Toll-Free: 877-389-1161
Gracious setting for an intimate mid coast wedding
Gather dear friends and family at this classic ocean side resort on Maine's mid-coast. Share your intimate wedding celebration amidst the gracious warmth and quiet comforts of this magnificent setting. Your custom designed wedding can fit a variety of large and small indoor and outdoor venues. Exchange your vows on the lawn overlooking the harbor and the Casco Bay Islands or amidst the rose gardens surrounding the Gazebo on the resort's Village Green. The Cornelius Room, the Clipper Building and the Main Deck offer charm, a wealth of seating plans, along with spectacular views. Prefer something even smaller? The resort offers an elopement package complete with flowers in your room and a wine and cheese platter for after the ceremony.
Sailing from Ports in Rockland and Camden, ME, 04843 Phone: Toll-Free: 800-807-9463
Cozy up to the idea of an intimate wedding ceremony on the water
What could be more romantic than you and your soon to be very significant other exchanging wedding vows before a dozen family members and friends under a starlight sky aboard a gorgeous Maine schooner you've chartered for several nights? Well, perhaps an intimate island ceremony followed by a lobster bake reception. Or maybe a small dockside affair, after which the two of you say your farewells and retire to an onboard honeymoon suite before sailing off on your cruise past lighthouses and the dramatic Maine coast. The history-rich vessels of the Maine Windjammer Association can make all those scenarios come true, coupled with gracious, friendly service and the easygoing at-sea atmosphere that will allow you to relax and enjoy your big day.
16 Bay View Street Camden, ME, 04843 Phone: 207-236-4325
Tasteful Rooms Add Delight to Your Intimate Wedding
A small wedding of family and close friends can be a quiet delight. The luxurious 16 Bay View Hotel in Camden – a tasteful boutique establishment of fewer than two dozen rooms – is ideal for couples looking for luxury and intimacy. The front doors open into a beautifully designed lobby and a lodging presenting expert, round-the-clock service. Your smaller wedding celebration can open with cocktails in the lobby bar The Vintage Room. The hotel's rooftop terrace is just right for about 45 or fewer guests. Let the party continue with handcrafted cocktails and heart-warming view of boats rocking at their moorings in Camden Harbor and the distant Camden Hills. Guest rooms will pamper your friends after your perfect day.
Visit our sister properties - Lord Camden Inn - Grand Harbor Inn