Maine's museums for art, history, science, and children are a visit of discovery
Maine has a wonderful variety of art galleries and museums that explore all manner of subjects, from art to traditional technologies (like lumbering) to history and science. Enrich your family vacation in Maine with a visit or two to the state's museums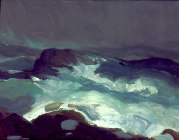 16 Museum Street Rockland, ME, 04841 Phone: 207-596-6457
Farnsworth presents beloved Maine outdoor images
The stern beauty of Maine and the manifold ways it has been expressed by Maine-loving artists is the driving theme of the Farnsworth Art Museum in Rockland, just steps away from the coastline that has inspired artists for centuries. The museum was opened in 1948 and it quickly acquired paintings by, among others, George Bellows, William Zorach, and Andrew Wyeth. These and others established Farnsworth's main strength: landscapes of the late 19th and early 20th centuries. Early purchases included Eastman Johnson's American Farmer, George Inness's In the White Mountains, and Winslow Homer's New England Coast. From the start, the Farnsworth built a relationship with the Wyeth family of artists, including Andrew, N.C., and Jamie Wyeth. The museum's holdings of contemporary art have been significantly expanded.
Cole Land Transportation Museum
405 Perry Road Bangor, ME, 04401 Phone: 207-990-3600
Exhibits feature antique vehicles, including a display of military cars and trucks. There is also a covered bridge on the premises. Hours: May 1-November 11, daily, 9 a.m.- 5 p.m. Admission: Adults, $7; seniors age 62 and older, $5; children under age 19, free. Information: www.colemuseum.org/
Maine Maritime Museum
243 Washington St. Bath, ME, 04530 Phone: 207-443-1316
From the beginning of the Civil War to the turn of the century, Bath was the one of the nation's most important seaports and ship-building cities. The Maine Maritime Museum tells the story of Maine's ship and boat building history with multiple rooms of exhibits, all contained beside a 19th century shipyard on the Kennebec River. Hours: Daily, 9:30 a.m.- 5 p.m.; closed Thanksgiving, Christmas and New Year's Days Admission: Adult, $15; seniors over age 64 and students, $12; youth age 6 to 17, $10. Information: www.mainemaritimemuseum.org.
543 Shore Road Ogunquit, ME Phone: 207-646-4909
This small, seasonal museum is devoted entirely to American art. Its permanent collection houses one of the largest collections of ceramic sculpture by Carl Walters; watercolors by Eliot O'Hara; oils by Henry Strater; drawings and sculpture by Isabella Howland. Its collection includes works by artists of the Ogunquit arts colony, including Edward Betts, Charles Woodbury, Hamilton Easter Field, and Robert Laurent. The museum is built with a large glass wall facing the coastline and ocean. The building has grown to 7,500 square feet since its founding in 1953.
Hours: Open May to October, daily, 10 a.m. to 5 p.m. Group tours, bus tours and school groups are welcome.
Admission Fees: Adults, $10; seniors and students, $9; children under age 12 are admitted free.
Maine Lighthouse Museum at the Maine Discovery Center
1 Park Drive Rockland, ME Phone: 207-594-3301
The Maine Lighthouse Museum is the home of the largest collection of Fresnel lighthouse lenses and the most important landmark collection of lighthouse artifacts and Coast Guard memorabilia in the United States. A few years back, the museum merged its collection with that of the former Museum of Lighthouse History of Wells (now closed). The two collections are now on display and marvelously compliment each other. Visit the museum gift shop and find lighthouse models and miniatures, replicas, clothing, gifts, art, toys, memorabilia, and exclusive regional favorites.
Hours: Monday–Friday, 9 a.m.–4:30 p.m.; Saturday and Sunday, 10 a.m.–4 p.m.; closed Sunday through Wednesday in winter and early spring.
Information: http://www.mainelighthousemuseum.com/
Portland Museum of Art
7 Congress Square Portland, ME, 04101 Phone: 207-775-6148
The museum's collection of more than 15,000 objects is housed in three historic buildings showcasing three centuries of art and architecture. Displaying work by Winslow Homer, Marsden Hartley, Rockwell Kent, Louise Nevelson, and Andrew and N.C. Wyeth, as well as European masters Edgar Degas, Claude Monet, Pierre-August Renoir, and Pablo Picasso. Hours: Tuesday, Wednesday, Thursday, Saturday, and Sunday, 10 a.m. to 5 p.m.; Friday, 10 a.m. to 9 p.m. Admission: Adults, $10; seniors and students, $8; youth age 6 to 17, $4; free admission Friday, 5-9 p.m. Information: www.portlandmuseum.org
Maine Forest and Logging Museum
54 Government Road Bradley, ME, 04411 Phone: 207-974-6278
The museum is dedicated to keeping alive the forest history of long ago for the present day citizens of Maine. The centerpiece of the museum is Leonard's Mills, a reconstructed logging and mill community of the 1790s. Programs feature volunteers in period dress demonstrating traditional skills and crafts. Events include living history days and summer programs. Group tours can be scheduled.
Hours: The Museum is open daily from April through October for self-guided tours; the nature trails are open year round.
Cost: Fee charged only for special events.
Information: www.leonardsmills.com.
Fishermen's Museum in the Pemaquid Point Lighthouse
Route 130 Pemaquid Point, ME, 04554 Phone: 207-677-2726
The lighthouse was built in 1826 and marks the entrance to Muscongus Bay and John Bay. Today it is a major attraction in Maine and receives almost 100,000 visitors each year. The keeper's house has been converted into the Fishermen's Museum. On display are items related to the local maritime history. Hours: Staffed by volunteers Memorial Day to Columbus Day, daily, 10:30 a.m. to 5 p.m. The tower might be closed on rainy days or if there are no volunteers available. Information: http://maritimemuseums.net/ME.html
Stanley Museum
School Street Kingfield, ME Phone: 207-265-2729
The Stanley Museum is located in the Georgian-style Stanley School built in 1903. The museum commemorates the heritage of Stanley family and the famous Stanley Steamer automobile, which was invented by Francis Edgar Stanley and manufactured by him and his twin brother. They are often called the the Stanley twins, F.E. and F.O. Their sister is remembered for her photographs depicting rural American life in about 1900 in Maine. Visitors to the Stanley Museum see the steam cars, and an exhibit that demonstrates the power plant of the Stanley steam car. Also on display is a Mason Regulator engine on exhibit, which is used in the first Stanley cars.
Hours: June through October, Tuesday to Sunday, 1-4 p.m.; November through May, Tuesday to Friday, 1-4 p.m. or by appointment
Information: www.stanleymuseum.org
Seashore Trolley Museum
195 Log Cabin Road Arundel, ME, 04046 Phone: 207-967-2712
This electric railway museum has a collection of more than 250 transit vehicles, most of them trolleys, from all over the United States, Canada, and other countries. Museum admission includes unlimited streetcar rides, access to the museum grounds and exhibit buildings, and use of picnic areas.Cost: Adults, &8; seniors, $6; children, age 6-16, $5.50. Open: May 27-October 10, daily, 10 a.m.-5 p.m.
Bangor Museum and Center For History
25 Broad Street Bangor, ME, 04401 Phone: 207-942-1900
The museum focuses on the history of Bangor and the surrounding area. Hours: Tuesdays-Saturdays, 10 a.m.-5 p.m. Admission: Adults, $5; seniors, $3; children under age 12, free
The Abbe Museum at Sieur de Monts Spring
2 miles south of Bar Harbor near the Park Loop Road and Route 3 in Acadia National Park Bar Harbor, ME, 04609 Phone: 207-288-3519
The Abbe offers innovative exhibitions and programs on Maine's Native American heritage. From spring through fall, the Abbe's historic trailside museum at Sieur de Monts Spring continues to offer visitors a step back in time to early 20th century presentations of the Native American archaeology of Maine. Woodland setting with paths and trails running through it. Hours: Late May through mid October, daily, 10 a.m.-5 p.m. Cost: Adults, $3; children age 6-15, $1; free to Native Americans. Information: http://www.abbemuseum.org.
Fifth Maine Regiment Museum
45 Seashore Avenue Peak's Island, ME, 04108 Phone: 207-766-3330
Exhibits commemorate the Civil War, and in particular the contribution of Maine citizens to the war effort.
Hours: Memorial Day-July 1, weekends, 11 a.m.-5 p.m.; July 1-Labor Day, week-days, 1 to 5 p.m. and weekends, 11 a.m.-5 p.m.; Labor Day-Columbus Day, weekends, 11 a.m.-5 p.m.
Cost: Suggested donation of $5 per person.
Information: www.fifthmainemuseum.org/
Wells Auto Museum
1181 Post Road, Route 1 Wells, ME, 04090 Phone: 207-646-9064
This is a museum dedicated to the automobile, featuring over 130 cars, and auto ephemera. In addition, children and adults alike will enjoy the collection of antique toys and arcade games. There are over 70 antique automobiles on display including a 1963 Studebaker Avanti, 1949 Cadillac Fleetwood, and 1907 Stanley Steamer. In addition there is a fine selection of nickelodeons, antique arcade games, license plates, toys and more. Gift shop and antique car rides. Open: Mid-June through September, 10 a.m.- 5 p.m.
Maine's Paper & Heritage Museum
22 Church Street Livermore Falls, ME Phone: 207-592-1807
This museum preserves the history of the paper industry in Maine and in particular the cultural heritage of the towns and mills along the Androscoggin River. Through its interactive exhibits, visitors may experience life in a paper-making community.
Information:www.papermuseumofmaine.org
Hours: Memorial Day through Labor Day, Saturday, 10:30 a.m.-2:30 p.m. or by appointment through October.
George B. Dorr Museum of Natural History
105 Eden Street Bar Harbor, ME, 04609 Phone: 207-288-5395
The museum investigates, interprets and displays the natural world of Maine. The museum showcases dioramas that portray native species in natural and human-altered environments. The museum is housed in the original headquarters of Acadia National Park. Hours: Tuesday-Saturday, 10 a.m.-5 p.m. Admission: By donation. Information: http://bit.ly/WgQ002.
Bowdoin College Museum of Art
9400 College Station Brunswick, ME, 04011 Phone: 207-725-3275
Bowdoin College's collection of fine art features American and European classic work. Of particular interest, however are the exhibitions of works by Maine artists Winslow Homer and Andrew Wyeth. Hours: Tuesday-Saturday: 10 a.m.-5 p.m.; Thursday: 10 a.m.-8:30 p.m.; Sunday: 1-5 p.m. Admission: Free. Information: www.bowdoin.edu/art-museum/
Wendell Gilley Museum of Bird Carving
4 Herrick Road Southwest Harbor, ME, 04679 Phone: 207-244-7555
Founded in 1981, the museum is the major showcase for the work of world-renowned bird carver Wendell Gilley, a Southwest Harbor native who was one of the two or three recognized pioneers of this indigenous American art form. Hours: June through October,Tuesday–Saturday, 10 a.m.–4 p.m.; May, November, and December, Friday–Sunday, 10 a.m.–4 p.m. Cost: Adults, $5; children age 5-12, $2. Information: www.wendellgilleymuseum.org.
University of Maine Art Museum
238 Maine Street Farmington, ME, 04938 Phone: 207-778-7002
The UMF Art Gallery has four to six exhibitions each year. Once a large barn behind 246 Main Street, now converted into a modern exhibit space, the UMF Art Gallery features artists from Maine elsewhere, demonstrating a variety of styles and media contemporary art.
Hours: During the academic year, Tuesday-Sunday, noon-4 p.m.
Maine State Museum
230 State Street Augusta, ME, 04333 Phone: 207-287-2301
The museum describes Maine's 12,000-plus years of history, from the paleo-Indians to the first European explorers; homes, shops, and mills where Mainers have lived and worked for centuries; and the factories, ships, and farms that are an integral part of the state's history. Hours: Monday-Friday, 9 a.m.-5 p.m.; Saturday, 10 a.m.-4 p.m.; Sundays from late June to late November, 1-4 p.m. Admission: Adults, $2; children age 6-18, $1; family maximum, $6. Information: mainestatemuseum.org.
Nowetah's American Indian Museum
2 Colegrove Road (Route 27) New Portland, ME, 04961 Phone: 207-628-4981
Small museum focuses on Maine's vibrant Native American culture and history. There is a gift shop on the premises. Hours: Year-round, daily, 10 a.m.-5 p.m. Admission: Free. Information: www.nowetahs.webs.com.
Brick Store Museum
117 Main Street Kennebunk, ME, 04043 Phone: 207-985-4802
Exhibits and collections include Artifacts and papers pertaining to the maritime heritage of the Kennebunks and items from the estates of renowned authors, Kenneth Roberts and Booth Tarkington. Highlights include quilts with secret pouches and handwritten inscriptions; a rare chest dating to 1685; a painting found floating at sea of a Kennebunkport ship captain; pieces salvaged from area shipwrecks; a Civil War drum for a real surprise; and the largest collection of World War I and II posters in Maine. Cost: Suggested donation of $3. Open: Year round, Tuesday – Friday, 10 a.m.- 4:30 p.m.; Saturday, 10 a.m. -1 p.m.;
The Abbe Museum in Bar Harbor
26 Mount Desert Street (Route 3) Bar Harbor, ME, 04609 Phone: 207-288-3519
The Abbe offers innovative exhibitions and programs on Maine's Native American heritage. In recent years, the Abbe has grown from a small but lovely trailside museum to an exciting contemporary museum in the heart of downtown Bar Harbor. At the Abbe's new downtown museum, visitors find dynamic and stimulating exhibitions and activities interspersed with spaces for quiet reflection. The history and cultures of Maine's Native people, the Wabanaki, are showcased through changing exhibitions, special events, teacher workshops, archaeology field schools and craft workshops for children and adults. Hours: Summer hours are late May through early November, daily, 10 a.m.-5 p.m.; winter hours are Thursday-Saturday, 10 a.m.-4 p.m.; closed in January. Cost: Adults, $6; children ages 6-15, $2; free to Native Americans; includes admission to both museum locations. Information: www.abbemuseum.org/
Penobscot Marine Museum
5 Church Street Searsport, ME, 04974 Phone: 207-548-2529
Open: May through October, Monday-Saturday, 10 a.m.-5 p.m.; Sunday, noon-5 p.m.
Museum features exhibits on historic boats, artifacts and ship models.
Owls Head Transportation Museum
117 Museum Street Owl's Head, ME, 04754 Phone: 207-594-4418
Visitors will enjoy exhibits featuring a collection of early air and ground vehicles. Trace the history of the bicycle and the horse-drawn carriage. Many of the vehicles are in operating condition and are demonstrated on the museum grounds. Hours: Year-round, daily, 10 a.m.-5 p.m Cost: Adults age 18 to 64, $10; seniors, $8; children under age 18, free. Information: www.ohtm.org.
Maine Discovery Museum
74 Main Street Bangor, ME Phone: 207-262-7200
This museum, in the heart of Bangor, is filled with interesting and educational things to do with kids at all age levels. Seven permanent exhibits invite children to explore nature, geography, children's literature, music, art, science and anatomy. Among the exhibits are: Nature Trails, to explore Maine's ecosystem along a 20-foot waterway; TradeWinds, a new exhibit about Maine's global connections to Brazil, Japan, and Italy; Booktown, a village where every doorway leads into the pages of a Maine children's literary classic; Sounds Abound, exploring the world of music in a sound studio.
Hours: Open year-round; closed on Mondays. Hours vary by season; consult museum website
Information: www.mainediscoverymuseum.org
The Museum at Portland Head Light
1000 Shore Road Cape Elizabeth, ME, 04107 Phone: 207-799-2661
Situated along the spectacular shores of Fort Williams Park, the museum is contained within the former keeper's quarters. The museum contains a number of lighthouse lenses and interpretative displays as well as a seasonal shop featuring lighthouse- and Maine-related gifts. Hours: Memorial Day to October 31, daily; mid-April through Memorial Day and November through mid-December, weekends only; 10 a.m. to 4 p.m. Admission: Adults, $2; children, $1. Information: www.portlandheadlight.com/museum.html
Patten Lumberman's Museum
Waters Road Patten, ME, 04765 Phone: 207-528-2650
The museum documents Maine logging history by preserving the logging heritage and accomplishments of early inhabitants of the state of Maine. Exhibits include some of Maine's most notable contributions to the early mechanization of logging, including the Lombard Steam Hauler, Lombard Gas Hauler, and the Peavey Cant Dog.
Hours: June, Friday, Saturday, and Sunday, 10 a.m.-4 p.m.; July to October 7, Tuesday-Sunday, 10 a.m.-4 p.m.
Admission: Adults (over age 12), $78; seniors, $7; children at 6-11, $3.
Information: www.lumbermensmuseum.org.
Wilson Museum Complex
120 Perkins Street Castine, ME Phone: 207-326-9247
Museum consists of the Wilson Museum, with rocks and minerals, prehistoric artifacts from North and South America, dioramas of early human periods, early weapons and firearms, ship models, 19th-century carpenters tools, farm and household equipment, reconstructed 1805 kitchen and Victorian parlor, archival material related to Castine history; the John Perkins House; Blacksmith Shop; and Hearse House. Admission is free, except for the John Perkins House, where there are guided tours. Hours: May 27-September 30, weekdays, 10 a.m.-5 p.m.; Saturday & Sunday 2-5 p.m. Admission: Free. Information: www.wilsonmuseum.org.