Choose views of the sea as a backdrop for your spectacular waterfront wedding
Maine is famous for its beautiful bays, lakes, harbors and coves. Put those images and places to work when you choose a magical and picturesque waterfront wedding. You may travel on a romantic
ferry
to your wedding venue, and welcome your family and friends to a ceremony followed by cocktails on a lawn overlooking the sea, great food, music and dancing. There are easy-to-navigate wedding packages that include personalized service and exceptional quality, wedding planners and custom quotes, historic and
romantic accommodations
, local food purveyors and a preferred vendor's list. Choose from indoor and outdoor facilities. Think porches and pavilions, ballrooms and verandas, majestic sunsets and the
best of Maine
everywhere you look.
67 Atlantic Highway Lincolnville, ME, 04849 Phone: 207-789-2000
A waterfront wedding venue like no other
The on-site wedding coordinator and culinary team at this unique wedding venue will customize your wedding to your vision, sourcing local food items, and selecting the best vendors to create an unforgettable experience. Complete all-inclusive and a la carte options are available. 106 cabins offer your guests privacy and the company of others in the woods with screened porches, gas fireplaces, leather furniture, kitchen facilities and spacious living areas. The mountain top reception venue includes the Summit facility accommodating up to 150 and Erickson Hall for groups up to 300. You'll find a rotunda and glass wrap around veranda, fieldstone fireplaces, mahogany foyers and antique bars. The open air pavilion offers larger parties al fresco rehearsal dining and ceremony space and everywhere you look are sweeping views of Maine's mid-coast splendor.
22 McKinley Court Portland, ME, 04109 Phone: 207-805-9836
Say "I do" by the glistening sea
The water surrounds you when you gather on your wedding day by the sea. Board a ferry for a special voyage to Diamond Cove on scenic Casco Bay. At Diamond's Edge, soft by the Atlantic, you and your guests take your place while the sea laps up on the shore. Enjoy cocktails on the lawn overlooking Diamond Cove, a traditional Maine Lobster Bake under a tent or other delicious choices on the menu, then music and dancing to top off a day and evening of love. The Inn at Diamond Cove is your island hideaway with romance, history and charm in abundance. Learn more about easy to navigate wedding packages, custom quotes, catering ideas and a preferred vendor's list.
Coastal Route 1A -- 480 York Street York Harbor, ME, 03911 Phone: 207-363-5119 Toll-Free: 800-343-3869
The most memorable events in Maine begin by the edge of the sea...
At the historic and romantic York Harbor Inn, we specialize in extraordinary New England weddings—right on the spectacular coast of Maine. Our 54-room upscale country inn offers over 5,000 square feet of banquet, reception and dining space gracefully set within 7 private and beautifully decorated functions rooms—some with ocean views and fireplaces! At the heart of the Inn's facilities is the Yorkshire Ballroom—an elegant 3,000 square foot room with a 35 foot cathedral ceiling and dramatic skylight atrium. Experience our personalized service and outstanding quality on your big day. We'll be happy to customize a package that accommodates your exact needs.
29 South Main Street Kennebunkport, ME, 04046 Phone: 207-967-3993 Toll-Free: 800-879-5779
Take your vows by the sea at this unique wedding venue
Here the sea teases and tantalizes and invites you to celebrate your special wedding day perched on a grassy knoll above an ocean-fed tidal cove. You'll be enveloped by soft sea breezes and nautically inspired accents. The Kennebunk River serves as your backdrop for photo memories to cherish. Your venue is a relaxed and newly refurbished motor lodge with four distinctive buildings with 30 guest rooms for friends and family. Plan for a stress- free celebration amidst unique natural beauty in a perfect setting on the coast of Maine. You'll love the Lodge's easy does it approach to creating a special event for up to 60 seated and 100 standing guests that reflects your fondest wishes as a couple.
Mid-Coast Maine on Casco Bay Sebasco Estates, ME, 04565 Phone: 207-389-1161 Toll-Free: 877-389-1161
Great views for those wedding photos
What better spot for a waterfront wedding than Maine's rock-bound coast? Sebasco Harbor Resort's got that, plus the facilities you'll need for your ceremony and reception. In addition to the rocky shore, there are many other spots here that can provide a beautiful backdrop for your ceremony and photos -- lush woodlands, heirloom gardens. And you can hold your reception outside or indoors. The pool lawn offers views of Casco Bay islands and spectacular sunsets. The Clipper, a unique rustic buildings, serves as a rain venue should bad weather interrupt the proceedings. It's also ideal for rehersal dinners. The Cornelius Room, with large windows overlooking the lake, has space for 240. Whatever your choice, when you have your wedding here, you can return through the years to relive the romance.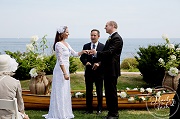 208 Ocean Avenue Kennebunkport, ME, 04046 Phone: 207-967-2125 Toll-Free: 855-346-5700
Marry by the sea and get Maine's south coast joys with it
The water and weddings have a special thing going on. Experience that magic connection in a stunningly beautiful waterfront setting on the Atlantic. With 180 degree views of the ocean, you can take your vows on the lush lawn at this majestic and elegant Inn. Celebrate your special day with the assistance of the resort's on-site event manager and versatile chef who will address every detail from personalized welcome amenities to an ocean inspired wedding feast to a sunset champagne toast on the porch. Plan a joyful, fun-filled wedding weekend for you and your guests with the Inn as your home base. With 50 or more guests in attendance, you will receive a complimentary ocean-view room on your wedding night.