Four star and five star hotels in Portland / Casco Bay offer a memorable stay
The beauty of Portland's neighborhoods, shoreline, and classic lighthouses deserves a corresponding beauty and luxury in your accommodations during your visit to this Casco Bay city. Four star hotels and five star hotels in Portland and neighboring towns offer the lavish service you expect: large bathrooms, Jacuzzis, fireplaces, canopied beds, delicious breakfasts. Start and end your day in luxury as you enjoy this unique, oceanside city.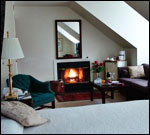 162 Main Street Freeport, ME, 04032 Phone: 207-865-9377 Toll-Free: 800-342-6423
Award winning luxury.
High quality lodging and service meet fine dining and shopping at the Harraseeket Inn. Family owned, the award winning Inn covers the details for a luxurious stay. 93 rooms plus extended stay townhouses include quarter-canopy beds, private bath, cable TV and deluxe rooms with king or queen bed, fireplace and Jacuzzi tub. Enjoy breakfast, brunch and dinner at our two award winning restaurants. We are fully handicap accessible and offer pet friendly rooms with nearby walking areas. Out your door is L.L. Bean and more than 170 factory outlet stores for brand names, trendy shops and cafes. Situated on the rocky coast, explore Maine's wild and not so wild "wonderness" on scenic day trips, while whale watching, canoeing or hiking. You'll find a mint on your pillow, too.
468 Fore Street Portland, ME, 04101 Phone: 207-775-9090
This Portland hotel expands the notion of luxurious.
Great service and luxurious amenities are yours at this majestic hotel in Portland's historic district. Rooms and suites feature unique layouts, custom-made furnishings, His and Her armoires, high-speed wireless internet, bathrooms with granite-top vanity and granite and glass enclosed shower, and a large soaking tub to make it all feel better. There are suites in two distinct styles with oversized bathrooms, some with a Jacuzzi tub and separate sitting area with double-sided fireplace, breathtaking floor to ceiling windows, and a built-in sound system. Enjoy valet parking, personal Town car service and the fitness facility. There's Eve's on the Garden for delicious cuisine and happy hour relaxation and the entirety or Portland filled with shopping, entertainment, the arts and maritime wonders.