Fine dining in Maine combines luxury, excellent food, and Maine tradition
Maine's fine dining restaurants serve excellent cuisine of all traditions by top-of-the-line chefs. Portland, in particular, is building a reputation as an exciting dining destination. Prepare to enjoy lobster -- the the shell, in chowders, and many other forms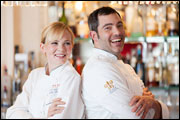 83 Bayview Street Camden, ME, 04843 Phone: 207-236-4200 Toll-Free: 800-236-4266
An inspired menu makes this Four Diamond restaurant a culinary jewel
With its jaw-dropping views of the harbor, the mountains and Penobscot Bay, Natalie's at the Camden Harbour Inn is an exciting place to dine, especially in-season on the heated, covered wrap-around porch. But it's impeccable service and a creative menu that have earned the restaurant its coveted AAA Four Diamond status. Combining modern New England and international cuisines, locally sourced from Maine fishermen and farmers and therefore seasonal, Natalie's offers its diners modern dishes with subtle and surprising flavor combinations found in no other restaurant. The restaurant features custom-crafted cocktails and 200 handpicked wines and is happy to suggest superb wine pairings. For more casual meals, an inspired menu is available in the bar and lounge.
Please visit our sister property - The Danforth Inn
163 Danforth Street Portland, ME, 04104 Phone: 207-879-8755 Toll-Free: 800-991-6557
A distinctive restaurant with a southeast Asian flavor
Historic lodgings in an historic seaside town should guarantee outstanding dining and the Danforth Inn does not disappoint. Built in 1823, the Danforth has had a colorful past and today offers elegant sophistication in cozy lodgings and Tempo Dulu, an upscale restaurant featuring artfully created Southeast Asian cuisine with locally sourced ingredients. The menu includes dishes from Vietnam, Thailand, Malaysia, Singapore and Indonesia and a full bar with award winning cocktails including the "Jakarta," awarded best cocktail in America by StarChefs in 2015. Lighter fare is also available at the bar and the elegant space is set with art the owners personally curated in Asia, Europe and America plus designer light fixtures and fashionable lounge style seating.
Please visit our sister property - Camden Harbour Inn