Fine dining in Maine combines luxury, excellent food, and Maine tradition
Maine's fine dining restaurants serve excellent cuisine of all traditions by top-of-the-line chefs. Portland, in particular, is building a reputation as an exciting dining destination. Prepare to enjoy lobster -- the the shell, in chowders, and many other forms
163 Danforth Street Portland, ME, 04104 Phone: 207-879-8755 Toll-Free: 800-991-6557
Flavors of Asia spice menu, atmosphere at Portland restaurant, lounge
Dining at Portland's Danforth inn, starting in the elegant Opium lounge and ending at unforgettable Tempo Dulu, is about employing all the senses. Start with Asian-inspired small plates and craft cocktails at Opium, where surroundings will remind you of the Roaring Twenties in Shanghai, then move to the comfortable lounge-style seating at Tempo Dulu, where exotic scents, music and curated artwork will transport you to Singapore and Thailand. Dine on Tamarind Glazed Foie Gras or Spicy Bumbu Roasted Duck Breast, or sit back and sample the lobster or Indonesian-inspired tasting menus. For dessert, try Indonesian Spekkoek (maple ice cream, cinnamon crumble and glazed oranges). The wine list includes extensive Old and New World selections.
Please visit our sister property - Camden Harbour Inn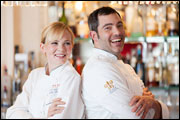 83 Bayview Street Camden, ME, 04843 Phone: 207-236-4200 Toll-Free: 800-236-4266
An inspired menu makes this Four Diamond restaurant a culinary jewel
With its jaw-dropping views of the harbor, the mountains and Penobscot Bay, Natalie's at the Camden Harbour Inn is an exciting place to dine, especially in-season on the heated, covered wrap-around porch. But it's impeccable service and a creative menu that have earned the restaurant its coveted AAA Four Diamond status. Combining modern New England and international cuisines, locally sourced from Maine fishermen and farmers and therefore seasonal, Natalie's offers modern dishes with subtle and surprising flavor combinations found in no other restaurant. The restaurant features custom-crafted cocktails and 200 handpicked wines and is happy to suggest superb wine pairings. For more casual meals, an inspired menu is available in the bar and lounge.
Please visit our sister property - The Danforth Inn