Mid Coast region has resorts that engulf you in coastal beauty
Resorts in Midcoast Maine, encompassing the towns of Rockland, Camden, Brunswick, Boothbay, and Bath, are perched exactly where people want to be if they love wonderful scenery and interesting cultural attractions. Some ME resorts are oriented toward families and children, others toward extreme personal luxury, still others toward golf and outdoor sports. All have comfortable amenities and staff members who are training to provide a high level of conscientious service. Staff can direct visitors to lobster boat and schooner cruises, hiking, and great dining.
67 Atlantic Highway Lincolnville, ME, 04849 Phone: 207-789-2000
Maine resort in a midcoast natural paradise
This unique midcoast resort offers much in the way of indoor amenities and comforts and outdoor pleasures. Set on 387 scenic acres of mountainside terrain overlooking Penobscot Bay, you'll find fully furnished one, two or three bedroom cabins, cottages and vacation rentals with screened in front porch plus 1-2 baths, kitchen with refrigerator, stove, microwave, plus cable television and wireless internet access. There are nature trails, four season recreational activity, and a fitness and recreation complex with sports, games and a video arcade for the whole family. The Point Lookout conference center provides space and special features for meetings and group gatherings. The quaint villages of Camden Belfast, Rockland and Bar Harbor are nearby for great shopping, dining and entertainment.
Mid-Coast Maine on Casco Bay Sebasco Estates, ME, 04565 Phone: 207-389-1161 Toll-Free: 877-389-1161
Pamper yourself and unwind at Sebasco Harbor Resort
Sebasco Harbor Resort has everything you could desire while vacationing along Maine's coast. It's a place to pamper yourself and unwind. Play golf on our picturesque and challenging nine-hole course. Or relax with a massage or a facial at our Fairwinds Spa. Swim in our saltwater pool. Our two great restaurants focus on serving organic, locally-grown foods purchased from Maine farmers and fishermen. At our elegant Pilot House enjoy lobster carbonara or filet mignon. At the more casual Ledges, try a portobello panini or a lobster roll. We also offer special meals during the week, like our Maine lobster bake, where we serve lobster, mussels, clam chowder, and blueberry pie. We offer lots of activities, including morning yoga, cooking classes, tennis, croquet, volleyball, and canoeing.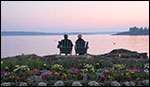 191 Shore Road, P.O. Box 409 East Boothbay, ME, 04544 Phone: 207-633-4200 Toll-Free: 800-552-5554
Settle in and let the ocean and Maine's coast take over
This scenic seaside resort has everything you need in a Maine coast vacation - stunning ocean views, an idyllic setting, and proximity to charming Boothbay Harbor's shops, restaurants and attractions. Stay in traditional rooms or more modern rooms in an old farmstead with picture windows, porches, and balconies to enjoy magnificent ocean sunsets. You'll enjoy a free hot buffet breakfast, WiFi, private bath, cable TV, mini refrigerator and AC. Cottages and suites allow you to spread out and some feature full kitchens. The area's largest oceanfront pool is here and breakfast and dinner are served daily and deliciously in the on-site restaurant, one of the Boothbay area's finest. Enjoy harbor cruises, whale watches, vintage train rides, museums and much more.
88 Grandview Avenue Boothbay Harbor, ME, 04538 Phone: 207-633-4152 Toll-Free: 800-553-0289
The quintessential Maine resort experience, the Spruce Point Inn offers modern day travelers a chance to experience the simple elegance of times gone by. Minutes from bustling Boothbay Harbor, the resort occupies a secluded peninsula on Maine's rocky coast. Lobster boats and windjammers ply their trade in ocean waters, while guests relax by the resort's saltwater or heated freshwater pool, play croquet and tennis or enjoy fine cuisine prepared by the inn's award-winning chef. Lodging possibilities include the historic waterfront inn, charming summer cottages, contemporary lodges and woodland condos. Take a romantic weekend getaway as a couple or plan a family vacation and come experience the beauty of our surroundings and our ongoing commitment to preserving our environment.