Beach & ocean resorts in Mid Coast Region create a wonderful vacation
In New England the beach beckons. Whatever pulls you to the ocean New England has it - from quiet coves, to wide sand beaches, and up the coast to rock cliffs pounded by waves. The best way to enjoy your getaway beach vacation is to stay at one of these fine beach resorts. Expect waterfront accommodations, fine service, and great dining. Add to that spa service, charter fishing, and fine dining along the beach or with an ocean view. This is where romance is kindled and families come to play. From Rhode Island's South County, northward to the unparalleled beaches and luxury resorts of Cape Cod, Nantucket and Martha's Vineyard are many fine waterfront lodgings. North of Boston along Cape Ann and into Maine you will discover more sandy beaches and spectacular cliffs pounded by waves. Expect great lodging and service from New England's finest ocean and beach resorts and you will not be disappointed.
Mid-Coast Maine on Casco Bay Sebasco Estates, ME, 04565 Phone: 207-389-1161 Toll-Free: 877-389-1161
It's always more fun by the Maine coast
Sebasco Harbor Resort is the place for a fun-filled vacation by the Maine Coast. Feel the need for a salt water dip? Jump into our salt water pool. Hankering for lobster? We have a lobster bake every Thursday, complete with traditional Maine sides like clam chowder, New England baked beans, and blueberry pie. We've also got two great restaurants, the Pilot House and the Ledges, where we serve traditional Maine dishes made with organic, locally-produced foods. We've got plenty of outdoor activities, too. Play our nine-hole golf course, with bent grass fairways and a variety of tee locations for an optimal balance of challenge and enjoyment. Fish from our dock, enjoy a game of tennis, or play croquet on our lawn.
88 Grandview Avenue Boothbay Harbor, ME, 04538 Phone: 207-633-4152 Toll-Free: 800-553-0289
The quintessential Maine vacation resort experience, the Spruce Point Inn offers a chance to experience the simple, carefree elegance of times gone by. Minutes from bustling Boothbay Harbor, the resort occupies a secluded peninsula on Maine's rocky coast. Lobster boats and windjammers ply their trade in ocean waters, while guests relax by the resort's saltwater or heated freshwater pool, play croquet and tennis, get lost in a book or enjoy fine cuisine prepared by the inn's award-winning chef. Lodging possibilities include the historic waterfront inn, charmingly restored summer cottages, contemporary lodges and woodland condominiums. Experience a relaxing place to stay with family or on a romantic weekend getaway while enjoying the natural beauty of our surroundings.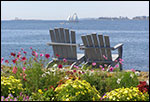 191 Shore Road, P.O. Box 409 East Boothbay, ME, 04544 Phone: 207-633-4200 Toll-Free: 800-552-5554
A vacation place where the water meets your every need
Guests have been coming to this wonderful resort for seaside getaways, romantic weekends and memorable Maine vacations since 1898. Set on the top of a rockbound peninsula near quaint shops, antiques and restaurants in picturesque Boothbay Harbor, ocean views and activities abound. Choose from white clapboard cottages, traditional guest rooms or more modern rooms in a former farmstead with picture windows, porches, and balconies for magnificent ocean sunsets. There's an onsite restaurant for breakfast and dinner, Free WiFi, private bath, cable TV, mini refrigerator, AC and the area's largest oceanfront pool. Schooner rides, whale watches, Lighthouse and aquarium tours only begins to tell you about the fun waiting in this unspoiled hideaway in a fine old summer colony.