Mid Coast Maine conference centers welcome your group meeting
Conference centers in Midcoast Maine, encompassing the towns of Rockland, Camden, Brunswick, Boothbay, and Rockport, offer a full range of support and services for business meetings and conferences. This includes meeting rooms and halls of varying sizes, dining and banquet facilities, Internet connections and other electronic equipment, and access to in-house or nearby professional event planners. Business people in ME need to relax, too, and that can be achieved at the nearby golf courses or beaches.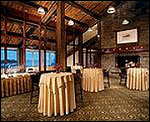 220 Warrenton Street Rockport, ME, 04856 Phone: 207-594-2511 Toll-Free: 800-341-1650
Samoset Resort's conference & meeting facilities serve groups of 10 to 650 in over a dozen rooms, all equipped for high speed wireless Internet connection. The 6,000 square foot Knox County and 3,600 square foot Bay Point Ballrooms adapt for everything from award ceremonies to seminars. Our 6,500 square foot State of Maine Hall accommodates trade shows, demonstrations, exhibits, conferences and other group events. Our exclusive Ebb Tide Board Room provides a luxurious setting for board meetings or small presentations. Samoset and Midcoast Maine provide the perfect venue for new product launches, team building, incentive trips and conferences.
Mid-Coast Maine on Casco Bay Sebasco Estates, ME, 04565 Phone: 207-389-1161 Toll-Free: 877-389-1161
Get down to business, but relax, too, at Sebasco Harbor
Sebasco Harbor Resort is the ideal place for business gatherings, a quiet, peaceful setting where you and your attendees can conduct business and reconnect. We've got several locations that can accommodate several hundred people. The Cornelius room has space for 25 exhibits and windows overlooking the golf course and lake. The Main Deck offers traditional, flexible space for meetings or social events. You can also gather outside on the pool lawn, on our patio, or on our Village Green. Our facilities can also be used for a number of team-building exercises, such as a golf scramble tournament, a tennis round robin, candle pin bowling, a ping pong tournament, or a scavenger hunt. We can also prepare a Maine lobster bake for your gathering. We offer wireless Internet access.