Portland & Casco Bay becoming a mecca for fine, interesting restaurants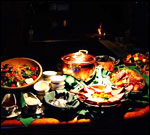 162 Main Street Freeport, ME, 04032 Phone: 207-865-9377 Toll-Free: 800-342-6423
Great food and wine with a Maine sensibility!
Freeport's premier hotel is a diner's paradise whether a guest or a visiting gourmand. Our day's offerings include a full lumberjack-tested buffet breakfast. There is a luncheon buffet and dinner served in the Broad Arrow Tavern with an open kitchen and wood-fired oven and grill. Enjoy a classic dining experience with tableside preparation and flaming desserts served nightly in the Maine Dining Room plus our ever-evolving wine list that has been awarded the "Wine Spectator's Award of Excellence" for the past 20 years. Sunday brunch is simply the best brunch in Maine celebrated by both the 2010 & 2011 Down East Magazine reader's poll and where reservations are suggested. Our restaurants are open to the public and you are invited to join us at the table.
At The Danforth Inn - 163 Danforth Street Portland, ME, 04104 Phone: 207-879-8755 Toll-Free: 800-991-6557
A distinctive restaurant with a southeast Asian flavor
Historic lodgings in an historic seaside town should guarantee outstanding dining and the Danforth Inn does not disappoint. Built in 1823, the Danforth has had a colorful past and today offers elegant sophistication in cozy lodgings and Tempo Dulu, an upscale restaurant featuring artfully created Southeast Asian cuisine with locally sourced ingredients. The menu includes dishes from Vietnam, Thailand, Malaysia, Singapore and Indonesia and a full bar with award winning cocktails including the "Jakarta," awarded best cocktail in America by StarChefs in 2015. Lighter fare is also available at the bar and the elegant space is set with art the owners personally curated in Asia, Europe and America plus designer light fixtures and fashionable lounge style seating.
Please visit our sister property - Camden Harbour Inn