Mid Coast region offers lodgings on the beautiful Atlantic coast
With its many miles of coastline, innumerable islands and inlets, and inland lakes and rivers, Midcoast Maine is poised to offer the best and most extensive choices of oceanfront lodgings and oceanfront hotels. Waterfront lodgings in the Midcoast Maine region that includes the ME towns of Rockland, Camden, Brunswick, Boothbay, and Bath, can range from family friendly motels to luxury inns and resorts. The variety is large, with something for every taste.
16 Bay View Street Camden, ME, 04843 Phone: 207-236-4325
Picturesque harbor just footsteps away from this boutique hotel
Set in a lively seaside district amid galleries, fine restaurants and boutiques, 16 Bay View, Camden's newest 21-room luxury hotel, pays homage to its town's sea-faring history while also embracing modern amenities. From your ocean-view suite, complete with gas fireplace, luxury bedding and ornamental iron balcony, and perhaps some exposed brick from the original 100-year-old building, you can look out over Camden's scenic harbor, which is only steps away. In season, head up to "The View," the hotel's rooftop terrace, with its sweeping cinematic views. Enjoy a signature cocktail by the fire table. A complimentary continental breakfast buffet, unparalleled service and free access to the nearby YMCA's fitness center and pool are also part of the 16 Bay View experience.
31 Atlantic Avenue Boothbay Harbor, ME, 04538 Phone: 207-633-6302 Toll-Free: 1-800-533-6302
Watch boats sail past as you unwind on Maine's coast
When planning a trip to the Maine coast, you can't go wrong with the Boothbay Harbor Inn. We're directly on the waterfront in beautiful Boothbay Harbor. Our restaurant and most rooms offer picturesque harbor views. You'll be able to watch boats sail by while you dine. Most rooms have a balcony or patio that overlooks the water. You can stroll about the waterfront and explore the harbor's shops and galleries. Just a short walk takes you across Boothbay Harbor's famous wooden footbridge. Each of our spacious rooms is equipped with a Keurig coffee maker, cable TV, a refrigerator and a microwave. Complimentary buffet breakfast is included. Relax on the lawn beside our waterfront fire pit, or chill out in our sitting room, where you can read a book, play cards or use our lobby computer.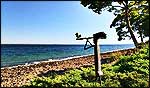 55 Sunrise Point Road Lincolnville, ME, 04849 Phone: 207-236-7716
Savor this sweet spot along Maine's waterfront
This is as private, pampered and perfect an experience you may enjoy on the waterfront along the coast of Maine. Rooms and cottages feature private decks and ocean views, fireplaces, luxurious amenities and impeccable personal service. Enjoy a sumptuous gourmet breakfast served in the ocean view conservatory and dining room. Indulge in some afternoon refreshments, a cocktail or a glass of wine that are always available. Near Camden, you'll find the scenic harbor, arts and culture, great shopping, exceptional food, shopping, and non-stop recreational activity much to your liking. Set on five seaside acres, the secluded waterfront hideaway offers the ocean, salt air and cool breezes enough to make this AAA four-diamond Inn a getaway to remember. And to return to.
22 Commercial Street Boothbay Harbor, ME, 04538 Phone: Toll-Free: 800-628-6872
Savor the views at this scenic waterfront lodging
All around you is the waterfront. The views of the harbor and the famous Boothbay footbridge are spectacular here along the rocky coast of Maine. Savor them from any vantage - your room, the dining room and pub, or while enjoying the fresh air out on the deck. You'll find 54 guest rooms -- including six two-room suites – with private balconies, free WiFi, cable TV, fitness room, and complimentary breakfast plus lunch or dinner in the dining room run by the 2014/2015 Maine Lobster Chef of the year. You're within walking distance of great restaurants, quaint shops, and galleries, and a short drive to the Maine State Aquarium, the historic Boothbay Opera House, and the Coastal Maine Botanical Gardens.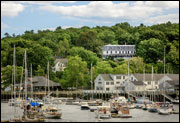 83 Bayview Street Camden, ME, 04843 Phone: 207-236-4200 Toll-Free: 800-236-4266
Actively enjoy what the waterfront has to offer, or just admire the views
High on a hilltop overlooking glittering Camden Harbor, Penobscot Bay and its picture-perfect offshore islands, the Camden Harbour Inn has historically been a beacon to travelers seeking the finest in luxury accommodations. Besides offering comfortable, designer-created rooms and suites with water views and a Four Diamond restaurant featuring feasts from the sea, the inn has a variety of unique ways for you to appreciate its seaside location. Let the concierge book you a helicopter or plane flight over many of Maine's 60 lighthouses or arrange for a tour of a boat yard where they build fine wooden vessels. Let the staff suggest which coastal villages offer the finest in shops, antiques and restaurants or relax aboard a schooner.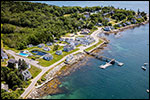 191 Shore Road, P.O. Box 409 East Boothbay, ME, 04544 Phone: 207-633-4200 Toll-Free: 800-552-5554
A favorite seaside lodging since 1898
Relax in this dramatic ocean setting with views of spruce clad islands and the rugged rocky Maine coastline. Classic white clapboard cottages, traditional rooms in the Oceanfront Inn, and family friendly guestrooms with modern décor in the Farmhouse feature picture windows, porches, and balconies to enjoy magnificent ocean sunsets. Amenities include free hot buffet breakfast and resort wide WiFi, private bath, flat screen cable TV, mini refrigerator and AC. Cottages and suites also offer a microwave, fridge and coffee maker. Enjoy the hot tub and the area's largest and heated oceanfront pool, and breakfast and dinner daily with delicious American and continental cuisine in the onsite restaurant with spectacular ocean views. Nearby, scenic and exciting land and sea activities abound.
14 Bay View Landing Camden, ME, 04843 Phone: 207-230-7177 Toll-Free: 877-553-6997
The sea and Camden around you
Camden and its scenic harbor is one of New England's seaside gems. A prestigious AAA Four Diamond destination overlooking the marina and the Islands of Penobscot Bay, Camden's only luxury boutique Inn is a haven for any planned or spontaneous escape. Interiors are inspired by Tuscan Villas. Exteriors, coastal cottage, shingle-style architecture that blends with the historic waterfront buildings. Enjoy luxurious comforts including suites and rooms with private balconies and magnificent views, gas fireplaces, Jacuzzi tubs and separate marble and glass enclosed rain showers. In room continental breakfast served each morning. Set on Bay View Landing amid unique shops, casual and fine dining, outdoor recreation and cultural activities.
Visit our sister properties - 16 Bay View - Lord Camden Inn
Mid-Coast Maine on Casco Bay Sebasco Estates, ME, 04565 Phone: 207-389-1161 Toll-Free: 877-389-1161
Enjoy rocking chairs and ocean views at Sebasco Harbor Resort
Looking for waterfront lodging in Maine? Sebasco Harbor Resort is the place. The Main Lodge features a large screened front porch with rocking chairs, where you can watch activities on the Village Green. As evening approaches, move inside to our lobby, where you'll find a crackling fireplace, or head to our card room for a game of hearts. Guest rooms feature flat screen TVs, pillow-top mattresses, and full baths. In the Lighthouse, built in 1945, rooms feature spectacular ocean views. In our air-conditioned Harbor Village Suites, balconies and patios offer stunning water views and overlook our lush perennial gardens. Our Fairwinds Spa Suites offer fireplaces and views of Harbor Island into Casco Bay. We also have more than 20 cottages, many with fireplaces or ocean-view decks.
80 Commercial Street Boothbay Harbor, ME, 04538 Phone: 207-633-4434
Welcome to your waterfront destination, the Tugboat Inn!
We offer sixty-four deluxe guestrooms and suites, with modern amenities and views of the working waterfront. Most have a deck or balcony (some private) and most rooms face (or are over) the water. We are located close to the village center, and a short walk will take you to a wide variety of shops, galleries, restaurants and boating activities. The Tugboat Marina offers boaters safe and sheltered dockage for long and short term stays. We have both slips and moorings available, and we host both seasonal and transient boaters.
88 Grandview Avenue Boothbay Harbor, ME, 04538 Phone: 207-633-4152 Toll-Free: 800-553-0289
Luxury and relaxation by Maine's rock-bound coast
The gracious waterfront lodging found at Spruce Point Inn in Boothbay Harbor is like nothing else in Maine. That's why we're such an ideal getaway or vacation spot for both couples and families. We offer accommodations of every size -- rooms in our quaint historic inn, cottages, townhouses, and modern lodge rooms. There's something for everyone. Each option offers a view of the ocean, the harbor, nearby woodlands, or our gardens. All our accommodations offer balconies or porches with rocking chairs or Adirondacks, luxurious bath amenities, bath robes, plush-top beds with triple sheeting, 40 inch flat screen TVs, complimentary wireless internet, bell service, refrigerators, Poland Spring water, upscale coastal cottage furnishings, historic photography and artwork by renowned local artists.
159 Searsport Avenue Belfast, ME, 04915 Phone: 207-338-2090
View Penobscot Bay from every room
Fireside Inn Ocean's Edge is in the heart of Maine's Mid-coast and features a view of beautiful Penobscot Bay from every room. Many of Maine's most picturesque coastal villages and harbors including Belfast, Camden, Castine, Boothbay Harbor and Bar Harbor are nearby. Beautiful Acadia National Park is just 55 miles away. At nearby Sear's Island, one of the East Coast's only unsettled islands and home to over 160 species of birds, you can enjoy the birds and the sea. You can also stroll our beach or explore the coast by sailboat or kayak.
Come back to the Inn to cap off your day with fresh Maine lobster in our Ocean's Edge Restaurant serving seafood, steaks, and pasta. And save room for our chef's delicious homemade desserts.