Mid Coast Region parks provide recreation and nature adventures
Fort Point State Park Cape Jellison Road Searsport, ME Phone: 207-941-4014
Park on a peninsula offers picnicking with waterfront views; bicycle path, boating & fishing; lighthousse
Peninsula park with waterfront picnicking, boating, fishing, bicycle trails Location on a peninsula of a peninsula in the Penobscot River, this park has picnic spots on the waterfront, and pier for fishing and boating, and a scenic trail for bicycling. The park's 120 acres nas a mile of rocky shore, a tidal sandbar, and lots of plants and wildlife. The rubble of of Fort Pownall on this site contain interpretive panels. Bicyclists can enjoy a seven-mile trail around Cape Jellison. Open Memorial Day to Labor Day. An entrance fee is charged.
Fort Point State Park Brochure
Trail map.
375 Seguinland Road Georgetown, ME, 04548 Phone: 207-371-2303
Excellent swimming beach on Sheepscot Bay; saltwater lagoon
This oceanfront park features a saltwater lagoon and Mile Beach. Visitors can enjoy swimming, fishing, boating, canoeing, and picnic areas. Open year-round.
Park map.
740 Fort Knox Road Prospect, ME Phone: 207-469-6553
Historic fort adjacent to bridge and 420-foot-tall observatory overlooking Penobscot River Valley
On the west bank of the Penobscot River, Fort Knox is a well-preserved fortification that overlooks the Penobscot Narrows. The fort has many interesting architectural features. The fort is also the entranceway to the Penobscot Narrows Bridge boasts an observation tower, 420 feet above sea level. The tower provides a view of the Penobscot River Valley, and it is unique in the Western Hemisphere. The observation platform has 360-degree views and placards naming the mountains, lakes and towns.
Hours: Fort Knox is open May 1-October 31, 9 a.m.-sunset. The grounds are open year round.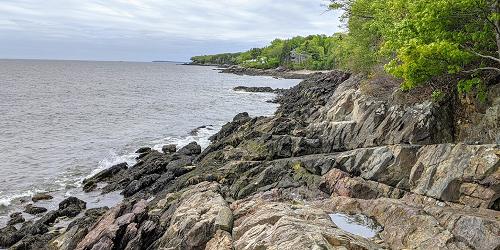 280 Belfast Road Camden, ME, 04843 Phone: 207-236-3109
Park on the top of Mount Battie has beautiful views of the Bay; camping; hiking; bird watching
Camden Hills State Park is parked atop Mount Battie, with vast views of Camden and Penobscot Bay and its islands, Mount Megunticook, the highest peak in the park, is a moderate climb by foot trail. The family-friendly campground has hot showers, a group picnic shelter, picnic area, RV dumping station, RV hookups for electricity and water, and wireless Internet access. Activities at the park include birdwatching, camping, cross-country skiing, hiking (trails), horseback riding, off-road biking, snowmobiling, snowshoeing, walking, and nature viewing. Open May 15-October 15. A fee is charged.
Trail map.
10 Perkins Farm Lane (Route 209) Popham Beach, ME, 04562 Phone: 207-389-1335
Long beach with vast views; strong tide and surf action can make sand area very small at times
Bordering the south side of the mouth of the Kennebec River, Popham Beach State Park has a fantastically long stretch of sand beach with views of offshore island and the the Kennebec and Morse rivers. Sand movement has had a strong effect on Popham Beach, causing shoreline change and dune erosion. Certain tide conditions can result in high water and little sand area. Call the Popham Beach State Park's Hotline during the summer for current tide and parking information: (207) 389-9125. From October 1 to March 31 dogs are allowed on the beach, on a 4-foot leash.