Find a spa in Mid Coast Region to feel relaxed and well on vacation
Every season is the right season to indulge in the comforts of spa treatments, but winter is an especially good time to offer aid and comfort to the physical self. Winter's weather can bring on the blues or chase all but the most avid skiers or boarders indoors for comfort. For pure pleasure it is hard to top a two-hour massage or a day of expert pampering for the skin, hair, and nails, for women and men, as well.
Visit-Maine.com can help you beat the winter blahs through these extensive listings of spas and their health and beauty services. Many spas, hotels, and resorts offer special packages that include overnight accommodations; access to fitness rooms, saunas, and whirlpools; massages and other services; and amenities like champagne, flowers, and chocolates. So sit back with a glass of wine and review below the great spa packages offer by these fine New England establishments.
Mid-Coast Maine on Casco Bay Sebasco Estates, ME, 04565 Phone: 207-389-1161 Toll-Free: 877-389-1161
Sebasco Harbor Resort is the place for getting gorgeous
How about getting gorgeous on your Maine vacation? You can do it at Sebasco Harbor Resort, 550 acres nestled beside the rocky coast. Stop by our Fairwinds Spa for a nail treatment. We start with a rejuvenating sea water soak, and then shape your nails to your liking. We'll also exfoliate and thoroughly massage your hands or feet. We finish with a high-quality polish of your choice, or buff your nails to a shine. We offer a full menu of spa treatments. With a Fairwinds facial, we gently cleanse and exfoliate your skin, using hot towels to enhance hydration. Our signature Swedish massage uses light to medium pressure strokes to relieve muscle stress. With any spa service, you may also use our ocean-view hot tub or relaxation deck.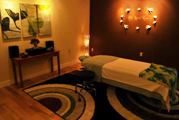 8 Country Inn Way Rockport, ME, 04586 Phone: 207-236-2725 Toll-Free: 888-707-3945
Unwind with a massage at the Country Inn's spa
Enjoy a truly relaxing Maine vacation when you stay at the Country Inn at Camden/Rockport. Our inn includes a newly-renovated spa room where one or our massage therapists will soothe your muscles and help work day tension melt away with a Swedish massage, hot stone massage, or other treatment. Services are available for guests at the inn and day visitors as well. When you stop in for your massage, feel free to enjoy our heated indoor pool, dry sauna, or hot tub as well. Or unwind with a work out in our fitness center, featuring a Lifecycle, an elliptical trainer, a parabody gym system with leg press, a weight machine, and free weights.

220 Warrenton Street Rockport, ME, 04856 Phone: 207-594-2511 Toll-Free: 800-341-1650
A sanctuary of serenity at the Samoset Resort
The Spa at the Samoset Resort provides a tranquil seaside escape built on the natural serenity of the surrounding ocean landscape. The space is relaxing, comfortable and inviting. The materials and furnishings reflect a Maine seaside aesthetic. Finishes are fresh, clean and light in feel, with slight color shifts as found in the ocean and sky surrounding the resort.

Guests are encouraged to lose themselves in a state of relaxation, comforted by the tranquil interior as well as the soothing sound of the sea. The spa lounge and outdoor patio invite patrons to relax by a fire while taking in the sweeping vista of the Penobscot Bay and the aroma of the ocean as an integral part of their spa experience.