Mid Coast region offers inns, resorts for a memorable romantic getaway
Midcoast Maine, including the towns of Rockland, Camden, Belfast, and Searsport, summarizes the common perception of the fantastic Maine coast with its rocky peninsulas, lighthouses, and lobster shacks. Clearly, it also is a place for romantic getaways for a full vacation or even a weekend. There is an abudance of romantic hotels (some with Jacuzzis), inns, resorts, and bed and breakfasts, sometimes overlooking the ocean. Don't miss the chance to tuck into a lobster dinner at a fancy place or a casual lobster shack on the water.
16 Bay View Street Camden, ME, 04843 Phone: 207-236-4325
What's More Romantic Than the Coast of Maine?
Is there a
more
perfect place for romance than Mid-Coast Maine? Camden's 16 Bay View Hotel could have been created for couples looking for a romantic getaway among natural beauty and in-house luxury. The hotel is in a historic building in the town's lively shopping, dining, and arts district. Indoors, romance is nurtured by elegant décor; flowers; plush furniture; and just the right amount of staff and concierge service. Guest rooms have gas fireplaces for cozy togetherness in cool seasons, and windows and balconies overlooking the sheltered harbor and street life in summer. Lavish linens, Champagne service, spa-inspired bathrooms with deep pedestal tubs, marble showers and radiant floor heat make closeness delicious.
Visit our sister properties - Lord Camden Inn - Grand Harbor Inn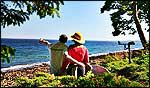 55 Sunrise Point Road Lincolnville, ME, 04849 Phone: 207-236-7716
A sophisticated Coastal Maine Inn
This secluded hideaway gets your attention upon arrival. The ocean, the salt air and cool breezes fill the senses and launch a well deserved sigh. Set on five waterfront acres, you'll find elegantly appointed rooms and cottages with ocean views, private decks,and fireplaces plus enough luxurious amenities and personal service to make this AAA four-diamond Inn an affair to remember. Each morning, enjoy a cup of custom-roasted coffee and a sumptuous gourmet breakfast served in the ocean view conservatory and dining room. Afternoon refreshments and a cocktail or glass of wine are always on hand as is this magnificent part of the Maine coast near Camden with its exceptional food, shopping, culture and recreational activities. Or explore some "off the beaten path" places where romantics often go.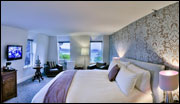 83 Bayview Street Camden, ME, 04843 Phone: 207-236-4200 Toll-Free: 800-236-4266
Picturesque setting, romantic meals all part of your stay at this seaside inn
From the glass of prosecco that greets you upon arrival to that final sunset over Penobscot Bay viewed from your private balcony, your stay at Camden Harbour Inn will be one you will remember and want to repeat. Luxurious feather beds in warm, jewel-toned rooms with spa-inspired bathrooms provide the perfect place to unwind, but if you need more relaxation, choose a couples massage at the on-site spa or share a perfect wine-paired meal at renowned Natalie's restaurant. (Natalie's will even arrange for a midnight lobster dinner with champagne in your room.) Ask the concierge about local vineyard tours, schooner cruises or ferry schedules to picturesque offshore islands. Or just stroll through lovely Camden, the "Jewel of the Maine Coast."
Please visit our sister property - The Danforth Inn
24 Main Street Camden, ME, 04843 Phone: 207-236-4325 Toll-Free: 800-336-4325
A place for romance on the stunning Maine coast
Great hospitality, service and amenities are yours for a romantic getaway on picturesque Camden Harbor. This boutique hotel offers guestrooms and suites with old world charm and modern conveniences. There's luxurious bedding, a gas fireplace, private balconies, plus in room spa treatments, a fitness center and complimentary breakfast buffet. Camden puts you within minutes of the finest in coastal dining, shopping, recreational and cultural activities. Consider the inn's special Romance Package. Enjoy an intimate evening for two in the room type of your choice at a reduced rate, a bottle of champagne, gourmet chocolates, and flower bouquet. Enjoy dinner for two at nearby Peter Ott's Restaurant with a $50 gift certificate.
Visit our sister properties - 16 Bay View - Grand Harbor Inn
22 High Street Camden, ME, 04843 Phone: 207-236-9636
Enjoy a romantic time, whether you want activities or relaxation
Camden's Maine Stay Inn has lots to offer couples who come for a romantic getaway. You can relax together before the wood-burning fireplace in one of the three parlors after a quiet morning luxuriating in your elegantly appointed bedroom. Then perhaps walk among the flowers in the garden, a full acre. Or stroll hand in hand under trees along winding paths or by our babbling brook. Off the grounds, there's plenty to do together nearby: Windjammer cruises, sea kayaking, horseback riding, and much more. So, regardless of your style of romance – full of shared activities or slowed down from busy days – the Maine Stay Inn can become your mainstay getaway.
14 Bay View Landing Camden, ME, 04843 Phone: 207-230-7177 Toll-Free: 877-553-6997
Romance at water's edge
Your rendezvous point is tucked inside a secluded spot on Camden Harbor at the water's edge. In Camden's newest and only luxury, waterfront boutique Inn. Inside inspired by Tuscan Villas with elegant old-world charm. Outside, coastal cottage, shingle-style architecture in harmony with historic waterfront buildings. Luxurious comforts await including suites and rooms with private balconies and views of Camden Harbor and the islands of Penobscot Bay. Appointed with gas fireplaces, Jacuzzi tubs and separate marble and glass enclosed rain showers, luxurious bed and bath linens and plush terry bathrobes. A generous continental breakfast will be served to your room each morning. This is your ideal romantic getaway.
Visit our sister properties - 16 Bay View - Lord Camden Inn
67 Atlantic Highway Lincolnville, ME, 04849 Phone: 207-789-2000
A romantic vacation to remember and repeat
Few places can match the romantic setting of this nature-blessed destination along Maine's scenic mid coast. 387 acres of picturesque mountainside terrain have been planned and preserved for your sensory enjoyment. Log cabins of authentic Maine pine come with bath, a full kitchen, screened in porch, cable television and wireless internet access. Fill your days in peaceful bliss or tantalizing activity with tennis, biking, kayaking, and your own private bay beach. In winter, skiing, snowshoeing, and ice skating are on the menu. There's a year round, fitness and recreation complex and you can dine in or explore the nearby villages for shopping, sightseeing and great local cuisines. 3.8 miles of beautiful hiking trails are perfect for two looking for nothing other than each other.