Museums & galleries in Mid Coast Region offer depth to your vacation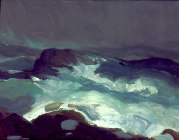 16 Museum Street Rockland, ME, 04841 Phone: 207-596-6457
Farnsworth presents beloved Maine outdoor images
The stern beauty of Maine and the manifold ways it has been expressed by Maine-loving artists is the driving theme of the Farnsworth Art Museum in Rockland, just steps away from the coastline that has inspired artists for centuries. The museum was opened in 1948 and it quickly acquired paintings by, among others, George Bellows, William Zorach, and Andrew Wyeth. These and others established Farnsworth's main strength: landscapes of the late 19th and early 20th centuries. Early purchases included Eastman Johnson's American Farmer, George Inness's In the White Mountains, and Winslow Homer's New England Coast. From the start, the Farnsworth built a relationship with the Wyeth family of artists, including Andrew, N.C., and Jamie Wyeth. The museum's holdings of contemporary art have been significantly expanded.
Maine Maritime Museum
243 Washington St. Bath, ME, 04530 Phone: 207-443-1316
From the beginning of the Civil War to the turn of the century, Bath was the one of the nation's most important seaports and ship-building cities. The Maine Maritime Museum tells the story of Maine's ship and boat building history with multiple rooms of exhibits, all contained beside a 19th century shipyard on the Kennebec River. Hours: Daily, 9:30 a.m.- 5 p.m.; closed Thanksgiving, Christmas and New Year's Days Admission: Adult, $15; seniors over age 64 and students, $12; youth age 6 to 17, $10. Information: www.mainemaritimemuseum.org.
Owls Head Transportation Museum
117 Museum Street Owl's Head, ME, 04754 Phone: 207-594-4418
Visitors will enjoy exhibits featuring a collection of early air and ground vehicles. Trace the history of the bicycle and the horse-drawn carriage. Many of the vehicles are in operating condition and are demonstrated on the museum grounds. Hours: Year-round, daily, 10 a.m.-5 p.m Cost: Adults age 18 to 64, $10; seniors, $8; children under age 18, free. Information: www.ohtm.org.
Bowdoin College Museum of Art
9400 College Station Brunswick, ME, 04011 Phone: 207-725-3275
Bowdoin College's collection of fine art features American and European classic work. Of particular interest, however are the exhibitions of works by Maine artists Winslow Homer and Andrew Wyeth. Hours: Tuesday-Saturday: 10 a.m.-5 p.m.; Thursday: 10 a.m.-8:30 p.m.; Sunday: 1-5 p.m. Admission: Free. Information: www.bowdoin.edu/art-museum/
Fishermen's Museum in the Pemaquid Point Lighthouse
Route 130 Pemaquid Point, ME, 04554 Phone: 207-677-2726
The lighthouse was built in 1826 and marks the entrance to Muscongus Bay and John Bay. Today it is a major attraction in Maine and receives almost 100,000 visitors each year. The keeper's house has been converted into the Fishermen's Museum. On display are items related to the local maritime history. Hours: Staffed by volunteers Memorial Day to Columbus Day, daily, 10:30 a.m. to 5 p.m. The tower might be closed on rainy days or if there are no volunteers available. Information: http://maritimemuseums.net/ME.html
Maine Lighthouse Museum at the Maine Discovery Center
1 Park Drive Rockland, ME Phone: 207-594-3301
The Maine Lighthouse Museum is the home of the largest collection of Fresnel lighthouse lenses and the most important landmark collection of lighthouse artifacts and Coast Guard memorabilia in the United States. A few years back, the museum merged its collection with that of the former Museum of Lighthouse History of Wells (now closed). The two collections are now on display and marvelously compliment each other. Visit the museum gift shop and find lighthouse models and miniatures, replicas, clothing, gifts, art, toys, memorabilia, and exclusive regional favorites.
Hours: Monday–Friday, 9 a.m.–4:30 p.m.; Saturday and Sunday, 10 a.m.–4 p.m.; closed Sunday through Wednesday in winter and early spring.
Information: http://www.mainelighthousemuseum.com/
Penobscot Marine Museum
5 Church Street Searsport, ME, 04974 Phone: 207-548-2529
Open: May through October, Monday-Saturday, 10 a.m.-5 p.m.; Sunday, noon-5 p.m.
Museum features exhibits on historic boats, artifacts and ship models.