Hotels in Maine's Mid Coast Region serve every taste and budget
Like the Pine Tree State itself, hotels on Maine's Mid Coast, including the towns of Rockland, Camden, Brunswick, Boothbay, and Bath, offer a vast variety of accommodations, services, and ambiance. Along the Atlantic shoreline, lakes, and rivers, guests can enjoy water views from the windows of elegant bed-and-breakfasts to the doors of family friendly beachfront motels. Route 1, which hugs the ME coast through this beautiful region is well-served by rentals of all prices for business travelers, families, and vacationers.
16 Bay View Street Camden, ME, 04843 Phone: 207-236-4325
Find Luxury and Fine Service in Seaside Camden
The historic town of Camden on Maine's dramatic coast achieves fresh heights of glamour with the opening of 16 Bay View Hotel, an oasis of elegance in a bustling shopping neighborhood just steps from the harbor. This intimate, 21-room hotel in a refurbished century-old building invites guests to breathe a sigh of relaxation from the moment they enter the lobby, accented with restored brick, flowers and fireplaces. Guest rooms bathe travelers in luxury. Ornate ironwork balconies overlook the colorful downtown and harbor. Fine linens, in-room fireplaces, Champagne service, and spacious bathrooms with pedestal tubs and heated floors pamper you. The Continental breakfast will fuel you to explore a beautiful corner of New England.
Visit our sister properties - Lord Camden Inn - Grand Harbor Inn
22 Commercial Street Boothbay Harbor, ME, 04538 Phone: Toll-Free: 800-628-6872
Get the true Maine experience at Fisherman's Wharf Inn
A stay at Fisherman's Wharf Inn means a genuine Maine experience. We're nestled by the water in picturesque Boothbay Harbor. Our rooms (including six suites) and private balconies offer spectacular views of the harbor, including the famous Boothbay footbridge. Amenities include free WiFi, cable TV, use of our fitness center, and complimentary breakfast. Enjoy breakfast, lunch, or dinner in our comfortable dining room, where the windows look out on the water. Our pub and outside deck offer fabulous views, too. While in the area, visit the Maine State Aquarium, with rare giant lobsters and a shark touch tank; the Boothbay Region Land Trust, with 30 miles of hiking trails; and the Coastal Maine Botanical Gardens, with 250 acres, a fine cafe, and art exhibits.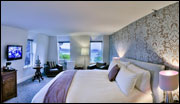 83 Bayview Street Camden, ME, 04843 Phone: 207-236-4200 Toll-Free: 800-236-4266
Lifestyle Lodging in Maine
An intimate boutique lifestyle hotel, the Camden Harbour Inn is a sought-out oasis for those who wish to savor the finer aspects of travel, relaxation, discovery, and renewal during a Maine vacation. The Inn is perched on a hilltop with 180-degree views of the village, harbor, mountains, Penobscot Bay, and evergreen islands. Take time to luxuriate in your bedchamber overlooking the water, dine on exquisite cuisine in Natalie's award-winning restaurant, and experience the mind-body benefits of Zero Balancing or one of our other massage treatments in our spa.
Please visit our sister property - The Danforth Inn
159 Searsport Avenue Belfast, ME, 04915 Phone: 207-338-2090
Mid Coast Maine – on Penobscot Bay
Enjoy every season and a relaxing stay at Fireside Inn Ocean's Edge on Maine's alluring coast. Summer breezes, brilliant autumn foliage, or a perfect wintertime romantic getaway by the bay.
Many of Maine's most picturesque coastal villages and harbors including Belfast, Camden, Castine, Boothbay Harbor and Bar Harbor are nearby. Beautiful Acadia National Park is just 55 miles away. At nearby Sear's Island, one of the East Coast's only unsettled islands and home to over 160 species of birds, you can enjoy the birds and the sea.
Come back to the Inn to cap off your day with fresh Maine lobster in our Ocean's Edge Restaurant serving seafood, steaks, and pasta. And save room for dessert!
14 Bay View Landing Camden, ME, 04843 Phone: 207-230-7177 Toll-Free: 877-553-6997
A special hotel in a special seaside place
Tucked in a secluded spot near water's edge and unique shops, fine dining, and provocative cultural activities is Camden's newest and only 4-Diamond luxury waterfront hotel. In five short years it has earned a reputation for luxury, comfort and style. Interiors inspired by the old world charm of Tuscan Villas. Exteriors, pure coastal cottage, with shingle-style architecture in harmony with the historic waterfront buildings. Guest rooms and suites overlook the marina and the Islands of Penobscot Bay and offer gas fireplaces, Jacuzzi tubs and separate marble and glass enclosed rain showers. In room continental breakfast is served each morning. Add to these the special touches that only a great seaside hotel can provide.
Visit our sister properties - 16 Bay View - Lord Camden Inn
24 Main Street Camden, ME, 04843 Phone: 207-236-4325 Toll-Free: 800-336-4325
"Come in and relax, you have arrived."
Welcome to Lord Camden Inn, one of the finest luxury boutique hotels on Maine's Mid Coast. The Inn combines old world style and architecture with modern-day service and amenities. From the moment you arrive, you'll know this is no ordinary Inn. Each of our 36 well-appointed guestrooms and suites is a stunning architectural arrangement of light and space, many incorporating old world brick walls with modern and stylish marble and granite surfaces, wainscoting and crown molding. The inviting atmosphere, walls decorated with paintings by local artists, and restored antique furnishings will grab your attention. Boasting unsurpassed service with a premier village location and views of Camden Harbor and coastal mountains, the Inn is a gem.
Visit our sister properties - 16 Bay View - Grand Harbor Inn
80 Commercial Street Boothbay Harbor, ME, 04538 Phone: 207-633-4434
Full service hotel on the scenic Boothbay Waterfront
Set on the waterfront of Boothbay Harbor near great shopping, sightseeing and recreational activities, the Tugboat Inn bears a colorful past in five buildings. After an extensive transformation, you'll find 64 rooms and suites facing or directly over the water, a full service restaurant with a sweeping view of the harbor, and the Marina Lounge & Café offering lunch, dinner and a special pub menu plus weekend and seasonal entertainment. A sheltered marina offers slips and moorings for transient and seasonal stays. Guestrooms feature air conditioning, 42 inch flat screen television, refrigerator, and Keurig coffee maker and you'll enjoy complimentary continental breakfast and Wi-fi throughout the property. Check out the all-inclusive vacation packages with accommodations, meals and other activities included.