Mid Coast region historic attractions add interest to your Maine getaway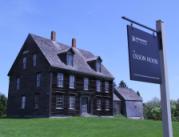 16 Museum Street Rockland, ME, 04841 Phone: 207-596-6457
Olson House conveys the stark majesty of Wyeth's art
One of the most-recognized of American paintings surely must be "Christina's World" by Andrew Wyeth. A secondary player in the painting, after the figure of Christina, is her home, the Olson House in Rockland, a place where Andrew found four decades of friendship and continuing inspiration. Wyeth met Christina and Alvaro Olson in 1939, through the young woman who would later be his wife. He spent a great deal of time visiting and painting in the rugged structure, and he once said, "In the portraits of that house, the windows are eyes or pieces of the soul almost." The Farnsworth Art Museum owns the Olson House and conducted structural repairs through 2015. The House re-opens to the public on Memorial Day weekend 2017.
Joshua Chamberlain House
Originally the home of the famous Civil War general Joshua Chamberlain, exhibits now feature the general, his family history, life and experiences during the war.
Hours: Memorial Day to Columbus Day, Tuesday-Saturday, 10 a.m. to 4 p.m.; Sunday, 1-4 p.m.
Admission Adults, $8.50; children age 6-16, $4.
Information: http://pejepscothistorical.org/chamberlain
Nickels-Sortwell House
121 Main Street Wiscasset, ME Phone: 207-882-7169
This house recalls Wiscasset's golden age, when wealth from shipbuilding and maritime trade built elegant mansions. After serving as a hotel during most of the 19th century, the house was restored by the Sortwell family, who purchased it in 1899. From the 1930s, Frances Sortwell carried on the family tradition of philanthropy and was one of Wiscasset's most dynamic preservationists.
Hours: June 1-October 15, Friday-Sunday; 11 a.m.-4 p.m.; tours every half hour.
Admission: $5; seniors, $4; students and children, $2.50.
Information: http://bit.ly/ZEEgu4
Montpelier
US Route 1 and ME Route 131 Thomaston, ME Phone:
A replica of the home of General Henry Knox, President George Washington's Secretary of War. Visitors will see a complete reconstruction of this home in its 18th century splendor.
Hours: May 25-October 14, Thursdays and Fridays, 10 a.m.-4 p.m.
Admission: Adults, $10; seniors, $8; children age 5-13, $4; family, $20
Information: http://knoxmuseum.org
Heritage Park
Main Street and Public Landing Belfast, ME Phone: 207-338-3370
This historic collection of buildings and shops sits on the water, giving visitors a look at the New England coastal town of the 19th century. In addition to picnicking, walking, and relaxing, this waterfront park is the site of special events such as Arts in the Park and Belfast Summer Nights concerts.
Information: http://bit.ly/11fdk28
Castle Tucker
2 Lee Street Wiscasset, ME Phone: 207-882-7169
In 1858, Captain Richard H. Tucker Jr., son of a wealthy shipping family, bought this mansion with its commanding view of the Sheepscot River for his bride. He purchased a houseful of furniture from Boston, updated the interiors, and added a three-story piazza overlooking the river. Today, Castle Tucker stands as a record of late Victorian life in one of Maine's most beautiful villages.
Hours: June 1-October 15, Wednesday-Sunday; 11 a.m.-4 p.m.; tours every half hour.
Admission: Adults, $5; seniors, $4; students and children, $2.50.
Information: http://bit.ly/ZIBMrt
740 Fort Knox Road Prospect, ME Phone: 207-469-6553
Historic fort adjacent to bridge and 420-foot-tall observatory overlooking Penobscot River Valley
This historic fort on the Penobscot Narrows is well-preserved with underground tunnels, batteries and more. Provides access to the Penobscot Bridge Observatory. http://www.visit-maine.com/state-and-local-parks#mid-coast
St. Andrew's Episcopal Church
11 Glidden Street Newcastle, ME Phone: 207-563-3533
This Episcopal Church was the first designed by reknowned architect Henry Vaughn, who later designed the National Cathedral in Washington, DC.
Information: www.standrewsnewcastle.org/
Pemaquid Colonial State Park
2 Colonial Pemaquid Drive New Harbor, ME, 04554 Phone: 207-677-2423
Home to Native Americans for generation, Colonial Pemaquid became the home of very early English settlers. This historic site includes
Fort William Henry
; the
Fort House,
a restored Federal-style home from 1790 and contains a research library; the
the Village,
a collection of stone building foundations; a
Burying ground
for the early 1700s; a
museum
with exhibits on the history of Pemaquid from ancient Native American life here through the colonial period; and a gift shop.
The Maine Department of Conservation, Bureau of Parks and Lands can provide an interpretive program or tour for any group from children through adulgs mid-April to mid-October. Open April through October.
A National Historic Landmark, this was the home of Alvaro and Christina Olson, the subject of one of artist Andrew Wyeth's most famous paintings, Christina's World." Wyeth created many paintings and drawings at the house, a classic Maine saltwater farm, from 1939 to 1968. Visitors may stroll through the rooms Wyeth painted and spent time with his friends. Wyeth is buried here.
Season: The house is open late May to mid-October.
Admission: Adults, $10; seniors and students, $8/
Information: http://www.farnsworthmuseum.org/olson-house