Mid Coast family friendly hotels and motels welcome the kids
With its wonderful shoreline, water sports, hiking and exploring, Midcoast Maine, which includes the towns of Rockland, Camden, Boothbay, Brunswick, Bath, and Vinalhaven, are perfect for a vacation for families with children. Most ME hotels and motels are family friendly, and many go out of their way to accommodate children and families. Some hotels and motels offer suites of one and two bedrooms; free local transportation to nearby adventures like whale watching trips, sea kayaking, or sailing on a coastal schooner or lobster boat; children�s day programs with supervised recreation; access to nearby museums that appeal to both adults and children; and, of course, swimming pools.
Mid-Coast Maine on Casco Bay Sebasco Estates, ME, 04565 Phone: 207-389-1161 Toll-Free: 877-389-1161
A pool, a fishing dock -- the perfect kid vacation
Kids can never say "There's nothing to do' when staying at Sebasco Harbor Resort. Youngsters love our harbor-side salt water swimming pool. You can fish right off the dock, or have one of our local guides take you out on the water. Or take a scenic harbor cruise aboard our tour boat Ruth. Twice a week we have craft activities, such as tee shirt tie-dying. Our chefs offer cooking lessons, too. Naturalists from the Chewoni Foundation, an animal rehab facility, stop by the resort twice a week with birds and other fun creatures. We have tennis clinics for every age. Croquet on our gazebo lawn is fun, too. Paddle boats and kayaks are available. In addition to our nine-hole golf course, we also have a three-hole course for beginners, where dad can give the kids a lesson.
88 Grandview Avenue Boothbay Harbor, ME, 04538 Phone: 207-633-4152 Toll-Free: 800-553-0289
Keep your gang on the go!
A vacation at Spruce Point Inn on Maine's Boothbay Harbor is the perfect way to keep your kids active. There's so much outdoor fun to enjoy at our resort and the surrounding area, you'd need a whole summer to experience it all. Hit the local trails or the shoreline on foot or on bike, or enjoy an afternoon on the bay fishing or sailing aboard the Sarah Mead, a fully restored wooden sloop docked right at the Inn. There's also a kids' camp and evening activities for children so parents get to spend some time alone. Our accommodations are perfect for family groups of all sizes - choose from our modern lodge rooms, seaside cottages, and spacious townhouses.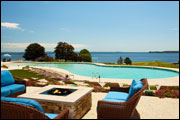 220 Warrenton Street Rockport, ME, 04856 Phone: 207-594-2511 Toll-Free: 800-341-1650
Treat your child to a fun and inspirational vacation
Make no mistake about it: children enjoy luxurious accommodations, excellent food, and beautiful surroundings every bit as much as adults do. Samoset Resort and it's surrounding communities on Penobscot Bay offer many fun activities for children and families. In the summer, Samoset offers Sam-O-Camp, a children's day program with supervised recreational activities, arts and crafts, exploration, and much more. Several of Samoset's outdoor vacation packages appeal to kin of all ages. Packages include Loons, Canoes & Ocean Views, a wildlife watching trip by canoe; Schooner Sailabration, a day-long sail aboard a schooner on Penobscot Bay; and a Harbor History Tour aboard a sea kayak through Rockland Harbor. During the winter months, the nearby Camden Snowbowl at Ragged Mountain offers skiing and tobogganing for enthusiasts of all ages.
139 Richardson Street Bath, ME, 04530 Phone: 207-443-9741 Toll-Free: 866-258-7245
This all-suite hotel is located just off RT. 1 in Historic Bath, Maine and offers the space you need for your family with studio, one- and two-bedroom suites available. All suites feature full kitchens, a flat screen TV, wifi, and separate living areas for sleeping, working, dining and relaxing. Free breakfast is available daily.There is plenty to see and do, with nearby attractions including the Maine Maritime Museum (1 mile), Bath Iron Works (1/2 mile), Popham and Reid State Parks (15 miles), Brunswick Landing (5 miles) and more. Plus, there are unique shopping outlets highlighted by Downtown Bath's Front and Center streets (awarded one of the top 10 Front Streets in America), as well as the 24-hour Freeport LL Bean Factory Outlets also nearby.
67 Atlantic Highway Lincolnville, ME, 04849 Phone: 207-789-2000
A family vacation to remember and repeat
Few places match the family friendliness of this nature-blessed destination along Maine's scenic mid coast. 387 acres of picturesque mountainside terrain have been preserved and carefully planned for your sensory and activity-filled enjoyment. Family log cabins of authentic Maine pine feature one to three bedrooms and 1-2 baths, lots of space, and a full kitchen, screened in porch, cable television and wireless internet access. Fill your days with tennis, biking, kayaking, and your own private bay beach. In winter, skiing, snowshoeing, and ice skating are on the menu. There's a year round, fitness and recreation complex, a bowling center and game arcade. Dine in or visit the nearby villages for shopping, sightseeing and great local cuisines. The 3.8 miles of beautiful hiking trails are there just for grins. Yours.