Mid Coast charms with rocky coastline, windjammer cruises, museums, vineyards
To some visitors, the main attraction of Midcoast Maine is its pure beauty – this is the iconic spot of rocky inlets,
lighthouses
, fishing ports, and rugged islands. It also is the home base – in Camden and Rockland – of the Maine windjammers – historic sailing vessels with a classic and romantic profile against the backdrop of sunset or a rocky island. Speaking of romantic, the
Maine windjammers
offer many types of cruises, for dining, nature, and sunset viewing. The famous towns of Boothbay Harbor, Rockland, Camden, and Bath offer all the Maine vacation charms, and ferries take visitors to Monhegan Island and Vinalhaven, for quieter, remote getaways. The whole region hops with great places to dine on lobster, including rough and refined presentations, along with music venues, and places for kids and adults to have
fun
, like museums and cruises, vineyards and
casinos
.
Sailing from Ports in Rockland, Rockport and Camden, ME, 04843 Phone: 207-374-2993 Toll-Free: 800-807-9463
If you're looking to explore where the big ships can't go, a Maine windjammer can get you there.
Cast off on a three- to six-day sailing adventure aboard one of Maine's nine legendary windjammers in the Maine Windjammer Association. Help sail the ship or just sit back and enjoy the every-changing scenery. Keep a lookout for seals, porpoises, lighthouses and lobster boats; explore pristine islands and quaint fishing villages. Enjoy great sailing by day and cozy anchorages every night. Delicious home-cooked meals and a lobster bake included. Sailing from Camden-Rockland from May through October. Visit www.sailmainecoast.com or call 800-807-WIND.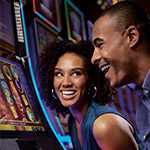 500 Main Street Bangor, ME, 04401 Phone: Toll-Free: 877-779-7771
Make it a Hollywood Night
The spotlight is waiting. Hit the red carpet and be a part of the Hollywood scene, where the winning is famous and the night shines bright. Play like a star at the premier casino with an incredible selection of the hottest slots, big-time table games, live poker and more. Dine famously at Celebrity Bar & Grill, or indulge in endless delectable dishes at Epic Buffet. Hit up the Sound Stage Lounge for live music and performances every Friday & Saturday night. Best of all, with A-list hotel accommodations on site, the fun never has to stop!