Luxury four star and five star lodging in MidCoast makes a fabulous Maine getaway
The Midcoast region of Maine, including towns like Rockport, Camden, and Boothbay Harbor, is a place of breathtaking natural beauty and lots of fun for visitors, like browsing art galleries and dipping into a platter of buttered lobster. Among the pleasures of your Maine vacation is the chance to stay at a four star hotel or a five star hotel. Indulge in resort-caliber accommodations and enjoy delights like luxurious guest rooms or cottages, golf, fine dining, swimming pools, and spas. find luxury by the hand of Nature and the hands of your hosts.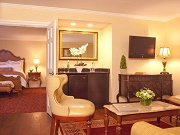 220 Warrenton Street Rockport, ME, 04856 Phone: 207-594-2511 Toll-Free: 800-341-1650
Just south of Camden, Maine, cradled between lush green hills and the blue waters of Penobscot Bay lies the Samoset Resort, a perfect retreat for a romantic getaway, family vacation, or group outing. A legendary landmark, the recently restored Samoset Resort continues a tradition of gracious hospitality and service reminiscent of a bygone age. The 230-oceanside-acre resort offers championship golf, exquisite dining, luxurious guest rooms and first-class resort amenities for your Maine vacation. To name a few - our stunning free form outdoor pool and bar, Italian La Bella Vita Ristorante, Enoteca Lounge, Spa, Guest Cottages overlooking the ocean, and the newly enhanced Samoset Kids Club will make a vacation at the Samoset one you won't quickly forget.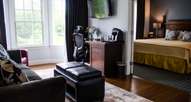 10 Water Street Brunswick, ME, 04011 Phone: 207-373-1824
Mid Coast luxury in a stylish hotel
This luxury hotel offers the perfect setting and amenities for a romantic getaway or vacation escape. Comfortable rooms and suites offer custom furnishings, fine linens, distinctive bath products, and, in some cases, Jacuzzi tubs and large two-person showers. You'll also find a refrigerator, flat-screen LCD television, and enjoy the delicious complimentary continental breakfast. The hotel's Coast Bar & Bistro has an eclectic menu of local favorites as well as classic comfort foods, micro-brewed beers, and hand-picked wines. Slip off for the day to walk around Brunswick and explore the beautiful campus of Bowdoin College with its famous swinging suspension bridge. There's LL Bean and the outlet shops in Freetown and Maine's stunning rockbound coast to drive to and linger about.