Walking & hiking is an exercise in natural beauty in Greater Portland & Casco Bay
The 4.8 miles section from South Windham to Westbrook is now open for pedestrian use. The first 1.5 milesfrom South Windham is a flat, easy walking path on an undeveloped rail bed. The remaining 3.5 miles, to Bridge Street in Westbrook, is on railroad tracks. Members of the Sebago to the Sea Trail Coalition have been working to a continuous trail from Sebago Lake to Casco Bay. (Google map link shown here is approximate.)
See map.
Portland is so dense with elegant 19th-century urban architecture and waterfront views that any walk through the city is a scenic stroll. A couple of the standout areas are Fore Street along the waterfront, famous for its progressive food culture; the Old Port waterfront; and Congress Street, including the city's Museum of Art, City Hall, and other monumental buildings. These routes all pass waterfront and urban parks, with neat public sculpture and busy social scenes. See the attached map for points of interest.
Gilsland Farm Center of the Maine Audubon Society
20 Gilsland Farm Road Falmouth, ME, 04105 Phone: 207-781-2330
Nordic skiing and snowshoeing allowed on year-round walking trails; snowshoes, only, for rent.
This headquarters for Maine Audubon is just a few milesfrom Portland, located along the Presumpscot River estuary. It has an environmental center and a 65-acre sanctuary with two miles of trails winding through woods, meadows, and salt marsh. Trails are open for cross-country skiing and snowshoeing. Snowshoes available for rent. Trails open daily, dawn to dusk. Nature center open daily, 9 a.m.-5 p.m.; Sunday, noon-4 p.m.
426 Wolfe's Neck Road Freeport, ME Phone: 207-865-4465
Good for picnicking, hiking and walking; an entry fee is charged.
Walk or hike along Casco Bay Trail. Follow scenic paths to views of nearby Eagle, Counsin, and other islands. The longer Harraseeket Trail offers one-and-a-half miles of bay views and is more difficult in comparison to the half-mile North Loop Trail, which is a less challenging walk with views of a nearby farm.
See
trail map
of Wolfe's Neck Woods State Park.
305 Commercial Street Portland, ME Phone: 207-775-2411
This organization maintains a 50-mile network of trails in Greater Portland. Thirty-one
trails
, offering a great variety of surroundings, are described in detail, with helpful maps. A few highlights of the system are:
Eastern Promenade Trail
. This trail is located on a former rail corridor and it has harbor and ocean views. You can find benches and picnic tables along the trail and at East End Beach. Paved and stone dust trails run in parallel and follow the water's edge. The trail slopes slightly near the Portland Water District treatment plant and at Tukey's Bridge, where it connects to the Back Cove Trail. Handicapped accessible, dogs allowed on leash. Length is 2.1 miles. Accessible by: Bus 1 and Bus 8
Fore River Sanctuary
. This sanctuary is where you will find the Jewell Falls waterfall and the location of the old Cumberland and Oxford Canal. The lowland brackish area, where saltwater and freshwater marsh join, is a place where bird watchers thrive. A short walk down Congress Street sidewalks leads to the Fore River Trail and Stroudwater Trail. To connect to the Capisic Brook Trail, follow a path from Frost Street up to Riverview Street. Open from dawn to dusk, year-round. Dogs are allowed in some areas. Park on Frost Street in the signed spaces in Maine Orthopedic Center's lot or on Rowe Avenue.
Back Cove Trail
. Back Cove offers great views of the Portland skyline. Ideal for walking, running, biking (road/mountain) and dog walking. You will find benches and two water fountains along the trail. Toilets are in the parking lots at Preble Street and Payson Park. This is a loop trail with stone dust and paved surfaces–mostly flat with a slight rise along I-295. The Back Cove Trail connects to the Bayside & Eastern Promenade Trail under Tukey's Bridge. Dogs allowed on leash. Length is 3.6 miles. Accessible by: Bus 8.
Presumpscot River Preserve
. The trail follows a deep ravine into the Preserve and it is steep in places. Boardwalks and bridges pass over wet areas and permit for mountain bike access. At the river's edge, signs direct walkers and bikers upstream or downstream, both with beautiful river views. Upstream, the trail had short loops into wooded, upland areas and then continues along the shoreline and under the highway overpass for another mile. Downstream, the trail reaches Presumpscot Falls. Length is 2.5 miles Uses include dogs walking, biking, mountain biking, snowshoeing, cross country skiing, bird watching. Accessible by Bus 9B, Stop: Summit & Curtis streets.
Off Shore Road Cape Elizabeth, ME Phone: 207-433-5910
Seaside park includes beloved lighthouse; good for walks, picnics, ocean views
The park on the ocean just south of Portsmouth contains the famous Portland Head Lighthouse and Museum, along with many pleasant paths for walking and bicycling. See
full description
of Fort Williams State Park.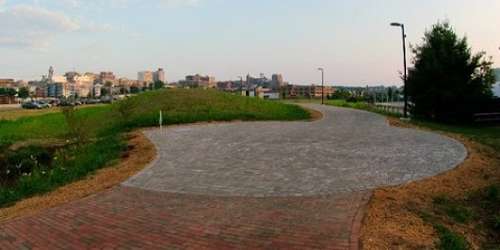 Trailheads at Elm Street and Casco Bay end of Marginal Way Portland, ME Phone:
This 1-mile trail is a flat, paved surface through the Bayside and East Bayside neighborhoods. It extends at the south end from Elm Street between Somerset Street and Marginal Way and parallels Marginal Way, linking with the East Promenade and the Back Cove Trails near the highway overpass where Route 1 crosses Back Cove. There are several benches and three water fountains. Trail is good for walkers, runners, and bicyclists.