Beachfront and Lakeside cabins and cottages rentals for a Maine vacation
Maine cabins and Maine cottages offer the dual advantages of privacy and room to spread out combined with friendly neighbors. Among all ME vacation rentals, cabins and cottages tend to work well for active family vacations and for people who seek outdoor activity. Some cabins and cottages are more rustic, offering near access to kayaking, rafting, fishing, hiking, and snowmobiling. Many have fireplaces, refrigerators, and porches. All are close of Maine's wonderful beaches, lakes, rivers, and mountains.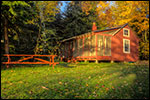 806 Spencer Pond Road Beaver Cove, ME, 04617 Phone: 207-745-1599
Find Spirit of Thoreau and Unspoiled Nature at Spencer
Go off the grid and deeply refresh your mind and body during a stay at these deep-wood, pond-side cabins in the shadow of Little Spencer Mountain. The comfortable housekeeping cabins have no electricity and are well-furnished with quilts, games, screened porches, and woodstoves. There's no need to pack camping gear – everything you need is here. Sedentary guests can gaze at the (brilliant) stars, watch birds and wildlife, listen to the loons on Spencer Pond, reflect and rest. The property has several hiking trails and the cabins are equipped with docks, canoes, kayaks, and mountain bikes, so the more-energetic people can venture further off, and even arrange a guided eco tour. The property is operated who are official outdoor guides. Come cleanse your spirit in pure nature.