Walking & hiking is an exercise in natural beauty in Augusta/Kennebec
153 Hospital St. Augusta, ME, 04332 Phone: 207-621-0031
Viles Arboretum offers 150 acres of fields and 74 acres of forest for recreation and nature viewing, particularly bird-watching. Six miles of trails off plenty of room for walking, jogging, biking, and even horseback riding. Tables and benches for rest and picnics are scattered throughout the property. In the winter, trails are groomed separately for cross-country skiing or snowshoeing. Also, there is a sledding hill.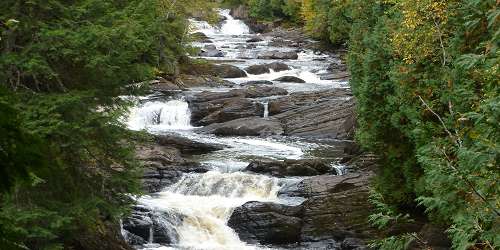 Route 201 The Forks, ME Phone:
The first half of the Moxie Falls Trail is flat, through mixed woods as it travels towards the falls. Halfway down the trail, a welcome sign indicates the falls are not far. Within a quarter of a mile, the trail begins to get a little steeper, followed by stairs and boardwalks surrounding the falls. There are several observation platforms. This is not a loop trail, return by retracing the walk.
Directions: The township of Moxie Gore is 50 miles north of Skowhegan on US Route 201. Upon reaching the village of The Forks, look to turn right onto Moxie Pond Road (Lake Moxie RD on DeLorme's Maine Atlas & Gazetteer). There is a rest area between the Moxie Pond Road and the river. The trailhead is located approximately 2.3 miles further on this road on the left.
At a length of 6.5 miles, Kennebec River Rail Trail is open for walking, running, cycling, skateboarding, rollerblading, and dog walking. The trail runs alongside the rail bed along the Kennebec River, and extends from Waterfront Park in Augusta, and through the towns of Hallowell, Farmingdale, and Gardiner.
Access points to the trail are Greenville Street in Hallowell; and four sites in Farmingdale: Kennebec Bike and Ski at 357 Maine Avenue, Pine Hill Drive, Bowman Street, and Sheldon Street. Trail walkers and hikers may park in Augusta at MSHA parking lot on Water Street, the trail head under the Memorial Bridge, and at Capitol Park. In Hallowell, parking is at the municipal lot on Front Street. In Gardiner, park at Hannaford, 100 Maine Avenue.