Luxury lodgings, four star and five star hotels make a Maine vacation a joy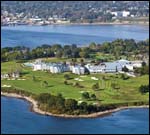 Maine's rocky, picturesque coast is never more beautiful than when you gaze at it from the balcony of a
resort
, hotel, or other luxury lodging. People who operate luxury lodgings along the coast of Maine use the panoramic views to their best advantage, but they also know how to pile on the personal pleasures, for, say, a romantic getaway: marble bathrooms, rooftop or oceanfront pools, flat screen TVs,
spa services
, fine dining, and championship golf close at hand.
Luxury service brings back a bygone era of fine service in secluded comfort at the top of the world. Practical services include kids programs for families on vacation and suites or cottages for large group gatherings for a wedding, reunion or other happy occasion. All the lodgings shown here are four star hotels or five star hotels, judged by AAA or Forbes Travel Guide. These are awarded to a select number of lodgings and they guarantee that the services and amenities will be absolutely top quality.