Maine Diners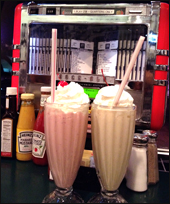 Diner food, architecture, and culture are alive and sizzling in diners throughout New England. Providence, RI, is the indisputable home of the diner. In 1872, Walter Scott, a worker at the Providence Journal, began selling food at night from a horse-drawn freight wagon outside the newspaper's building. Soon, entrepreneurs began buying streetcars and converting them to diners. The Worcester Lunch Car Company of Worcester, MA, built diners that opened all over the East.

Fast food companies whacked the diners starting in the 1950, but a diner revival got underway in the 1970s. Today, hometown diners serve all the classics, with local flair: baked beans and Boston cream pie in Boston, blueberry pancakes and lobster rolls in Maine, maple syrup in Vermont. Click below for a list of diners by state:
BANGOR

Nicky's Crusin' Diner
957 Union Street
Bangor, ME
Phone:
207-942-3430
Hours:
Daily, 5:30 a.m.-9 p.m.
Total 1950s atmosphere – including classic car nights and bike nights. Menu covers the groundwork: burgers, fries, shakes, hot sandwiches, meat loaf, American chop suey, lobster or crab rolls, seafood lunches & dinners, daily specials that change day-to-day like Cajun chicken & cheese soup, fish chowder on Fridays, or Yankee pot roast, seven big bowl salads, lasagna, stir frys, and more. Breakfast is served all day.
BIDDEFORD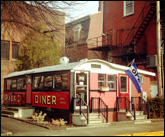 Palace Diner
18 Franklin Street
Biddeford, Maine
Phone:
207-284-0015
Hours:
Tuesday-Friday, 7 a.m.-2 p.m.; Saturday, 7 a.m.-noon
A classic diner in first-class condition, the Palace serves comfort food in spotlessly clean surroundings. One admirer wrote, "Real Worcester diner, 15 seats at the counter, all the must-have menu options (and plenty more), great fast service from Sharon and Kyle, and the genuine diner atmosphere where every conversation is public and open to commentary from any patron, known or not."
BRUNSWICK

Brunswick Diner
101 1/2 Pleasant Street
Brunswick, Maine
Phone:
207-721-1134
Hours:
6 a.m. to 8 p.m. Monday to Thursday; open 24 hours Friday and Saturday, closing at 8 p.m. Sunday.
This is a true Worcester dining car, serving food in Brunswick since World WW II. The food is hearty, served fast and friendly, at reasonable prices. Lobster rolls are legendary and breakfast is everything you need, in all the right places. There are only a few booths along the wall and stools at the counter – the place is not large. Payment in cash only.
GARDINER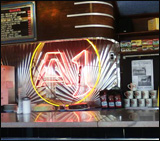 A1 Diner
3 Bridge Street
Gardiner, Maine
Phone:
207-582-4804
Hours:
Monday-Saturday, 7 a.m.-8 p.m.; Sunday, 8 a.m.-1 p.m.
The A1 Diner serves comfort food, international cuisine, delicious desserts and many selections of beer and wine. Downeast Magazine reported, "A1 Diner serves B&M beans accompanied by two grilled franks and a side of coleslaw. Sous chef Aaron Harris delares, "If we didn't have franks and beans, we couldn't call ourselves a diner." This is one of the more traditional items on its menu, which is full of stand-out, from-scratch cooking like the local burger made with grass-fed beef raised two miles away and served with caramelized onions and Gruyère cheese.
PORTLAND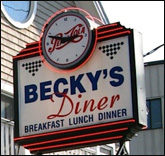 Becky's Diner
390 Commercial Street
Portland, Maine
Phone:
207-773-7070
Hours:
Daily, 4 a.m.-9 p.m.
Stop here in Portland for a reasonably priced breakfast and lots of local people as company (always a solid recommendation). Fans of Becky's praise the lobster roll, blueberry pancakes, Whoopie pie, and the lobster and Swiss omelette. The place is small, but the service is fast and efficient.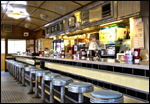 Miss Portland Diner
140 Marginal Way
Portland, Maine
Phone:
207-210-6673
Hours:
Sunday-Tuesday, 7 a.m.-3 p.m.; Wednesday-Saturday, 7 a.m. to 9 p.m.
"There is nothin' finer than a Worcester Diner" was the slogan of the Worcester Lunch Car Company, which specialized in small, handcrafted diners with porcelain exteriors and hardwood interiors. Worcester diners were often adorned with marble countertops, hardwood booths, and stainless steel panels shaped into starburst patterns. The diner was restored and reopened in 2010 after being dark for years. Today you would be hard-pressed to find a finer example than the 1949 Miss Portland Diner. Casco Bay haddock, crab cakes, chili, macaroni and cheese, children's menu.
WALDOBORO

Moody's Diner
U.S. Route 1
Waldoboro, ME
Phone:
207-832-7785
Hours:
Open 5 a.m.; hours change seasonally; call ahead
The blueberry muffins have received a gold medal from the Culinary Hall of Fame; Gourmet magazine requested the recipe for the walnut pie; and Saveur magazine named the whoopie pie one of the 100 top food finds in 1999. For 80 years, Moody's Diner has been a national icon, serving great food to more than a million satisfied customers. Moody's is not a quaint-on-purpose tourist attraction. It is a diner, plain and simple. It has survived, prospered and grown over 80 years because of good food, reasonable prices, and quick, pleasant service. There are people who eat at Moody's everyday, and those who come in every time they travel to Maine. All are welcome. Alvah Moody figured that if you roast a turkey upside-down, its juices would flow toward the breast and make that dry portion of meat juicer. That's what you get at Moody's, along with fresh mashed potatoes, gravy made from a recipe instead of a jar, and a homemade dessert like lemon meringue or walnut pie.
WELLS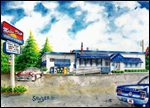 Maine Diner
2265 Post Road
Wells, Maine
Phone:
207-646-4441
Hours:
Open daily at 7 a.m.
Lobster pie, blueberry pancakes, seafood chowder – are we in Maine yet? Or you can try the Myles Henry Benedict special, which is an eggs Benedict served over two fresh cod cakes instead of an English muffin. Seafood chowder is bursting with flavor, with huge chunks of lobster and a wonderful broth. Be warned: this place will be crowded in the summer season. Served its four millionth customer in fall 2005.
Diner Slang
Some diner slang –- like
cup of Joe
for a cup of coffee -- is mainstream American English, but much of this unique language appears only as background chatter in film noir. On your next diner run, try a few of these on your
soup jockey
, or waitress:
Java = coffee

Sun kiss = orange juice

Baby juice = glass of milk

Life preservers = doughnuts

Adam and Eve on a raft = two eggs on toast

Blowout patches = pancakes with Vermont maple syrup

Want your eggs scrambled? Tell the waitress to wreck 'em

A shingle with a shimmy and a shake = is toast with jelly

For toasted English muffins, say: burn the British

If you are in the mood for risk, tell the waitress to sweep the kitchen or clean up the kitchen and she'll bring you a plate of hash

Lunchtime? Try a Noah's boy = Ham on bread, or a ham sandwich

For a hamburger with lettuce, tomato, and onion, your waitress may tell the cook to burn one, take it through the garden, and pin a rose on it

Cow paste for butter

Dog soup for a glass of water

M.D. for a Dr. Pepper

Sea dust for salt

Mike and Ike for salt and pepper shakers
If this list doesn't cover your dining needs, the
American Diner Museum
can tell you much more.