GETTING HERE
By Car
I-95 and I-295 pass past and through Portland. This is the major north-south artery from the New York City metro area to Boston, and points far beyond, both northward and southward. (See map.)
By Train
The Downeaster offers four round trips every day from Boston North Station to Portland. (See
train information.
)
By Ferry
Casco Bay Lines operates ferries year-round to carry passengers, vehicles, and freight between Portland and the islands of Peaks, Little Diamond, Great Diamond, Long, Chebeague, and Cliff.
THINGS TO DO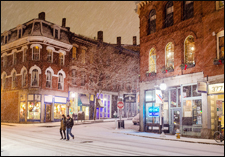 Walk and shop Historic Old Port
The historic heart of Portland is the
Old Port
, a waterfront neighborhood only three by five blocks in size, centered at the intersection of Exchange and Fore streets. This is a delightful place to walk and look about. You can watch the fishing industries in full swing at the wharves. It's also great for shopping at many unique boutiques. Here's a sampling:
Sherman Books and Stationery (49 Exchange St.) -- Kids' books and books about Maine, greeting cards, small gifts.
LeRoux Kitchen, (161 Commercial St.) -- Three levels of foods and kitchen gadgets, lots of olive oils and vinegars that shoppers may sample.
Portland Dry Goods (237 Commercial St.) -- High end men's wear and accessories. Contemporary classics with an American flavor.
Motifs (221 Commercial St.) Fun and affordable women's clothing including jewelry, scarves, handbags, and shoes; cards; home accents like clocks, pillows, serving ware.
Old Port Wine & Cigar Merchants (223 Commercial St.) The guys who work there are fun and knowledgeable. Store has a fantastic selection; no pretension.
Old Port Wool and Textile Company (52 Danforth St.) Gorgeous woolen capes, shawls, coats, and blankets handmade in Portland. Even the pewter clasps are divine.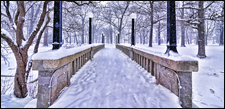 Winter Beauty in Deering Oaks Park
Deering Oaks Park
was designed in 1879 as natural space, and it is inviting in all seasons.
In winter, "the Castle" is a warming hut for ice skaters on the pond. The park has a bandstand, Victorian duck house, and playground, and lots of outdoor play space.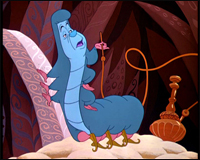 Pottery Fun or Lewis Carroll at the Hookah Bar
Purple Caterpillar Hookah Bar
(367 Fore Street) might be through-the-looking-glass experience for some people, but what's a vacation for? Smoke some spiced tobacco through a hookah; enjoy the Alice in Wonderland theme: pictures and quotes on the wall, mushroom stools, purple velvet couch. Not keen on smoke and Lewis Carroll? Ok, indulge your own creativity over at
Color Me Mine
(245 Commercial St.), a paint-your-own pottery studio offering dinnerware; garden, kids, and bathroom decorative items; vases, cookie jars & more.
Portland Museum of Art
A visit to the
Portland Museum of Art
is an immersion in fine art and Maine beauty, through the paintings of Mainer Winslow Homer along with Frederic Edwin Church, Rockwell Kent, Louise Nevelson, John Singer Sargent, Andrew Wyeth, and Marguerite Zorach. The museum store is a delight.
Beer Tastings and Snow Sports
The Maine Brew Bus
is ready to drive you to drink…locally! The bus takes beer fans on tours & tastings at local and craft breweries. Includes transportation, brewery tours, pub snacks, conversation. Choose from Southern Crawl, Beast of the yEast, The Casco Fiasco, and others. Fridays & Saturdays only.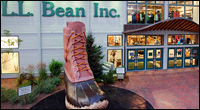 Freeport and L.L. Bean
Take a side trip to Freeport (just 17 miles north of Portland), the world HQ of the outdoor outfitter
L.L. Bean
. You cannot do better than Bean; it's been clothing New England people in high-quality goods for decades. Also, Bean has walk-on, partial-day
cross country skiing
and
snowshoeing tours
. Bean will outfit you and take you out for three hours of snow sport. Great for beginners!! Consult the tour calendar in advance.
Symphony Hall and Music Clubs
Portland Symphony Orchestra
at Merrill Auditorium (20 Myrtle St.) is regarded as one of the top symphony orchestras of its size in the country.
The State Theatre
(609 Congress St.) is a 1920s-era restored movie theater of 1,800 seats where music acts of all descriptions perform.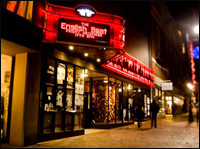 Night Life at the Clubs
The city is rich with live music in small venues. You'll see plenty of exposed brick and menus with craft beers. Check out:
Blue
(650 Congress St.) -- This intimate venue presents singer-songwriters and local and regional acts offering Celtic, Middle Eastern, blues, old time, jazz, and folk music.
Port City Music Hall
(504 Congress St.) -- Music almost nightly inn a big range of genres: bluegrass, rock, reggae, and so on. Check the website in advance to find the sound for your tastes.
GOOD EATING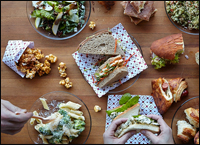 Breakfast
For heavy fueling for the upcoming walk-about, visit The Holy Donut in the Old Port (7 Exchange St.). People cannot rave enough about these packages of cakey goodness. For a sit-down meal, try Dutch's (28 Preble St.), just outside the Old Port. Breakfast sandwiches with homemade biscuits, maple sausage: wow.
Hot Suppa (703 Congress St.) Despite the name, Hot Suppa serves a more-than-satisfying breakfast that can include a breakfast sandwich of a potato biscuit, green tomato relish, local bacon, egg, and smoked cheddar. Heavy fuel!
Lunch
Fit to Eat (65 Market St.) Known for local sourcing of fresh & health ingredients, great focaccia for sandwiches. For a contrast (in name, at least), try The Thirsty Pig (37 Exchange St.) and its local beer, house made sausages, and board games at the table.
Great Lost Bear (40 Forest Ave.) About 2 miles from Old Port, this is a Portland institution since 1979 with a big range: hearty junk food to a large vegetarian selection; steaks & salads; wicked desserts. A craft beer showcase is held every Thursday.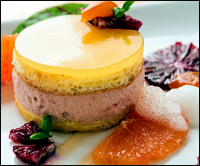 Dinner
Portland chefs have a worldwide reputation for creativity & excellence. There are dozens of wonderful eateries. Ask at your hotel or try these for dinner: Five Fifty-Five (555 Congress St.) serves contemporary American cuisine and an extensive wine list. Order the signature lobster mac and cheese. For something more casual: Little Tap House (106 High St.) Craft beer pub with a farm-to-table menu of good, mid-priced staples.
Caiola's (58 Pine St.) In the tradition of rustic Italian far, Caiola's is cozy and warmly welcoming. Enjoy your bottle of wine slowly while waiting for a hearty dinner. Be sure to order the Lost Bread. For New England seafood, go to Street & Co. (33 Wharf St.), a classic Portland seafood restaurant in the Old Port. Excellent wine list and menu that revels in delicate "fish in a pan" entrees.