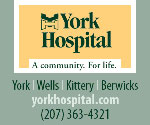 Loving Kindness Way York, ME, 03909 Phone: 207-363-4321 Toll-Free: 877-363-4321
At York Hospital, care for our patients and their families is paramount.
Our dedicated team of nurses, specialists, clinicians, technologists, and team members are experts in their field. We want each and every individual to have a truly exceptional experience - and it matters! We go the extra mile to provide services, comfort, answers, assurance, and support for our patients and their loved ones. We offer modern facilities with excellent medical/surgical units, an outstanding emergent care center, innovative breast care program, Oncology/Hematology & Infusion Care, birthing and pediatrics and extensive inpatient and outpatient services as well as walk-in care centers in Kittery, Berwick, Wells and soon to open in York. We provide a caring touch when it matters most.