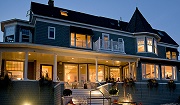 208 Ocean Avenue Kennebunkport, ME, 04046 Phone: 207-967-2125 Toll-Free: 855-346-5700
Love KPT
Enjoy romance Kennebunkport-style with our loveKPT package. Your romantic getaway package includes:
Two night stay in a luxurious room at the Cape Arundel Inn & Resort
Three Course Dinner for Two at Ocean, which includes a shared app, two entrees, and a shared dessert
Red wine and chocolate-dipped strawberries upon arrival
Late checkout for a noon departure
Available for arrival on Thursday & Friday evenings beginning February 15, 2018 through March 31st.
(Also valid at sister properties The Boathouse Waterfront Hotel, the Kennebunkport Inn, and The Grand Hotel). Please call 800-573-7186 for more details.
74 South Main Street Ogunquit, ME, 03907 Phone: 207-646-9661 Toll-Free: 800-633-8713
Resort ratchets up the romance in southern Maine
Let the Meadowmere Resort serve as your gateway to the romantic town of Ogunquit on Maine's southern coast. With the resort's Romantic Couples Getaway, your weekend begins with wine and cheese in a cozy pub, complimentary breakfasts and a night's dinner at one of Ogunquit's very special restaurants. Luxuriate in the resort spa or indoor pool; walk five minutes to the dramatic cliffs of Marginal Way; or take a trolley to charming Perkins Cove and watch the lobster boats. Go antiquing along Route 1 or shop in Ogunquit's one-of-a-kind galleries and boutiques. For a special treat, order chocolate-covered strawberries, a red rose bouquet or a teddy bear to greet your sweetheart in your room when you arrive.
67 Atlantic Highway Lincolnville, ME, 04849 Phone: 207-789-2000
A romantic deal for your next getaway
When you arrive, you'll find champagne and truffles in your deluxe white pine cabin. Share a romantic evening in front of the gas fireplace, on Summit point with majestic views, or on the private beach where you can gaze out at the islands of Penobscot Bay. Here at this natural paradise, you'll discover the perfect destination for your romantic get-away. The celebrated villages of Camden Belfast, Rockland and Bar Harbor are nearby for great shopping, dining and entertainment. Your cabin will feature charming rustic décor, screened in porches with Adirondack chairs, cozy amenities, and lots of room. Take romantic walks on the 3.8-mile hiking trail or get in some exercise at the fitness and recreation center. Have a delicious time.