Maine Highlands parks provide recreation and nature adventures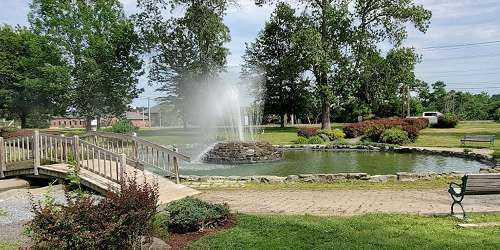 State Street, past Eastern Maine Medical Center Bangor, ME, 04401 Phone: 207-992-4490
Nice in-town park overlooks river; good for strolling
Cascade Park, the city's most beautiful and popular park, features a lighted water fountain and a water fall that's more than 20 feet high. The park, which overlooks the Penobscot River, also has a small gazebo, picnic tables, and short walking trails.
64 Balsam Drive Millinocket, ME, 04462 Phone: 207-723-5140
A large state wilderness that offers recreational activities in the water and on land; a popular camping and hiking spot
A wilderness of more than 200,000 acres, Baxter State Park is a hiking and fishing paradise. Within the park borders are 46 mountains, 175 miles of hiking trails, and 10 public campgrounds. Ample fishing and canoeing is available in lakes and streams, and regulated hunting is permitted. Baxter is also the northern end of the Appalachian Trail. Wintertime offers cross-country ski trails, snowshoeing, winter hiking, and limited snowmobiling.
Season & Hours: Open year-round.
Intersection of Routes 197 & 24 Richmond, ME Phone: 207-737-4307
Wild island with opportunities for hiking, camping, nature study. Ferry service to the island.
Swan Island in the Kennebec River -- a state wildlife management area -- has unique river, forest and meadow habitats for eagles, white-tailed deer, songbirds and wild turkeys. The island has hiking and mountain biking trails, an overnight campground, and spectacular scenery. Kayak and mountain bike rentals are available. Ferry service from Richmond town dock is provided. Admission fees.
87 State Park Road Presque Isle, ME, 04769 Phone: 207-768-8341
All forms of year-round, outdoor activity are done at this remote park on Echo Lake
The northernmost of all Maine state parks is set alongside Echo Lake. 577 acres offering hiking and cross-country ski trails, fishing, swimming areas and picnicking. Boating and canoeing are permitted in the lake. Public campgrounds are available for a fee. Reservations are suggested.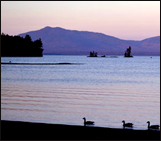 13 Myrle's Way Greenville, ME Phone: 207-695-2700
Lily Bay State Park is located on the shore of Moosehead Lake. Activities at this parking include birdwatching, motor boating, canoeing, fishing, swimming, trail hiking and walking, picnicking, and wildlife observation. There is a boat launch for trailered boats. There is a campground with a playground, showers, and an RV dumping station. In winter, cross-country ski trails are groomed and a parking lot for skiers and snowshoers is plowed. Visitors may use snowmobiles in the park.
A 2-mile walking trail follows the shoreline between the beach and Rowell Cove campground, offering easy terrain and nice views out to Moosehead Lake.
Hours: Memorial Day through Columbus Day, daily, 9 a.m.-sunset