Highlands scenic drives travel by woods, fields and waterways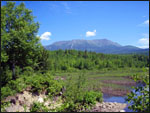 Route 11 Portage to Fort Kent, ME Phone:
38 miles
The most northerly of Maine's scenic byways, State Route 11 follows the rolling hills between Portage and Fort Kent. This drive offers outstanding views of meadows, Eagle Lake, and Mount Katahdin. Travelers might catch a view of eagles and moose along the way. Route 11 is the main north-south road between Aroostook County, Maine, and Canada. It was sttled by the French-Acadians in the 1800s, and its people cherish the Acadian influence on its culture. [photo by Rebecca Sudduth]
Map of State Route 11 Byway.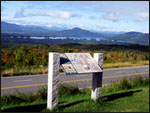 Along Route 201 Solon through Jackman to border of Canada, ME Phone:
The Old Canada Road Scenic Byway extends from Solon, Maine, through the towns of Jackman and Bingham to the border of Canada, for a total of 80 miles. This is a fantastic journey through the glorious outdoor vistas of northern New England. Lots of accessible guides and outfitter help visitors meet the outdoors close up. Highlights of the drive are the Attean Overlook near Jackman, Wyman Lake, the Forks area -- meeting place of the Dead and Kennebec rivers -- and Lake Parlin.